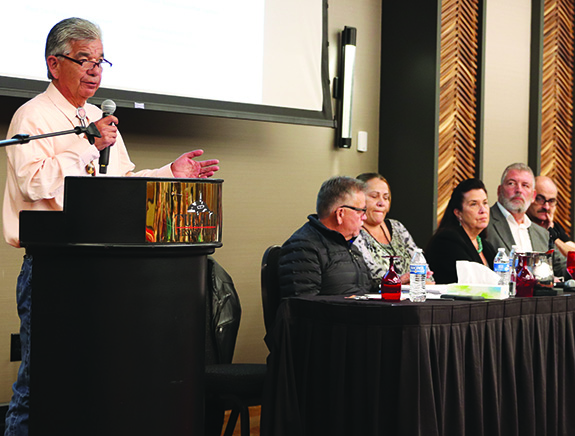 By Kalvin Valdillez, Tulalip News
In 2014 Washington became one of the first states to legalize the use of recreational marijuana after nearly eighty years of prohibition nationwide. Since then, the state has reaped the benefits of cannabis, collecting hundreds of millions of dollars annually from taxes and licensing fees.
Just last year, Tulalip opened the doors at Remedy, a recreational shop that is one of few ran and owned entirely by a tribal nation. The Tribe's current compact with the state, in regards to Remedy, allows them to put the money collected from excise tax back into the Tribe, while paying the state exactly 0% in taxes.
But as the shop's name suggests, the Tribe's focus on the use of marijuana extends far past merely gaining profit from the plant. At Remedy's grand opening in August of 2018, Tulalip Board of Director (BOD) Les Parks informed the crowd that this was only the beginning of a long relationship between the Tribe and cannabis, announcing a new research project along with a partnership with Stanford University. Perhaps it was due to the long process of opening Remedy or his vision appeared too distant, but the crowd had an overall mixed reaction of skepticism and hope when Les boldly claimed the Tribe would find a cure, or remedy if you will, to end the opioid epidemic with the medical benefits of marijuana.
Back in March, the Tribe held the first Tulalip/Stanford medical cannabis research project meeting, sharing information found during the first round of research with the community and explaining how this study can benefit the Tribe. Initially the Tribe invested $2 million into the two-year research project. During the first meeting Tulalip BOD members assured the people that whatever found during the study is the sole intellectual property of the Tribe, and that they also retain the right to opt out of the contract with Stanford within the two years. Because the research results were positive, the Tribe continued with the project. The Tribe and Stanford Scientists met once more on the evening of October 10 to give tribal members a new update on the research project.
"First and foremost we need to save lives," said Les. "We know what the opioid addiction is like on this reservation, we've seen way too many deaths. Two years ago, we had a declaration by the BOD, a state of emergency on the opioid epidemic and we've been aggressively tackling that. Since we've done that, our death rate has gone down. But any death due to an opioid addiction is one too many. We are 18 months into our Stanford research project. The board authorized a $2 million budget for Stanford to study the cannabis oil and how it might be able to successfully treat opioid addiction."
Thousands of deaths are reported nationally from opioid involved overdoses each year. According to the Washington State Department of Health, three thousand deaths by overdose happen here in Washington annually, with a large portion of those occurring in the Marysville, Tulalip and Everett area.
"I'm sure we all know someone who is no longer with us due to this addiction," Les continued. "The people who are addicted don't want to be addicted, they don't want to keep living this way, they want help. We are working with the whole plant oil, which includes over two hundred cannabinoids; the most present cannabinoids are CBD and THC. And what we've been finding is truly groundbreaking."
Up until now, there has been very little, research done specifically on the healing properties marijuana can provide for recovering addicts. But the idea doesn't seem that farfetched if you take into the account all of the diseases and health issues that the plant aids with in today's society. Many studies have shown that cannabis can help patients with chronic pain and complications due to cancer, multiple sclerosis, epilepsy, PTSD, anxiety and ADHD, among many others.
Tulalip's goal is to prove that cannabinoids can in fact help those living with an addiction. And what makes it more interesting is they appear to be the only entity in the United States in full pursuit of this idea.
"We are two years and a half into this research," Les said. "No other university in the country has done this. That puts us two-and-a-half years ahead of everyone else, at least. It's hard for me to stand here without wanting to share this information with the world, to share our findings. But in order for us to be eligible for a patent, we are limited in what we can share today."
Dr. Annelise Barron, Stanford Professor and Bioengineer, spoke about her latest research. For months she has been conducting experiments at the university for Tulalip's cause, claiming this is one of the more exciting projects she's worked on. Drawing evidence from a series of studies, Dr. Barron and her team believe they are close to providing the Tribe with a cannabinoid extract that can be patented, allowing Tulalip to enter the next phase of seeking FDA approval.
"We are so confident based on the results," said Dr. Barron. "We validated it and revalidated it numerous times. The next piece of the project is to create a patented Tulalip-owned medicine that will treat heroin and opioid addiction. We've already identified a certain part of the cannabis extract that is the therapeutic fraction. We're going to define precisely the composition of matter that will be patented. There's at least forty-three people dying every day and if we know the treatment, it should be made available."
Once the Tribe has conducted the necessary amount of research, they will apply for a patent and begin human trials. This caused some worry and concern amongst attendees, but Les reassured the group that the human study will be volunteer based. If those trials are successful, the Tribe will attempt to get the product FDA approved and then make it accessible to addicts nationwide. Les then went on to explain another avenue the Tribe intends to explore, assuming everything is successful up until that point.
"We brought on our consultant group, the Red Horse Financial Group. We are a lot further along with a business plan that will be done around the end of the year. There's a lot of potential revenue the Tribe can earn, provided we get this product FDA approved. At the end of the day, we're going to save lives. And by doing so, we can monetize that. Just imagine if we're able to cure opioid addiction, or successfully treat it, what the rest of the world would want to see."
Since the meeting was open-forum, the attendees asked many questions about the possible business venture. Tulalip Board of Director and Business Committee Chairman, Glen Gobin, addressed a few of those questions.
"It has great potential but there's no certainty. Even studies that showed great promise, 90% of those never reached human consumption, human benefit. And there's a lot of human benefit for us down this road, but it comes with a lot of costs. As a tribal government, it gets a little tricky when we get into venture capital. That doesn't mean the research should stop. We need to keep flushing some of this out and get further down the road, but it comes at great expense. The test results so far, as much as I struggle with it from a business perspective of a Tribe, the research shows there's potential here. There's something here that's working."
Valarie Red-Horse Mohl, CEO of the Red-Horse Financial Group, gave the people a brief, but detailed, look at the work-in-progress business model they created for the Tribe, giving yearly projections for aggressive, moderate and conservative total addressable markets (TAM).
"The potential for a business to be successful is if you're filling a gap in the marketplace," she informed. "It's a $78.5 billion problem in terms of how much opioid misuse costs the U.S. There's a 90% relapse rate and when patients relapse, that's when they're at the highest risk of an overdose death. Right now, the total number of opioid addicts is estimated at 11 million in America. The number of chronic pain sufferers is 25 to 40 million, and why that is important is because that's whose getting addicted for the most part, they're needing something for that chronic pain. We're not combining the business into the research; the research stands separate. But you have to think about planning for that business as the research is happening, so that you can address some of those concerns about how to phase it and mitigate some of your risks."
In addition to addressing questions and concerns, Valarie informed tribal members that the Tribe does not necessarily have to take on all of the financial expenses by itself, that there are grants and research dollars available since the U.S. Health and Human Services secretary declared the opioid crisis a national epidemic in 2017. She also disclosed that although they are two separate businesses, if the product is a success it would also be branded as 'Remedy'.
If all goes according to plan, Tulalip will physically possess a cure for opioid addiction in the next five years, helping bring an end to an epidemic that has claimed too many lives of our Native peoples. The next phase comes with a $1.2 million price tag, but the Board of Directors feel the evidence from the research may be worth the risk.