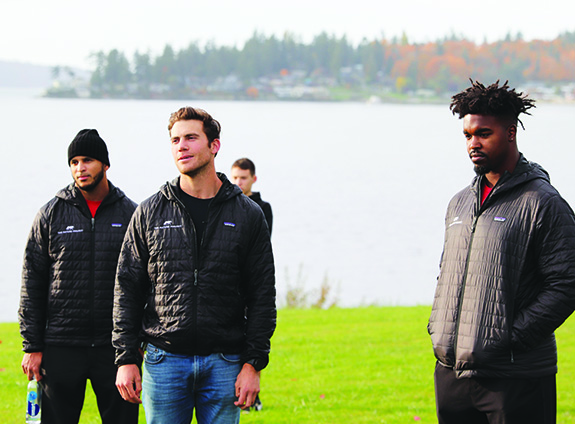 By Kalvin Valdillez, Tulalip News
A large circle formation of about sixty Tulalip citizens congregated outside of the Youth Center on the bluff overlooking Tulalip Bay. The group, consisting of mostly youth, offered two traditional songs to three tall individuals who were standing at the center of the circle. In the distance was a yellow seaplane sitting on the waters of the bay, which the visitors arrived in moments prior. Leaders of the Tulalip Youth Council and previous Tulalip Mountain Camp and Fish Camp attendees were in for quite the surprise on the chilly fall evening of October 22.
"We were asked to be here by Jessica, our Youth Council Advisor," explained Youth Council Secretary, Shylah Zackuse. "We were told it was going to be a team building experience. But I had no clue there was going to be former Seahawks players here."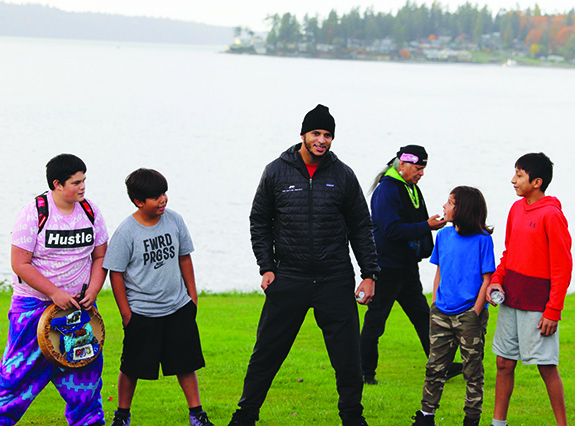 Three years ago, former Seahawks tight end and Super Bowl XLVIII Champion, Cooper Helfet, started a non-profit organization, the Nature Project, dedicated to getting kids outdoors for recreational fun, along with time away from their phone screens. Since then, Cooper has recruited former teammates, as well as a few current NFL players, to participate in the Nature Project. For the visit to Tulalip, Cooper brought along fellow former Seahawks, Jermaine Kearse and Tyrone Swoopes.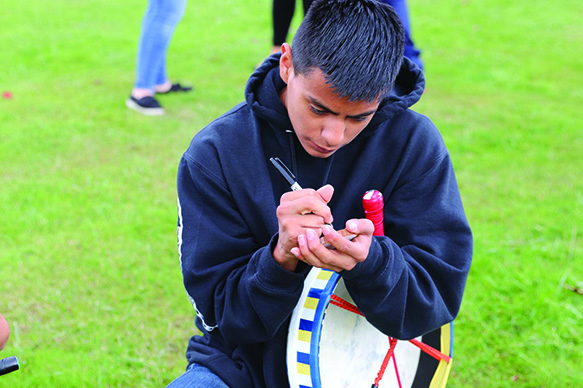 "I grew up in northern California and I had a lot of opportunities to get out into nature, whether that was hiking, camping, surfing or backpacking, it was a big priority in my family to do so," said Cooper after thanking the people for the traditional songs. "Some of my favorite memories as a kid were doing those things. And as I got older, especially when I started playing with the Hawks and with different teams in my career, I realized a lot of my teammates didn't get those opportunities. I started getting them outdoors more and they had an amazing experience developing their own relationship with the natural world.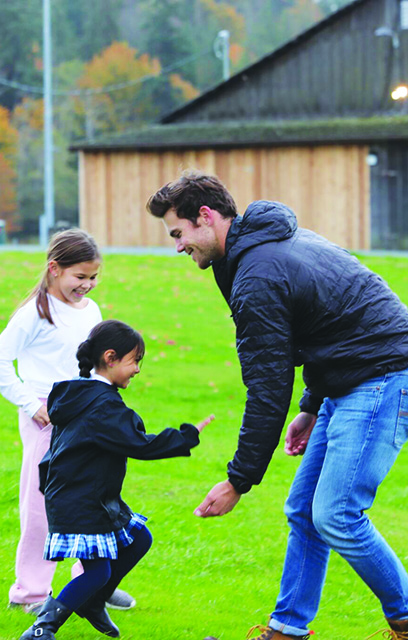 "And I thought, how do we create these types of opportunities for kids? Especially in a time where video games, TV, the internet are exciting, but taking over our world. So I started this project, bringing out athletes to the kids of local communities to get them outdoors and impress upon them the importance of spending time outside."
After taking time to snap a photo with the crowd, the football stars hung out with the youth, passing a soccer ball around. Approximately thirty kids introduced themselves to the group and stated one outdoor activity they enjoyed such as skateboarding, hiking, softball and basketball. Next, Cooper passed around sharpies and cedar medallions, asking the kids to write down one goal they hoped to accomplish in their lifetime.
"The real mission of the project is to motivate kids to spend more time outside and do so in a way where they can create positive physical memories with friends," Cooper explained. "And to use that as a tool they can use throughout their life to be reflective and think about their goals and how to overcome adversity. We know that often times it could be hard for youth to relate, listen and let things soak in. One of the assets we have as athletes is we have an ability to connect with kids and know we're going to have their ears and attention because we gained that beautiful gift of being their role models, so we try to pass that on to them through the Nature Project work."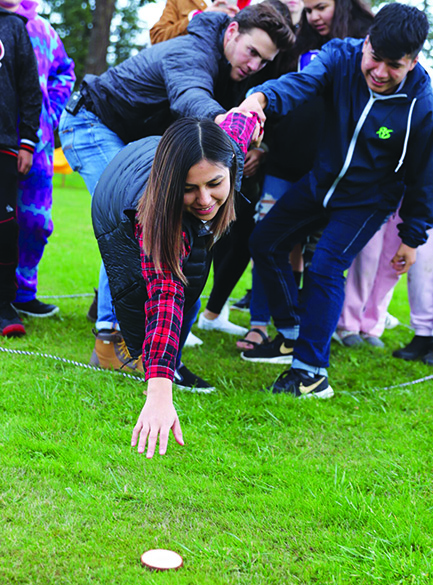 Once everybody's goals were marked down, the kids had fun participating in an exercise designed to use the power of communication, teamwork, and creativity to find a way to obtain their goals. After putting in plenty of effort and refusing to give up, the kids got a little help from Cooper, Jermaine and Tyrone. However, in order to receive help from the football pros, the youth had to vocalize exactly what they needed from the athletes first.
The youth were shown that it is possible to achieve their aspirations by using teamwork and communication skills. The group then had an open conversation about attaining individual goals through determination, perseverance and utilizing personal resources.
"Perseverance for me is not giving up and overcoming every obstacle," expressed Jermaine, who is also a Super Bowl XVIII Champ. "Adversity is going to show up in our lives whether it's in sports, school, life or relationships. For me, in the 2015 NFC Championship against the Green Bay Packers I had four targets, four passes thrown to me, and they were intercepted each time. It was a tough moment but I didn't feel sorry for myself, I didn't quit, go in the locker room, or sit on the bench with my head down. I knew there were going to be more opportunities and if I was going to be ready for the next opportunity I had to stay mentally in the game. My next opportunity so happened to be the game winning touchdown. That's perseverance, not giving up on yourself and continuing to push forward.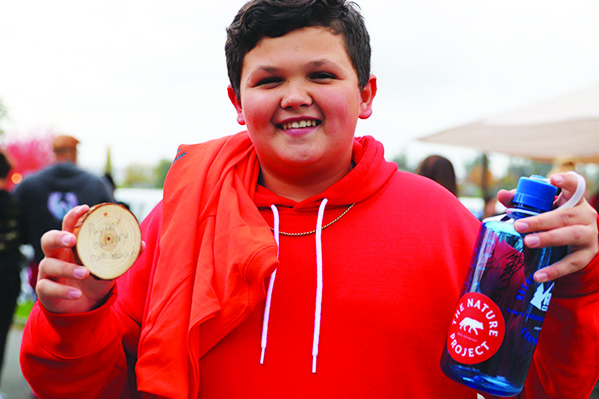 "Sometimes we feel prideful, we have our egos and want to do things on our own. Please know that it's okay to ask for help. It's hard to go through life doing everything by yourself. If you have a group of friends or family that are really close to you, if you're going through hard times in class or struggling, it's okay to ask for help. Don't feel ashamed because even the strongest people in the world need help."
Every year the Tulalip Natural Resources department partners with the YMCA of Snohomish County to bring local youth the outdoor summer camps, Mountain Camp and Fish Camp. Upon hearing about the camps, the Nature Project was interested in hosting an outdoor event with the Tulalip community.
"The Nature Project learned about us through the YMCA," said Ryan Miller, Tulalip Natural Resources Environmental Liaison. "Their whole goal is to get kids out into nature and have that experience that Cooper had when he was a kid, that he feels turned him into the person he is today. They felt he was a really good fit to do something with Tulalip and our youth. It's an opportunity for the kids to learn about the importance of team work, perseverance, leadership and gives them skills that will help them throughout their lives."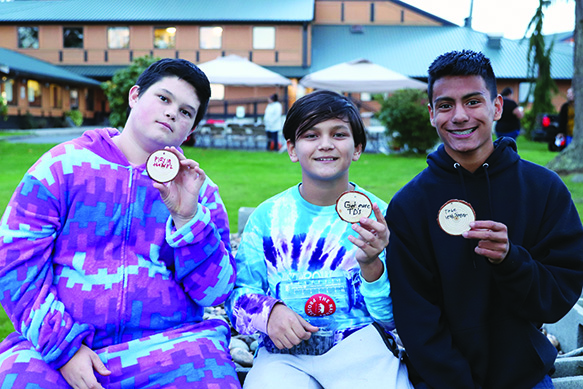 Tulalip youth Seth Montero fell in love with the great outdoors while at the Mountain and Fish Camps. His passion for nature was so strong that when he grew past the camp age limit, he took a course with the YMCA to take on a leadership role at the summertime camps. Seth thanked the former Seahawks for their work promoting outdoor activities.
"Nature is important because it's all around us and every day we're losing more and more of it. It's always good to get outside whenever you have the chance. Go explore new places, appreciate all the views Mother Earth has to offer, because it might not always be there."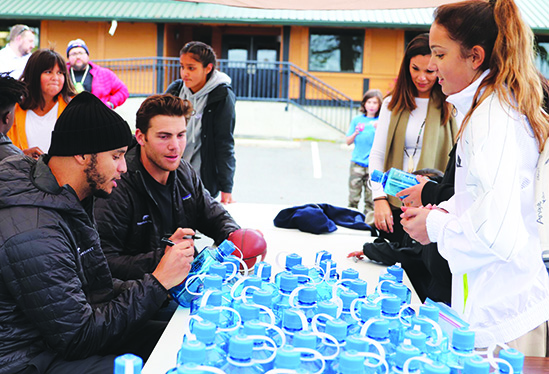 To wrap up the evening, kids were given large water bottles courtesy of REI and all three Nature Project members took a moment to converse with each kiddo as they autographed their names across their bottles.
"It was so awesome," said Tulalip Youth, Lincoln Pablo. "Jermaine Kearse has always been my inspiration for playing football. His catches are amazing. I always wanted to do what he did and get to the league. For my goal today, I wrote down play on our very own Seattle Seahawks."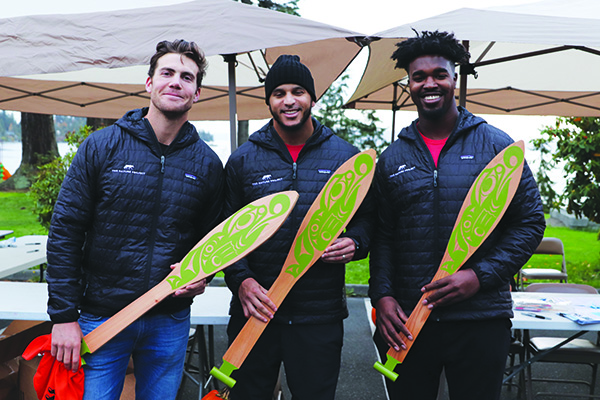 Before taking off in the seaplane, Jermaine and Tyrone were gifted handcrafted masks by Tulalip artist Ty Juvinel, and all three former Seahawks received paddles from the Tulalip Youth.

"You live on a beautiful reservation," Cooper said. "If you're looking for ways to get involved in outdoor fun, it's as simple as walking along the beach or adventuring a little east and getting up in the woods. It doesn't take much. It's grabbing a neighbor and going for a walk, it doesn't need be a planned thing. When I think about my childhood, none of my memories were inside paying video games. They were memories I can feel, hear, see and smell and were with friends. 99% of the time they were outdoors. You just got to take the initiative and go do it. Your ancestors were the original stewards of all this land we get to call home, and I just want to express that there's an insane amount of gratitude that I have for that."