Lifting our hands to those that make our communities stronger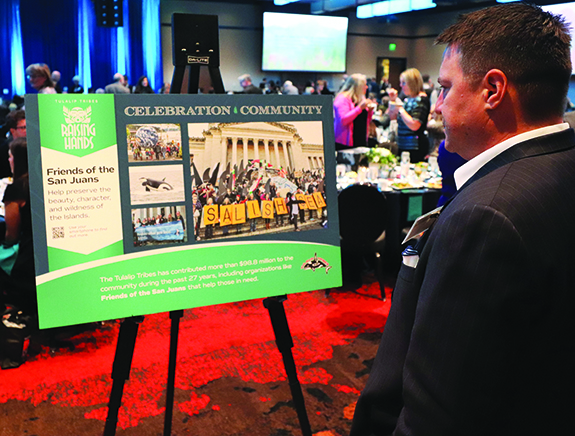 By Micheal Rios, Tulalip News
On the evening of Saturday, October 26th, the Tulalip Tribes recognized and gave thanks to more than 482 Washington nonprofits and community groups who made a significant difference over the past year at the annual Raising Hands celebration. Held in the Tulalip Resort Casino's Orca Ballroom, the always stylish space was filled to max capacity as representatives of these high-impacting organizations came together to create an atmosphere of appreciation, while sharing their common vision to make our communities better.
"In the Tulalip tradition, we raise our hands to show appreciation to the numerous organizations whose good works help to make our communities strong," stated Chairwoman Teri Gobin. "It is truly remarkable how many of our citizens, non-profits and community organizations are involved in efforts to improve the well-being of our communities. [We] hold this event every year to let these individuals and organizations know we value their contributions."
This year's Raising Hands recognized the prior year in community achievement stimulated by an astounding $7.2 million in tribal support to more than 482 nonprofits and community groups. Since 1992, the Tulalip Tribes charitable giving program has donated over $98.8 million in critical support to the community and, indirectly, to their own membership by supporting regional efforts to improve education, health and human services, cultural preservation, public services, the environment, and the economy.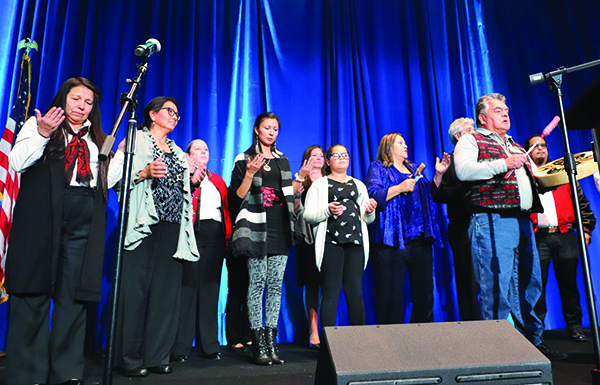 But the Raising Hands event isn't all about dollars and cents. At the annual celebration, our community's change makers are given a chance to share their plans for the future and learn how others like-minded charities are striving to make a difference for the benefit of so many. This is an invaluable benefit for organizations who can sometimes struggle to get their message broadcast to larger audiences. 
"Each and every one of the organizations represented here truly do make a difference. Their dedication is not just to our Snohomish county area, but to the entire Puget Sound region," stated board of director Mel Sheldon who co-emceed the event.
The theme of this year's event highlighted the Orca and its importance to the Tulalip Tribes and the region at large. Prior to guests and attendees enjoying a delectable five-course dinner, the Tulalip Honor Guard presented the flags, a prayer was given by Lushootseed teacher Maria Martin and a traditional welcoming given by Tulalip drummers and singers.
For 11-year-old tribal member Amaya Hernandez, the greater concept of showing thanks and giving back was why she volunteered at the celebratory event. "My mom raised me to know that volunteering is important. I volunteered today and wrote out peoples name tags and handed out gifts," she smiled. "It feels good to give back."
For the 27th Raising Hands, six standout non-profits received special recognition for their exceptional creativity and effectiveness. Spark Northwest, March of Dimes, Lhaq'Temish Canoe Journey, Operation Homefront, Big Brothers Big Sisters, and Friends of the San Juans were each highlighted for their innovative work serving local communities.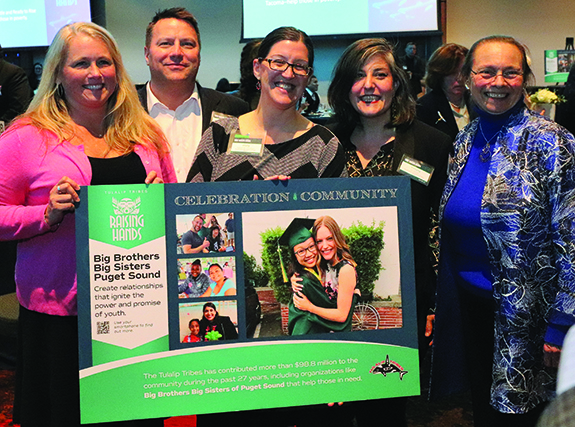 "When you see people coming together to have these amazing, positive conversations, that is when we know we are helping make a difference," asserted Marilyn Sheldon, manager of Tulalip Tribes Charitable Fund. "We try to show respect and honor these charities that give so much of themselves for this community. We want them to feel like the red carpet got laid out, and that it's just for them.
"Each year, as soon as the event is over, we ask ourselves how we can help make the next one better," continued Marilyn. "Giving people the opportunity to work together is priceless. We are so fortunate to be able to work with these amazing organizations in Snohomish and King Counties, and throughout Washington State that do so much good in our communities."
The Indian Gaming Regulatory Act (IGRA) of 1988 allows tribes to conduct certain types of gaming if they enter into a gaming compact with the state. Tulalip's tribal-state gaming compact, like most, includes a provision to donate a percentage of gaming earnings to organizations impacted by gaming, as well as other charitable organizations. From this provision the Tulalip Tribes Charitable Fund was created.
The Charitable Fund, also known as Tulalip Cares, provides the opportunity for a sustainable and healthy community for all. The Tulalip Tribes strives to work together with the community to give benefits back to others to help build a stronger connections to local neighborhoods. That's why, in Tulalip, it is tradition to 'raise our hands' to applaud and give thanks to the numerous organization in our region that strive to create a better world through positive action.
Nonprofits and community groups are encouraged to apply for quarterly awards through the Tulalip Cares program. For more information, visit the Tulalip Tribes Charitable Funds website at www.TulalipCares.org 

____________________________________________________________
"The Lhaq'Temish people are the people of the sea. Our relatives are up and down the coast and throughout the Indigenous territory of the American continent. What we've been able to do with the funds we received from Tulalip's Charitable Contributions are to provide hospitality and appreciation for our many guests at the Paddle to Lummi. In addition, we provided services to our community with the Stepping Stones project that helps the homeless.
This year celebrated the 30th anniversary of the Canoe Journey that has been brought back to our communities. This is really who we are from the elders to the young ones. With the Paddle to Lummi we continued to hand these teachings down to the next generation, to the next seven generations, so they have something to celebrate and honor in a good way."
– Candice Wilson, Lhaq'Temish Foundation executive director
"Spark Northwest is a nonprofit dedicated to advancing locally controlled, clean energy across Washington and Oregon. We make planned community solar projects and have cooperatively owned wind turbines. The idea is the local community decides what they need and we help them achieve that envision.
For so many years, our economy has depended upon burning fossil fuels for our wealth. We're facing rising seas, ocean acidification, increasing wild fires…all of these threats to our wellbeing and it's because of this legacy of polluting energy. We'd like to change that story and have people use clean fuels, like solar and wind."
– Linda Irvine, Spark Northwest program director
"The future of March of Dimes is really fighting those issues that are stigmatized. People don't like talking about opioid addiction, especially talking about opioid addiction in mothers. There's a lot of judgment that comes with it and so we are really advocating to start the conversation and be supportive of those women, to find them the help they need so that they can then help their babies.
One of the other ways we are really breaking down barriers is looking at ethnic disparities. In Washington State, Alaskan Native and American Indian women have significantly higher risk of having a premature baby because they don't have the health care access. We are excited about increasing the access to group prenatal care. If we can create the opportunity for every mom to have access to that resource, then we can literally save thousands of babies every year from being born premature."
– Kristen Miller, March of Dimes development manager
"The San Juans Islands are in the center of the Salish Sea. We're home to critical habitat for southern resident Orcas, 119 federally endangered species, and over 8 million residents that call the Salish Sea home. Tulalip has been an advocate for the Orca since time immemorial, so to work together on the legal and cultural spectrum to represent our ancestors from the deep has been so wonderful.
To be honored by the Tulalip Tribes for the work our organization does is so uplifting and fuels us spiritually. To be celebrated with so many worthy recipients that share a deep love for the Salish Sea that we all do is amazing. The awareness that this event gives to the greater community is truly a gift."