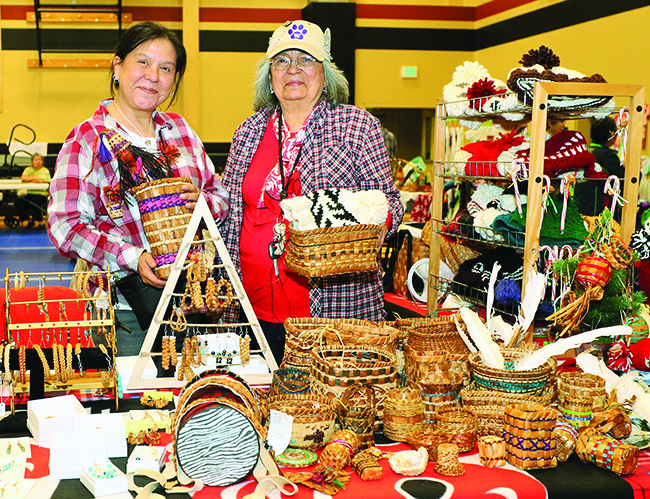 By Micheal Rios, Tulalip News
 Hundreds of visitors journeyed to the Tulalip Reservation on Sunday, November 17 to browse handmade gifts, purchase one-of-kind items made by local artists and stock up on holiday spirit at the annual Native Bazaar. The Tulalip Youth Center hosted the place to be for those in the market for truly unforgettable gifts and Native décor. 
The Bazaar was jam-packed with unique goodies galore including beaded jewelry, cedar creations of all varieties, custom artwork and much, much more. Filled to the brim with a variety of vendors, all of whom were Tulalip tribal members, customers had no shortage of buying options just in time for the holiday season.
Coordinated by Tammy Taylor, who has organized the event for ten years in row, the annual shopping experience combines traditional Tulalip culture with the best of the holiday season. There was something for everyone, even those who simply wanted to fill their bellies with frybread and smoked salmon.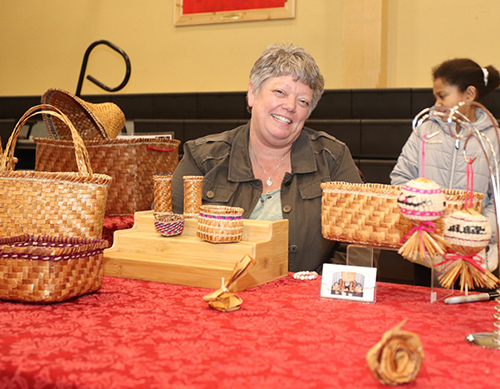 "This is such a great event," said Tammy. "We have over 30 vendors setup. I try to find young artists who are willing to sell their art, and encourage them to participate. Teaching our people to be entrepreneurs at a young age has so many benefits."
Eleven-year-old Jaylynn Parks is a prime example of what happens when an energetic youth is filled with the entrepreneurial spirt. With her grandmother's help, she baked about 60 mountain huckleberry and pineapple cupcakes that were a major hit as they quickly sold out. Jaylynn also came prepared with her classic Roosevelt Popper and switched up her vending style from cupcakes to freshly popped popcorn.
"Everyone really liked my cupcakes. [So far] I've sold like 150 bags of popcorn," beamed young Jaylynn while also sharing she has big plans with her Bazaar profits. "I'm going to redecorate my bedroom. If I can buy anything it would be a big pink bed!"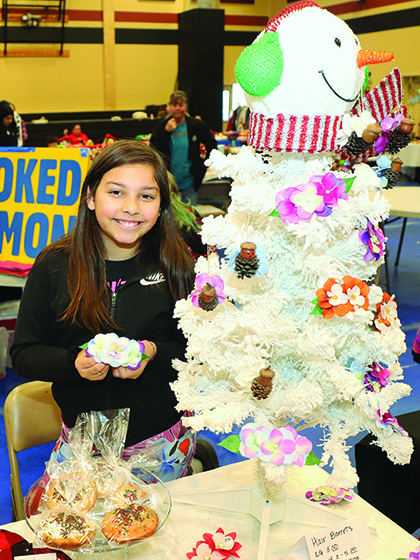 Another spirited youth who made the most of her passion for art and crafting was Catherine Velasquez. "I made hair barrettes with little flowers and bells and bows," she said while sharing a station with her family. "I sold, like, quite a few. My first few I made took like 10 minutes or so to make, but once I got going I was able to make them really quick. I helped make cookies, muffins, and ferry ornaments. The best part of being here is hanging out with family."
Several stations at the bazaar showcased tradition teachings that have been passed down from one generation to the next. One such example was Keeta Sheldon and her daughter Jamie who are well-known in cedar weaving circles. Their expertise with gift giving cedar is as boundless as their artistic imaginations, exemplified by their innovative creations. 
"Weaving is a good hobby because there are so many styles and so much that can be made that you won't ever be bored," said Keeta. She's passed on her passion for weaving to all of her daughters and together they teach classes in the local area. "I've been teaching off and on now for 17 years at the college and museum. We like to teach what we know so that it stays in our culture."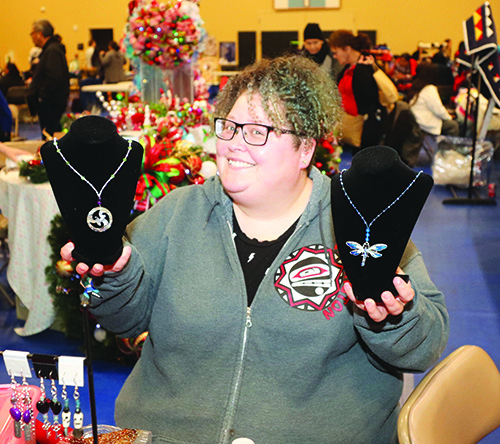 The 2019 Native Bazaar will return to the Youth Center on December 7 and 8, from 9:00am – 4:00pm, providing yet another two-day opportunity to enjoy delicious holiday treats while stocking up on holiday gifts. All visitors are welcome to support their local artists.
"I want to thank the community for coming out and supporting all of our tribal artists," said coordinator Tammy Taylor. "It's so beautiful to witness because we don't have many places available to sell our stuff, but here we have a good mixture of Native and non-Native visitors who truly appreciate the skill and craftsmanship that goes into authentic Native art."