By  Cullen Salinas-Zackuse, Tulalip News
When getting awards in academia, typically what people think of is a straight edge, hard working kid that worries about grades and school comes to them effortlessly. Not all students function the same way, some shine differently. When going through the rigorous journey of school these kids did not have the typical ride and with their resilience and efforts they were able to endure their situation and succeed. This semester these are the Native youth that were nominated and recognized for the outstanding work and efforts.
The student of the semester for middle school is 8th grader Lenay Chuckalnaskit. She recently moved from Nespelem Washington, to Marysville and now attends Totem Middle School. She was noticed for her hard work while going through a tough transitional phase in life with friends, grades, and a good attitude. She became a student athlete and participates in track and field 100-meter dash/hurdles, volleyball, and gymnastics. Lenay also participates in the cultural activities by Powwow dancing. With all the activities Lanay is doing she is also able to maintain a 4.0 GPA, as she is driven and has only missed two days of school this year.
Lanay eventually wants to have a career in the medical field but is not positive where yet. She thanks her parents and family for supporting her along her academic journey. She also looks up to her 19-year-old sister for being her role model and leading by example on how to be successful in school.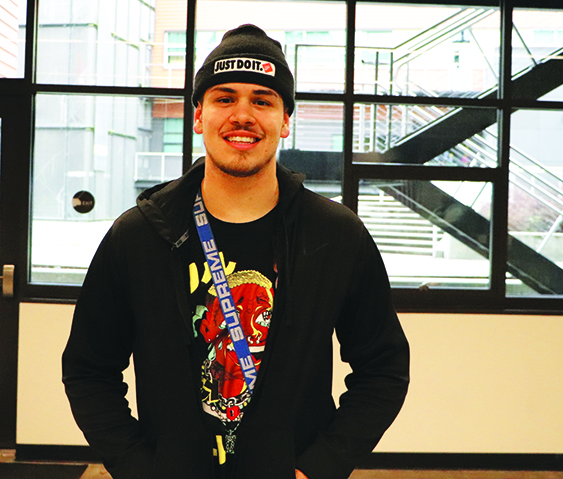 The student of the semester for high school was nominated because of his growth as a student. Tristian Hopkins is a senior at Marysville-Getchell High School. He started his high school career at Tulalip Heritage, where he felt comfortable going to school with friends and family. He eventually felt distracted and wanted to branch out and explore a bigger school and that is where he found himself at Marysville-Getchell Highschool. Going from 100 kids who are friends and family to a school that has 1,500 kids usually seems like a tough transition but Tristian looked at it as an opportunity for growth. He was able to find a new crowd and focus better in his academic work. He pulled his grades up to above a 3.0 GPA, but not without sacrificing a year playing football. Choosing to focus on school over football did not diminish his love for the game. His senior year he came back and played for the varsity football team. Tristian was able to rack up 8 tackles his last 3 games and was honorary captain for a couple of those games. 
Looking to the future, Tristian plans on applying to Arizona State University. He wants to become an aerospace engineer and work on building airplane parts. It makes sense when you ask him his favorite subject, he says physics. Academic careers hardly ever go as planned and not all are perfect, but along the journey there is always room to grow. That is what Tristian showed he can do. 
Diamond Medina is a sweet, kind young lady. She a fifth grader at Tulalip/Quil Ceda Elementary where she has grown into a positive role model. She always stays focused and gets her work done. Multiple teachers noticed she is organized and advocates for herself and her learning. Diamond doesn't get distracted easily as she's always on time for her groups and utilizes her resources while she is in school. Overall, she keeps her positive mindset no matter her situation at school and is always smiling.