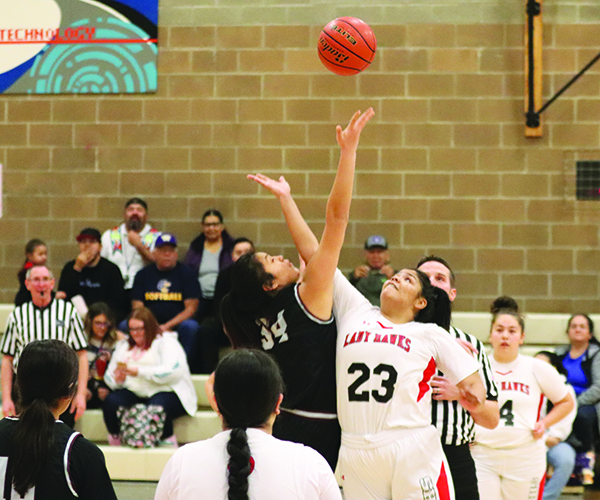 By Micheal Rios, Tulalip News
In a battle between the Northwest 1B's top two teams, record-wise, the Tulalip Heritage Lady Hawks hosted the Lummi Nation Blackhawks on January 17th. Heritage entered the game winning three of their last four games and looking to avenge their nail-biting 43-45 loss to Lummi earlier this season.
The 1st quarter was a struggle to score points for the home team, as rising star Jacynta Myles was forced to sit out the opening eight-minutes. Without her domineering presence holding down the painted area, the girls had difficulty executed their offense. Sophomore forward Shalana McLean scored on a running floater to give her team their first points nearly five-minutes into the game. A few plays later, Krislyn Parks muscled in a layup to give the Lady Hawks their second score.
Heritage trailed 4-10 entering the 2nd quarter, and received a boost when Jacynta checked into the game. She immediately made an impact by scoring in the post and grabbing one rebound after another against the much smaller Lummi players. However, Lummi did a good job of adjusting their game plan and focused on perimeter shooting.
The Lady Hawks trailed by double digits for most of the 2nd half until going on a late surge in the 4th quarter. An 8-2 scoring edge in the game's final minutes cut their deficit to 29-36, but the girls couldn't build upon that spark. Critical turnovers stopped their momentum and the Lady Hawks fell to Lummi, 32-41.
Krislyn led her team with 14 points, while Jacynta finished with 12 points, 19 rebounds, and 3 blocked shots.
"It was a difficult week with all the school closures and delays because of the snowy weather. Because of that we only practiced once all week,' said Krislyn postgame. "We need to get back to practicing our passes because in this game especially we turned the ball over a lot on bad passes. We did have moments where we played really well together, but will focus on our chemistry and cutting down the turnovers.
"Our defense has really gotten better and showed in this game. We held Lummi scoreless for stretches and considering both our match ups were really close, we feel like we can beat them if we play again."
The Lady Hawks play a home game January 25th vs Chief Kitsap Academy. Senior night is scheduled for Tuesday, January 28th vs Cedar Park Christian.