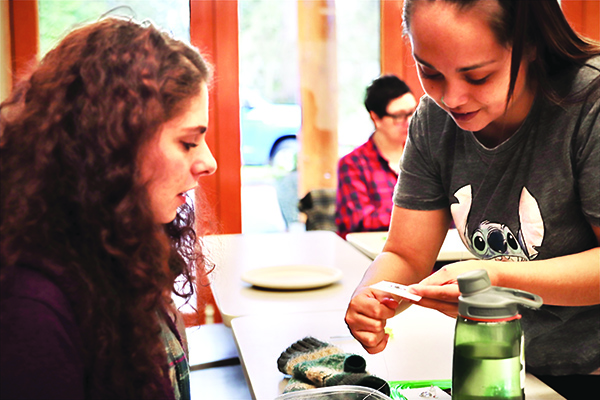 By Kalvin Valdillez, Tulalip News
Strands upon strands of vibrant beads covered two entire tables in a classroom at the Hibulb Cultural Center (HCC). Choosing from the many hues of yellow, blue and red, seven local ladies sat down for a fun, cultural experience together on January 18. Picking up their needle and thread, some ladies exchanged stories and laughter while they worked, and others seized the opportunity for some alone time as they zoned in on their project at hand, designing and crafting medallion earrings.
Tulalip tribal member Stephanie Jones, along with step-mother Chelsea Martinez, returned to the cultural center to host their third beaded earrings class, as part of the HCC's Culture Series.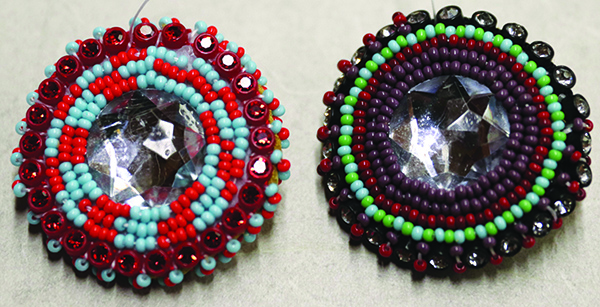 "I've been beading these types of earrings for about three years now, but I've been beading ever since I was 8 or 9," said Stephanie. "Originally I started beading key chains and feathers, but I saw these earrings being sold by other artists and just started learning by asking other artists. And YouTube has helped me a lot. And honestly, just practicing with my stepmom, Chelsea, we're helping each out other along the way."
The relationship between Indigenous people and beadwork dates back generations prior to colonial times when our ancestors crafted beads from bone and stone. Beads were worn as a status symbol of wealth with beaded items featured on traditional regalia, jewelry and artwork. As the years progressed, so have many of the stitching designs. Due to the introduction of glass, metal, crystal and various beads through trade, the colorway and pattern possibilities for Native beadwork are infinite. Today, many Natives coordinate their beaded jewelry with their outfit of the day, matching their colors and patterns to those on their fabrics.
"I did a class here at the Hibulb about a year ago and learned how to make a beaded bracelet," said class participant and local resident, Susan Stachowiak. "I thought I'd come down today and try my hand at earrings too. It was a wonderful learning experience, trying new techniques and my earrings turned out pretty cool. Keeping the culture alive is primo, I come to as many events at the Hibulb as I can to help support and soak in the knowledge, even as a non-tribal member."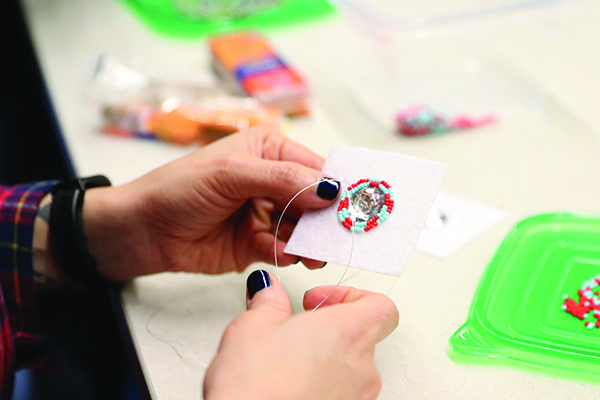 Three-and-a-half-hours passed by quickly and by the end of the class, most ladies completed one half of a pair of earrings, and then packed the rest of their materials up to finish their projects at home.
"It makes me feel good to pass this on and teach other people," expressed Stephanie. "Personally, it helps me get in touch with my spirit. It's medicine, putting a piece of myself into my work. You give away that work to other people, and by doing so, you give that piece of yourself to other people. I think putting yourself out into the world through your art is important."
For more information about upcoming culture series workshops, please follow the Hibulb Cultural Center on Facebook. And for any beading inquires, feel free to reach out to Stephanie Jones, preferably through Facebook.