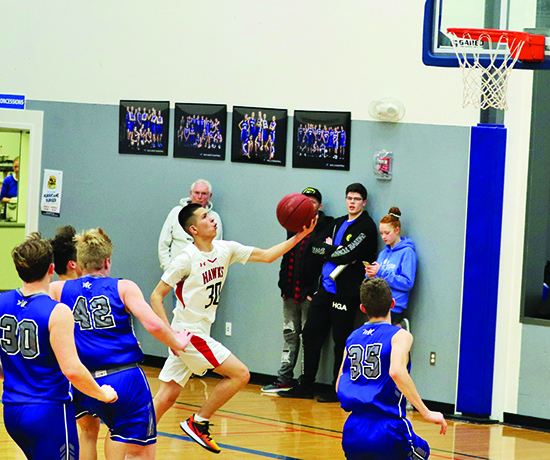 By Micheal Rios, Tulalip News
The Tulalip Heritage Hawks boys basketball team entered the Northwest 1B district playoffs as a #3 seed and as such had to play on the road on February 6 versus the #2 seeded Cedar Park Christian. These two teams matched up twice in the regular season, with both teams winning on the other's home court. 
A 3rd matchup made for a highly entertaining game. It was a back and forth affair with both teams determined to execute game plans. Heritage wanted to push the tempo and run at every opportunity, while Cedar Park wanted to be more methodical and slow the game down. Cedar Park's strategy won out on this day because Tulalip's shooting went cold in the game's final minutes and resulted in a 57-65 loss.
"Looking back, we played too conservative and that's what cost us," explained Coach Cyrus 'Bubba' Fryberg. "The style that best suits us is playing fast, fast, and more fast. That's what our focus has to be."
In a 2nd round matchup with Lopez, Tulalip lived up to the coach's expectation of playing fast. From the opening seconds they came out firing on all cylinders. The defense was forcing turnovers and making everything difficult for Lopez shooters, while the Hawks offense caught fire from field. A double-digit halftime lead continued to grow in the 2nd half. Lopez was unable to limit the Hawks' high flying attack and the boys went on to make quick work of their opponent, 75-51.
Tulalip matched up with Mount Vernon Christian on February 11 in a battle for 3rd place at Districts. The atmosphere was heated as the gym was at maximum capacity with fans cheering loudly for both teams.
The Hawks aggressive style was on full display from the game's opening tip. The boys took a 19-4 lead by coming up with one steal after another and converting those into transition buckets. Their opponent refused to go down quietly however, as the Hurricanes adjusted and took advantage of their size and mismatches down low. The Hawks lead was trimmed to just four points, 29-25 at halftime.
In the 2nd half, the Hurricanes continue to play to their strength and cut the Hawks lead to just a single point, 33-32. Tulalip felt the pressure and used it to bounce back with an amazing 20-4 scoring run. They were once again feasting on forced turnovers and everyone was getting quality looks at the basket. Their relentless attack of the basket eventually wore down the Hurricanes. Now leading 53-36, the Hawks could coast to victory.
Heritage won out 65-49 to claim 3rd place at Districts. They were led by a trio of eye popping stat lines, including Alonzo Jones' 16 points – 9 rebounds – 5 steals, Leno Vela's 15 points – 5 assist – 8 steals, and Josh Miranda's 13 points – 8 rebounds.
What's not visible in the box score is the high energy and contagious competitive spirt role players Daron Fryberg and Tarel Gonzales brought from beginning to end.
"They bring so much energy to our team and by giving them more playing time their aggressiveness is infectious…it ignites the rest of our team," said Coach Bubba after the 3rd place showing. "We'll look to continue playing our style of play at Tri-Districts, taking good shots, and playing an aggressive defense. I like our chances vs. anybody."
The 1B Tri-District tournament begins this weekend. The Hawks will host their opening round matchup. Opponent is to be determined, but game time will be 1:30pm on Saturday, February 15.