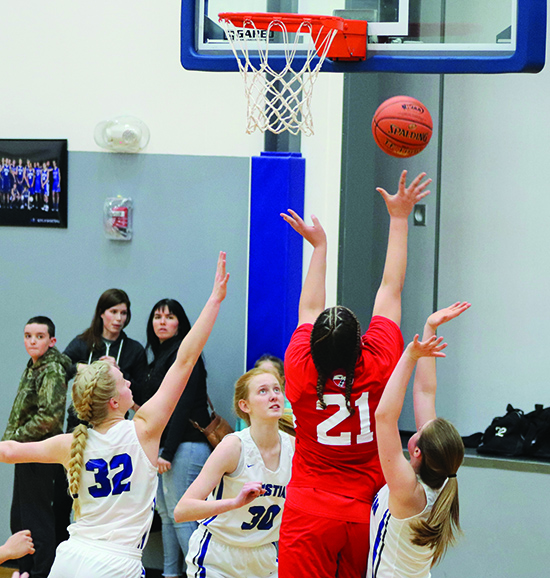 By Micheal Rios, Tulalip News  
Just three short weeks ago, the Tulalip Heritage Lady Hawks basketball team had a (7-7) record and were looking to solidify their identity on the hardwood. The Lady Hawk coaching staff reviewed game footage and box scores to determine what they needed to focus on was defense.
In their seven wins, they held their opponents to a miniscule 31 points per game. But in their seven losses, they were giving up 46 points per game. The game plan was simple then, according to coaches, if the team locked in defensively they gave themselves the best chance to win.
"We decided we are going to control what our opponents do offensively by playing a box-and-1 style defense," explained head coach Marc Robinson. "By taking away our opponents' biggest threat and funneling everyone else towards our bigger and more physical interior defenders, we force a style that better suits us. If we play with those defensive principles we are difficult to beat."
During their next four games vs. Grace Academy, Chief Kitsap, Cedar Park and Shoreline Christian, the Lady Hawks found a renewed sense of purpose and team identity anchored by their defense. The girls won each of those games by holding their opponents to 31 points or less, and rode the momentum of a 4-game winning streak into the Northwest 1B District playoffs.
Kicking off on February 6, Tulalip earned the right to host a 1st round game at home in Francy J. Sheldon gymnasium. Led by their sophomore center Jacynta Myles dominating on both ends of the court, the Lady Hawks routed Lopez, 46-30. Jacynta scored a game-high 25 points.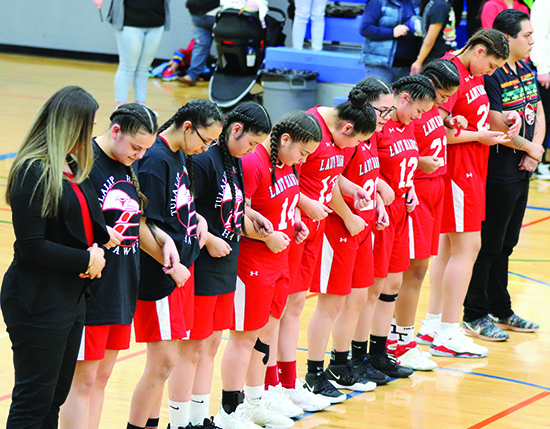 Next up, the girls hit the road to play the District's #1 seed Grace Academy on February 8. In the regular season the two teams matched up twice and both times Tulalip was victorious. Before the game started it was obvious the Lady Hawks' confidence was high and their defense was locked-in. They started the game riding their post-advantage by feeding the ball to Jacynta over and over. To her credit, Jacynta responded to her teammates trust by scoring one big bucket after another.
The defense was impressive yet again as they held the top seeded Grace team to only 34 points, led by senior guard Deachae Jones and junior forward Krislyn Parks' active hands and physical play. Tulalip game up big with an upset victory, 40-34, over rival Grace Academy to move on and play for the District championship.
The District title game was held at Mt. Vernon Christian on February 11. The game pitted the Lady Hawks, who were on a 6-game winning streak, against the hosting Hurricanes, who had won eight of their last nine. Fans from both teams turned out and filled the gym with eager onlookers.
In the battle for 1st place, the intensity was turned up to the max. The Lady Hawks scouted their opponent and were determined to limit the Hurricanes best player. Unfortunately, Mt. Vernon had a team full of shooters who were ready to step up. Mt. Vernon's role players showcased a 3-point touch that Tulalip was unable to shutdown. Meanwhile, Jacynta was seeing routine double-teams and even triple-teams to prevent her from scoring and the rest of her Lady Hawk teammates were having difficulty scoring the ball.
Tulalip trailed 15-32 at halftime. They battled back early in the 3rd quarter with an 8-3 scoring run, but the Hurricanes continued to pile on with timely 3-pointers. The Lady Hawks daunting defense let them down this game, resulting in a 29-53 loss. Disappointed at the game's results but still very much aware of the big picture, the Lady Hawks rejoiced in their 2nd place showing at Districts.
"Throughout these playoffs we've really just had fun and enjoyed playing as a team," shared co-captain Krislyn. "Our defense had been so good lately and our offense will continue to get better. We know we missed a lot of shots vs. this Mt. Vernon Christian team, but credit to them for playing as well as they did.
"We will recoup and look forward to hosting a Tri-District game. At the end of the day, by finishing #2 here, we are super excited because we placed higher than the boys!"
The 1B Tri-District tournament begins this weekend. The Lady Hawks will host their opening round matchup. Opponent is to be determined, but game time will be 12pm on Saturday, February 15. Be sure to support your local hoopers on their quest for State.