By Micheal Rios, Tulalip News
Coming off a stellar 2nd place finish at the Northwest 1B District tournament, the Heritage Lady Hawks (13-8) were riding a wave of success. They had won 6 of their past 7 and gotten hot at the perfect time late in the season.
Because of their recent success and high finish at Districts they were rewarded with a 1st round home game to open the Tri-District tournament. They played the Mustangs of Rainier Christian (5-15) on Saturday, February 15.
The first half was flat out ugly for the home team Lady Hawks. They were sloppy with their passes and not executing their offense anywhere close to what's been expected. The defense wasn't much better, allowing the Mustangs to get easy looks close to the basket.
At halftime, Tulalip trailed 19-31.
In the 2nd half, the girls flipped a switch and all of a sudden it was the winning style Lady Hawk basketball being played. The guards were making crisp, on-point passes to forwards Jacynta Myles and Krislyn Parks who were bulldozing their way over the much smaller Mustang players.
Defensively, the team was locked-in. They contested every shot, kept their hands active to force turnovers, and battled for every rebound. Down 12 at halftime, Tulalip quickly bounced back in the 3rd quarter to tie the game at 39-39.
In the decisive 4th quarter, Tulalip kept going to the well and getting the ball to their forwards who were taking full advantage of their overpowering presence. In fact, at one point in the 2nd half, Jacynta and Krislyn combined to shoot an impressive 16/21 from the field. That hot shooting combined with the team's lockdown defense forcing the Mustangs to shoot contested, off-balance shots meant victory for the Lady Hawks.
The start may have been ugly, but the finish more than made up for it enroute to an emphatic 57-45 home win.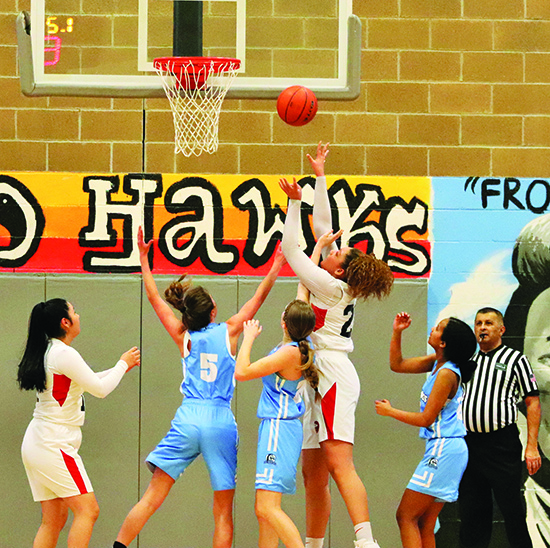 "We were not playing well at all in the 1st half," said sophomore standout Jacynta following the comeback. "Personally, I had to change my energy and play more aggressive because we deserved a win. Once we got going in the 2nd half, the whole team's energy changed and we knew we had the W."
"Our coaches emphasized to us at halftime that we needed to play our game and quit trying to adjust to our opponent's defense," added co-captain Krislyn. "We needed to get the ball inside, pound them with post play, and quit settling for 3-point shots. We wanted to be a cleanup crew by grabbing every rebound and getting putback baskets."
A 1st round Tri-District win is good all on its own, but making it even more special was it came on Krislyn's 17th birthday, which was celebrated after the game by the group of delighted hoopers.
"Two years ago we played a 1st round game, loser-out, on my birthday and we lost," shared the newly minted 17-year-old. "So this was redemption for myself being a much better player and being able to do more to help the team win."
The Lady Hawks hit the road for a crucial matchup with rival Lummi at Mt. Vernon Christian High School. They'll play a late game on Thursday, February 20. Tip-off is scheduled for 7:45pm.