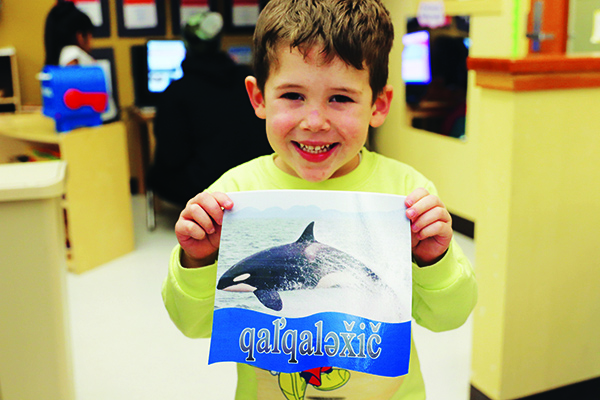 By Kalvin Valdillez, Tulalip News
"This is my third year with Lushootseed and I'm now realizing how much healing that the kids are getting from learning the language," said Tulalip Lushootseed Language Instructor, Oceana Alday. "It's beautiful to watch because I don't think they realize that they are ones who are revitalizing the language that our ancestors once spoke."
For nearly three generations, the Lushootseed Language department has been on a mission to reintroduce the ancestral Coast Salish language back into lifeways of modern day Tulalip. Recently the program made local headlines by helping bring back Lushootseed classes to Marysville-Pilchuck High School (MP) and also instructing those classes. This news is especially important for Tulalip students who wish to continue studying the vernacular of their people. Most present day Tulalip youth began their educational journey with Lushootseed many years ago, around the ages of 3 and 4-years-old at the Tulalip Montessori.
During the early 1990's, a seed was planted in the name of cultural revitalization when the development of the Lushootseed Language department came to fruition. With only two staff members initially, Toby Langen and Hank Gobin, the department set out to build a foundation by teaching their community the words, phrases and pronunciation of the language that Snohomish people spoke since the beginning of time. After colonization, forced assimilation and the years of generational trauma that followed, the cultural resurgence appeared to be much needed within the Tulalip community and ever since, the language has served as a great source of medicine for the people.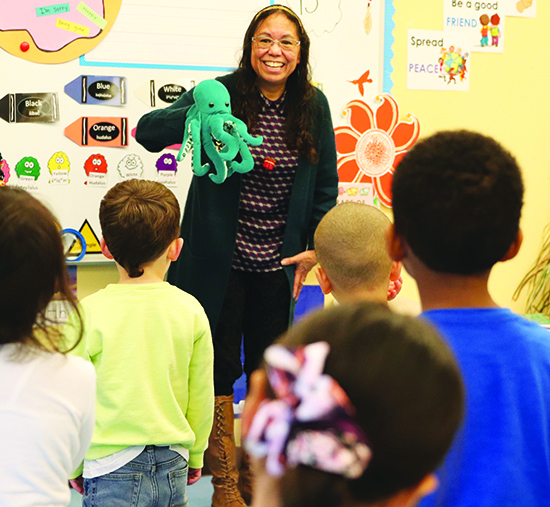 "To me, the language means that we are speaking what our ancestors used to speak. We are bringing it back," said Tulalip Lushootseed Program Manager, Michele Balagot. "The program was developed in 1993 and we've taught it in schools since. It was one class when they first started teaching. We've grown from four teachers and six classes to fourteen language teachers and well over thirty classes; two at MP, two at Heritage, two college level classes. There are four or five classes at Quil Ceda Tulalip [Elementary], and we teach fourteen, birth-to-three classrooms and ten preschool classrooms at the academy."
When the Betty J. Taylor Early Learning Academy (TELA) first opened in 2015, the Lushootseed Language classes resumed for most of the Montessori and ECEAP students. However, over time, as both programs continued to grow, the demand for more language within the classroom rose quickly and resulted in the hiring of new Lushootseed instructors, who are also commonly referred to as Language Warriors.
"We thought we should be teaching them young because this is when they are developing their brains," Michele explained. "If they start hearing Lushootseed from the beginning of their education, they'll learn the sounds and know some of the words. On the preschool side, we are focused on teaching them sentences so when they get to elementary school, they can work more on phrases. And in junior high and high school, they'll be able to have full conversations."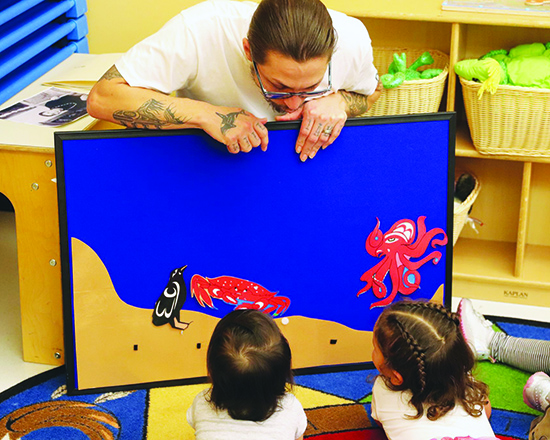 Perhaps due to the success of the preschool age classes, or simply a desire to ensure the language is embedded into the young minds of future Tulalip leaders, TELA joined forces with the language department in 2017 to implement a new component into their curriculum known as language immersion. Today, every TELA student receives daily language lessons each morning, Monday through Thursday, and for the first time that includes the birth-to-three age group.
"It's pretty exciting working with the birth-to-three level," said Language Warrior, Thomas Williams. "It's amazing seeing them express what they've learned. I'll hold up a flash card and they'll quickly respond with the word in Lushootseed. The last couple of weeks we've been doing traditional stories. Usually, I go in and sing a handful of songs with them. But we tried something a little more progressive for their age group where we get them to listen to a story. We did a felt board story and for that age, it took two weeks introducing them to the characters with flash cards and mini games. They've already memorized the characters. And going through the stories, they are starting to express what the characters are doing and what's going to happen to them by the end of the story, all in the language."
While the youngest tribal members get more acquainted with the basics of the verb-based language, the big kids on the preschool side of the academy fine-tune what they've learned. By participating in a language warm-up exercise at the start of each class, they use flashcards to identify a number of animals and marine life before starting their daily lesson complete with songs, stories and games conducted entirely in Lushootseed.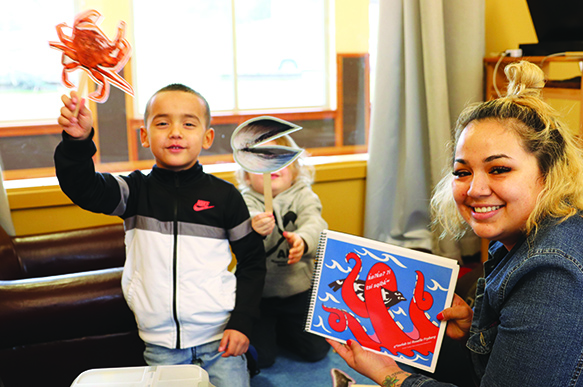 "We did Lushootseed today," exclaimed TELA Student, Anastasia Clower. "We learned the words for octopuses, crabs, clams, sea lions. My favorite Lushootseed word is bəsqʷ, which means crab. I don't like to eat bəsqʷ, but they are still really cool. I'm going to the beach on my birthday and I'm going to look for some bəsqʷ and I'm going to try to catch a sʔuladxʷ (salmon) too. I can't wait!"
"I know sup̓qs and bəsqʷ, those mean seal and crab!" enthusiastically added fellow TELA student, Elaina Luquin. "I also know Lushootseed songs, not all of them but a lot of them. I sing them at my home too. My mom has the story about the bəsqʷ and we sing it together. I really like it a lot."
Although still early in the process of the language immersion project, hearing Lushootseed from tribal youth at such young age is incredible. Paired with the Academy's monthly culture day, which the language department frequently assists with, tribal students are building up a strong sense of pride in their Coast Salish identity and heritage.
"I'm just so grateful that our teachers and our children are so in love with the culture and the language; we just keep doing the work and it keeps growing," said TELA Director Sheryl Fryberg at a recent culture day event.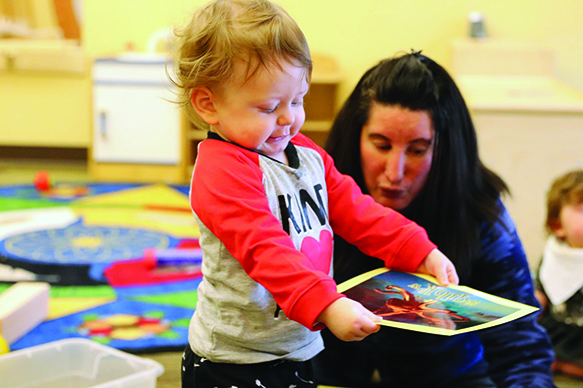 By offering classes to the Academy, the language department is setting the stage for their next generation of Tribal leaders. By partnering with TELA and participating in the language immersion curriculum this is the first time, since perhaps the pre-colonial era, that Lushootseed will be present during multiple stages of a young sduhubš life's journey, beginning at birth and ideally extending to their college years and beyond.
"We are building a foundation for future speakers," expressed Lushootseed Language Warrior, Lois Landgrebe. "It makes me feel hopeful when we get them to reply first in Lushootseed instead of in English. It can be a slow process, but it's bringing our Native language forward in their comprehension, when that happens its promising."
The ultimate goal for the department is to have a future generation of language warriors who can speak Lushootseed fluently, and will do their part to ensure the language never dies. Therefore, the Lushootseed department would like to send out a friendly challenge for all Tulalip community members to speak Lushootseed to the youth as often as possible.
"It's a very hard language to learn but it's rewarding to hear the students speaking it," Michele stated. "It's very important not only for us adults, but for the kids to carry it on so we don't lose it. We encourage everybody, when you see the kids, to speak to them in Lushootseed, so they know they can practice the language whenever they wish and that it's not only meant to be used for school. Greet them in the language of our people and I know you'll be surprised to hear their response."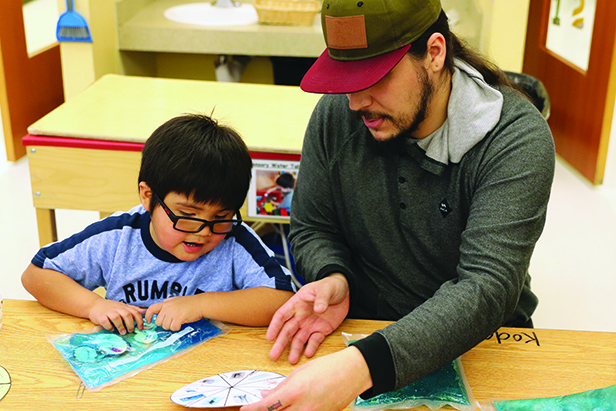 For more information, please contact the Tulalip Lushootseed Language department at (360) 716-4499 or visit their website www.TulalipLushootseed.com