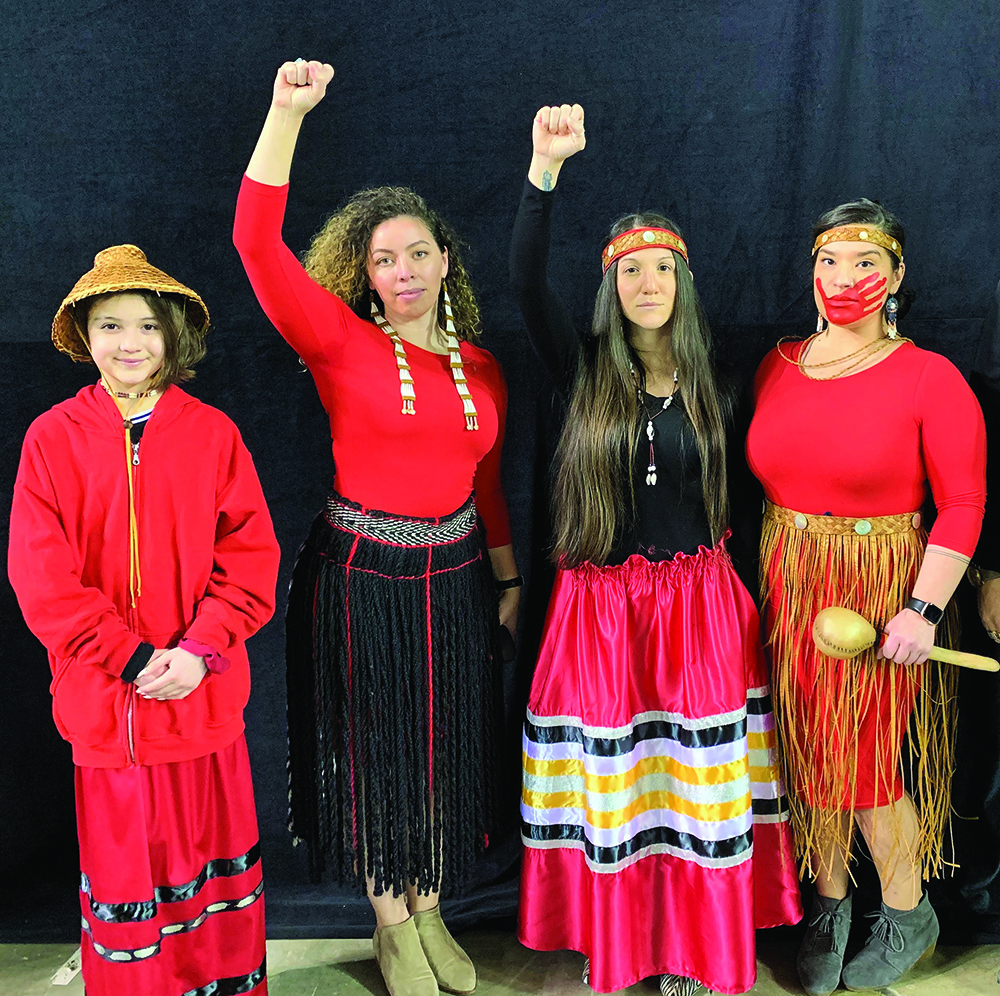 By Micheal Rios, Tulalip News
President's Day. A day historically marked by United States citizens looking back through history and remembering all former Presidents. This year's President's Day was quite different. Instead of looking backwards, thousands looked forward to a new, hopeful future led by presidential hopeful Bernie Sanders.
The Vermont Senator and current frontrunner for the Democratic presidential candidate came to Washington State and held an awe-inspiring rally that drew 17,000+ people to the Tacoma Dome. Understanding he was visiting the traditional homelands of the Coast Salish people, Sanders' team invited the area's first inhabitants to not just attend the rally as honored guests, but to be seen and heard on a campaign trail captivating audience members by the masses.
"For too many years, the needs of the American Indian have been ignored, treaties have been broken and lie after lie has been told to you," stated Senator Sanders. "The time is long overdue, perhaps hundreds of years overdue, for the Native American people to be treated with respect. The pain and the lies and the broken treaties, it should never have happened, but our job together is to end those terrible things, to bring our people together and to treat the Native American people with the dignity they are entitled to."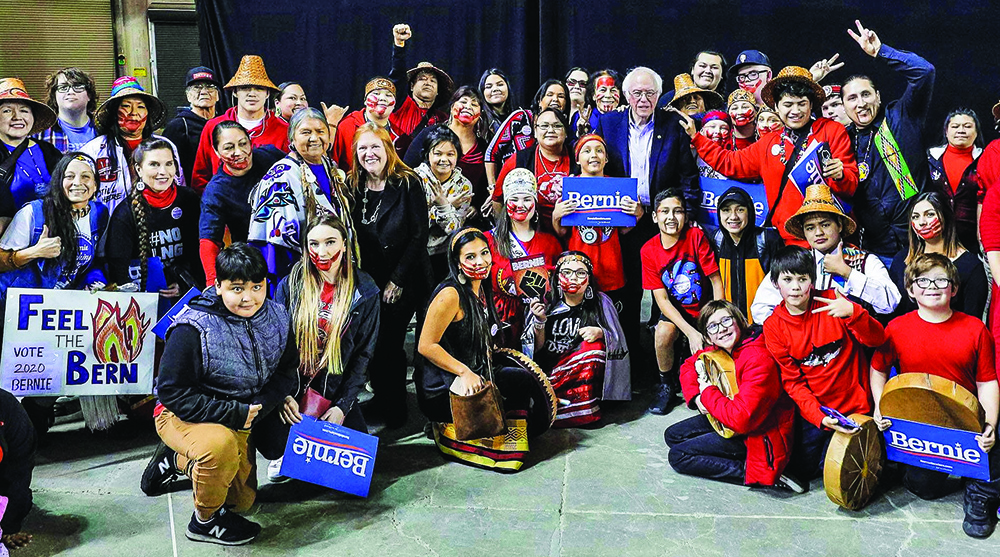 Answering the call was a coalition of Northwest Natives including tribal members from Tulalip, Puyallup, Lummi, Muckleshoot, Swinomish, Nisqually, Yakama, Alaska, and even some First Nations relatives from Canada.
"This is a sign that politicians are recognizing the important roles that Tribes play not just in politics, but in protecting the environment," said Puyallup Chairman David Bean. "Bernie Sanders is a champion for protecting Mother Earth and bringing awareness to the realities of climate change that threaten our homelands and natural resources. It's so significant to have a presidential candidate reach out to the Tribes to recognize he's on our homeland and allow us to share our messages regarding climate change and missing and murdered Indigenous women (MMIW)."
Freddie Lane, Lummi council member, added "It's so important for any presidential candidate to reach out to Indian Country, not for the fact that we have $33 billion dollars going through Indian Country every year and that some of the strongest economies in our states are within Indian nations. It don't matter if it's California, Oklahoma, Florida, Washington State or Connecticut, Tribes must step up and utilize their positions to get tribal-friendly people elected to public office. We have to set aside our differences, get out and vote, in order to make our voice heard. Our communities are stronger together."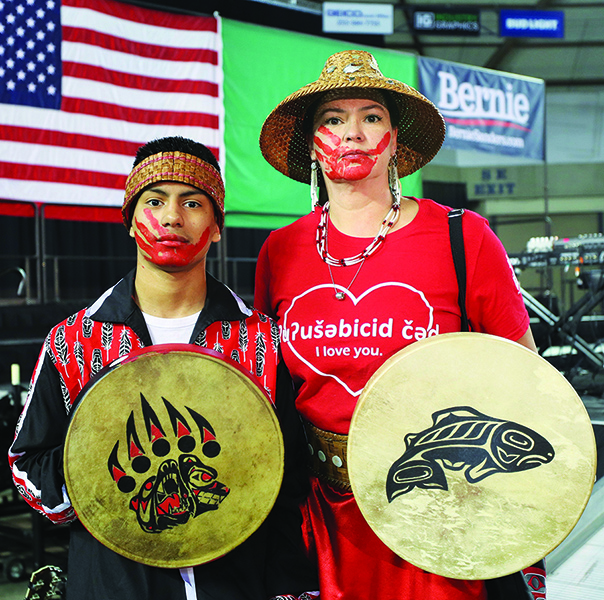 Unified strength is exactly what the inclusive gathering of Northwest Natives displayed by journeying from so many different reservations with a common mission to share culture and perspective.
Upon arriving to the Tacoma Dome, hours prior to the scheduled rally start time, the tribal cohort nearing 200 strong were led through a private entrance by Sanders representatives to the Tacoma Dome's main floor. While thousands of excited rally attendees stood outside in a long line wrapping around the stadium, some as long as six hours waiting to be let in, the tribal members were given a full VIP treatment.
The stadium filled with eager rally-goers of all ages, genders, ethnicities, and cultural backgrounds, eventually reaching near maximum capacity with an official headcount surpassing 17,000. When the rally was officially underway, the Northwest Native coalition took to the stage to share their powerful message as only they can, through a remarkable culture.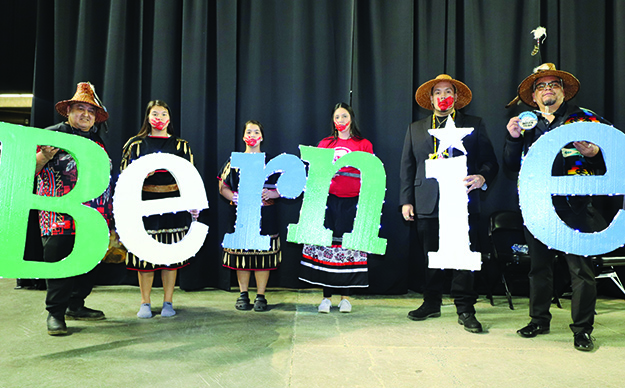 Wearing traditional regalia over vibrantly red fabrics, the group drummed, sang, and danced in unison to honor the MMIW movement. Faces painted with a red handprint, a sign peacefully bringing attention to the inability of victims to speak for themselves, captivated the rally's attention during a nearly ten-minute song intended to bring awareness and raise support.
Violence against Indigenous women has reached epidemic proportions in the U.S. and Canada, with Native women being battered, raped, and stalked at greater rates than any other population of women. According to the National Crime Information Center, there were 5,712 known incidents of missing and murdered Native American women in just 2016 alone. Additionally, 84% of Native women have experienced violence in their lifetime. These glaring statistics speak for themselves, yet it's surprising how few people outside of Native communities are actually aware of this crisis.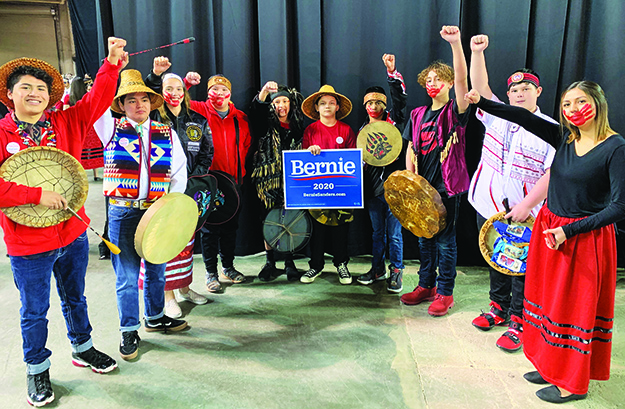 By being given a platform to be seen and heard in front of thousands, the Northwest tribes were recognized and empowered at the Bernie Sanders rally. Many onlookers could be seen live-streaming the powerful MMIW song via their social media accounts. It's impossible to know the song's reach at such an event, but the hope is its message and meaning now resonates in the minds of engaged citizens who otherwise wouldn't have a clue about MMIW or its heartfelt impacts on Tribes.
"It's a huge honor to help our people heal from broken hearts for those that never made it home, while giving hope to those who might have given up," shared MMIW song composer and Snoqualmie tribal member Antone George. "I really wanted this song to have deep feeling and harmony and flow to where our people all over Indian Country would be able to sing it.
"We might not ever meet all of the ones that are hoping and praying that their loved one comes home. They're not alone with their prayers. They're not alone with how they're feeling," George added, addressing the families of MMIW victims. "To be singing here today we're letting our non-Native relatives know we are here to be heard. Everything our people have gone through over these hundreds of years to this point, we are still here. Our culture is strong."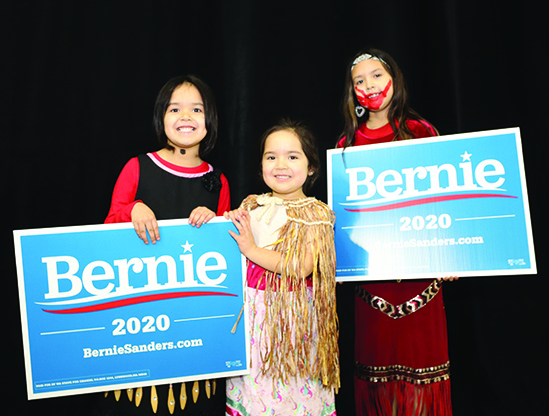 By sharing his campaign platform and central rally stage with a clear representation of the area's Native population, Senator Sanders proves he clearly understands that as a public and federal official, he has a responsibility to Tribes. When interacting with any federal officials, it is paramount they be vigilant in understanding their trust responsibilities. No other people in the country do they have that trust responsibility over. Those responsibilities are clearly expressed in the treaties signed by Tribes all over the nation.
When a candidate is running for any public office, let alone President of the United States, they have to know they are obligated to fulfill their trust responsibility and honor Treaty Rights. If they aren't even reaching out, let alone acknowledging their local Tribes then that's a clear sign they either don't know about their trust responsibility or, worse yet, they do know and simply don't care. Bernie Sanders continued to prove he does know of his trust responsibility and in fact does care about the needs of Native American population following the rally when he met with tribal leadership and representatives in an intimate setting backstage.
"The culture of the Native American people should be respected by all people all across our nation," declared the presidential hopeful to the group of Northwest Natives. "You have enriched the American people, you have educated the American people, especially your respect for the environment. What you have taught us, and it is a lesson that must be learned now or the entire planet will be endangered, you have taught us that as human beings we are part of nature and we cannot destroy nature and survive.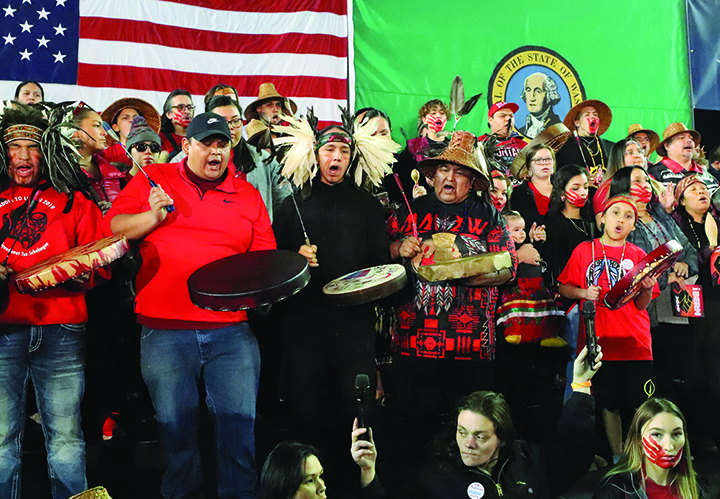 "I want to thank you all for your support here today. We must all stand together to create a nation that belongs to all of us. Transforming this nation is going to be hard, but as everybody here knows real change never ever takes place without struggle. If you think change is easy, then you aren't talking about real change.
"We're taking on enormously powerful people who love the status quo," continued Senator Sanders. "They love the exploitation of the Native American people; the ability to come in to your lands to drill and destroy the land and water while circumventing Treaty Rights. It's not going to be easy, but we have the moral responsibility not only for ourselves, but for future generations to make that fight. That's what this campaign is all about."
His words brought beaming smiles and positive visions for the future to the tribal citizenship fortunate to hear them. Hearing a presidential candidate who not only understands Treaty Rights, but is making the effort to uphold them while honoring tribal nations could be history in the making.
After the much anticipated rally, there was lots of conversation connecting the political ideals of Bernie Sanders with the traditional teaching of Tribes.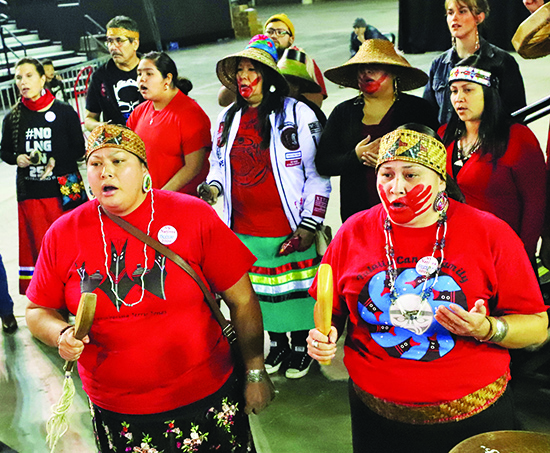 "My heart is full having Bernie Sanders here in our homelands because he really lives the values of our people," reflected Puyallup tribal member Danelle Reed, director of Kwawachee Counseling Center. "What people label Socialism really comes down to caring for all human beings and taking care of everyone, especially those who can't take care of themselves. For me, his message is really about bringing back traditional values that we all as Native people hold."
"Bernie's position, his values, are in line with tribal values," added Puyallup Chairman David Bean. "We're taught from a young age that a person will be remembered for what they have done for their people, not what they have done for themselves. That lesson serves to teach us to take care of our community, to think of others before we think of ourselves.
"His values also line up with taking care of Mother Earth. Being fishing people, we have a strong connection to the land, water and salmon. Another lesson we're all taught as children is what happens to Mother Earth, good or bad, happens to us. We have a responsibility to take care of her. If we take care of Mother Earth, she will take care of us. Bernie may use different words, but he's broadcasting the exact same message."