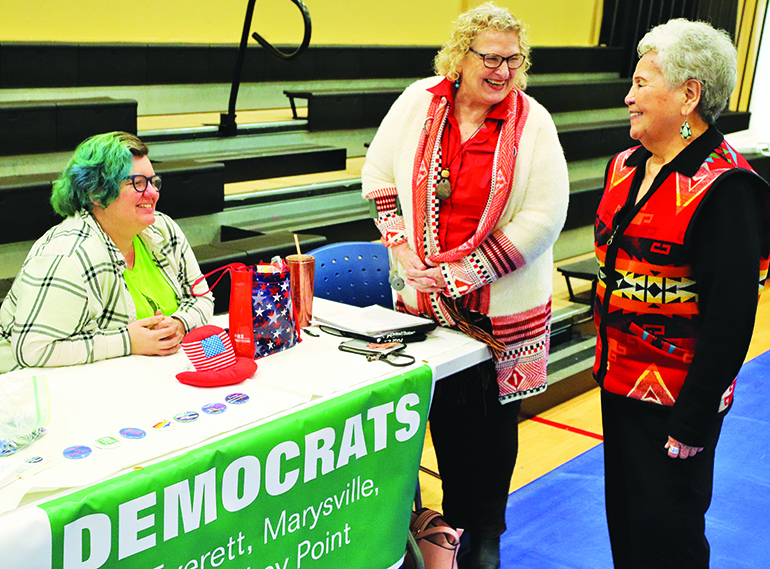 By Micheal Rios, Tulalip News
Native Vote is a nonpartisan campaign initiated by the National Congress of American Indians (NCAI). It is designed to encourage Native Americans throughout the nation to exercise their inherent right to vote. With the heightened political participation of Native people, Indian Country has become an increasingly powerful voting bloc. In recent years, the Native vote has been publicly acknowledged as making a pivotal difference in national, state, and local elections.
The ability to make such a pivotal difference is 100% reliant on you, the voter. Historically, the turnout rate of registered Native voters is 5 to 14 percentage points lower than the rate of many other racial and ethnic groups. Add in the fact that nationwide a whopping 34% of eligible Native voters are not registered to vote, according to the NCAI, and the need to empower the entire electorate to register and cast their ballot is a clear priority.
Native Vote's admirable Rez-to-Rez tour intends to fulfill that priority in Washington State by going directly to Native voters on their reservations, speaking truth to power on issues that impact our people, while encouraging each tribal citizen to vote. The Rez-to-Rez tour visited Tulalip on Tuesday, March 3.
"I'm honored to be here with you all on Tulalip land," said Larry Cordier (Lakota), coordinated campaign tribal organizer. "It is critical that we get together, register to vote, and let our voice be heard by casting our ballot. Your vote is guaranteed to you by the U.S. Constitution. As treaty tribes, we have joined the United States in citizenship. Our men and women have defended this country. No one has to set that table for us. We did that with our veterans.
"The chiefs negotiated those treaties and it's our responsibility to make sure those Treaty Rights endure," continued Larry. "In all my travels I've heard so many people say, 'Why should I vote? My vote doesn't count.' But if all those people got out and registered, and cast their ballot, we would have this country exactly where it needs to be. We need everyone because everyone counts. So let's mobilize and make them feel our united power."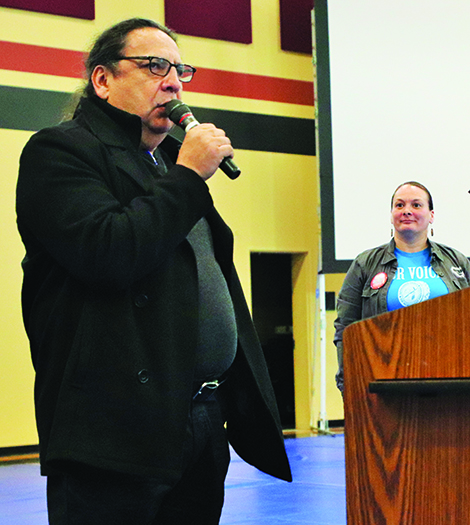 During the two-hour visit, engaged citizens were welcome to ask questions about candidates, register if they weren't already, shown how to update their mailing address to insure arrival of voting documents, speak with 2020 Census representatives, and, if they were ready, cast their Washington State primary ballot.
"I saw the advertisement for this event in the Tulalip newsletter and was interested in finding out more about the presidential candidates," shared tribal elder Joyce Alexander (Haida). "I haven't decided who I will be voting for yet, but leaning between Bernie Sanders and Joe Biden.
"As a Native American citizen, I'm always curious about how any politician or political candidate feels about Native Americans. [Their platform] affects us and our issues should matter to them."
According to the U.S. Census, Native Americans have one of the youngest populations of any racial/ethnic group in the United States, with those under the age of 25 making up about 40% of the total Native population. Every four years, about half a million Native young people turn 18-years-old and become eligible to vote. This provides an opportunity to engage almost one in ten Native people as new voters.
In order to maximize the Native vote, it is critical that Native citizens become educated in the political process in order to actively participate in tribal, local, state, and national elections. It's not only the U.S. President and Congress, but state governors and county and local elected officials who make important policy decisions that affect the everyday lives of Native peoples. Increasing the Native vote and in turn our electorate's participation in non-tribal elections will lead to better responsiveness to the needs of tribal communities across the nation.
"One of the beautiful things about voting is it is open and accessible to everyone. And every vote matters," explained Theresa Sheldon (Tulalip), Native American political director for the Democratic National Committee (DNC). "Please know that it's not too late for people to register to vote. There is a great online resource iWillVote.com
"Anyone can visit that site to register, check if you are registered, and/or update your mailing address. It's so important to know that if we want to take back the white house, then we have to show up and vote. Please talk to your friends, your family and encourage them to get their ballot in. Sooner is better. Don't wait until the last minute," encouraged Theresa.