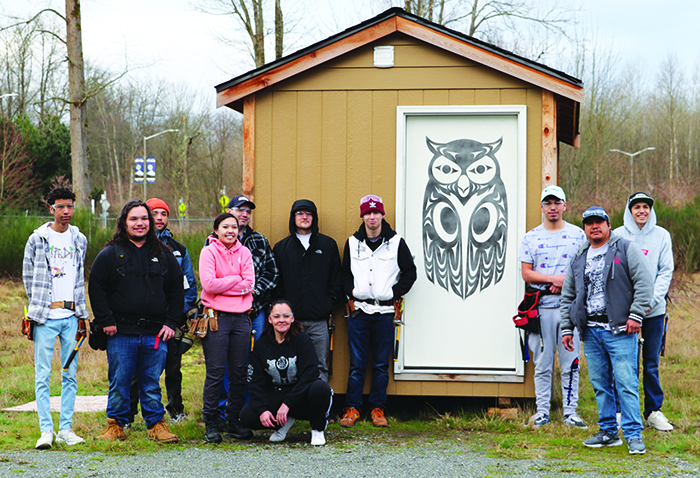 By Kalvin Valdillez, Tulalip News
Beep. Beep. Beep. The high-pitched sound of a truck backing up echoed throughout the Tulalip TERO Vocational Training Center (TVTC) property on the morning of Thursday, March 12. The current group of enrolled TVTC students watched, with bright smiles on their faces and coffees in hand, while the first of thirteen tiny houses were lifted effortlessly onto the back of a flat-bed truck, simply by the command of a few controls that were located on the side of the vehicle.
A longtime partnership between the Tulalip Tribes, TVTC and the Low Income Housing Institute (LIHI), a non-profit based out of Seattle, led to the distribution of the thirteen, 120-square foot homes, which will be set up in various tiny home communities throughout the greater Seattle area. Originally making local headlines two years ago, LIHI and Tribal representatives celebrated a momentous occasion when three TVTC tiny houses were established in the Georgetown Tiny House Village to provide shelter to people without a place to call home.
But the partnership was intact years prior to the 2017 Georgetown celebration when LIHI originally commissioned tiny homes from the training center in 2015, which in turn supplied TVTC students with lumber, tools and resources to complete the 16-week hands-on construction course. TVTC is offered to tribal members from all nations and their spouses. In addition to building the tiny homes, the students earn a number of certifications by learning skills that can be applied in various well-paying fields of the construction trade including carpentry, cementing, plumbing, and electrical and mechanical work.
"Three groups of students built these," explained TVTC Instructor Mark Newland about the thirteen tiny homes. "Typically you build four a term. It's really gratifying, especially after you go to meetings and talk to the people, many times it's females with young children, who have gone from living in tents to moving into one of these tiny houses where you can lock the door, have privacy, get ready for job interviews, have some security, and be able to sleep at night out of the wind, out of the cold."
Constructing a tiny home has easily become a main attraction of the TVTC course. Seeing the fruits of their hard, manual labor put to use in a good way shows the students the real life impact their two hands can create.
Although this group of students did not construct this particular set of tiny houses, they showed a sense of pride as the first tiny home was expedited away to its new homeowners. The students exchanged sentiments along the lines of 'that was pretty cool', knowing that the work of previous TVTC craftsmen are aiding people in need of shelter and/or security, especially at a time when social distancing and seclusion is being stressed upon the citizens of Washington State, which includes over 20,000 people without a place of residence.
"The best thing, and the thing I am most excited about, is that these homes are going to be used right away," Mark said. "All of the students are very proud of the tiny homes, it gives them a real sense of understanding in the importance of giving back. There's a lot of ideas and speculation about people who are on the street, but it's found that if they have homes first, then they can work on their other issues."
Finishing their coffee and tightening their tool belts, the current TVTC students followed their teachers indoors for another full day of construction instruction with a refreshed and rejuvenated perspective on the effects of their new trade. Ultimately, the Tribe's goal is to have a tiny home community at Tulalip to help Tribal individuals and families get back on their feet, with TVTC students constructing the homes for the entire project.
"This group here is currently working on a bigger model of tiny houses that are going to Sand Point, by Lake Washington," Mark explained. "These are much larger and sophisticated modules. The next group will be the first to work on nice-sized tiny homes right here for Tulalip – and that's what we're really looking forward to. It's an awesome opportunity for me to work on this project because this is where I live too. I see a lot of people that need shelter, and Tulalip is putting homes first and we're happy to be a part of it."
For further details regarding the TVTC program, please contact TERO at (360) 716-4747.