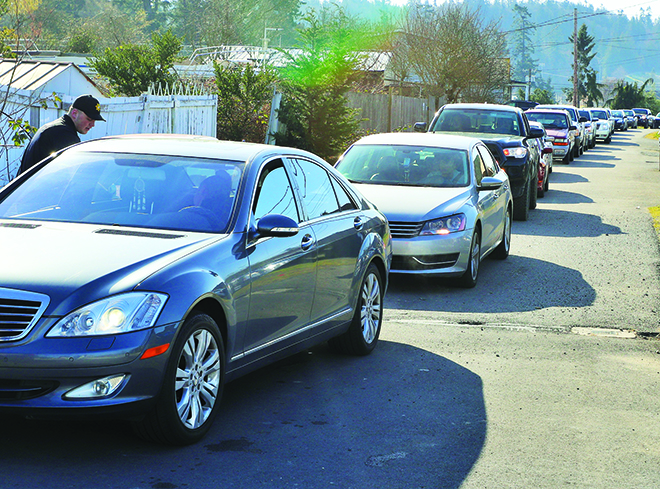 By Micheal Rios, Tulalip News
As the coronavirus pandemic continues to bring a screeching halt to everyday life around the globe, the Tulalip Tribes membership received a moment of relief in the form of a drive-thru style food distribution. The community-led event occurred Thursday, March 19 in the Senior Center's parking lot.
Just days prior, Tulalip leadership made the steadfast decision to shut down nearly all tribal-owned business to minimize the impact of COVID-19. This decision included the unprecedented closing of the three flagship gaming establishments – Tulalip Resort, Quil Ceda Casino, and Bingo.
"When we made the difficult decision to shut our casinos down, we knew there would be excess produce that could be given to our tribal members and elders," explained board of director Marlin Fryberg during the well-received food distribution. "This is a great thing we're doing and we have to give credit to the folks who made this possible by coming together last night. They separated all the bulk foods and bagged it up so we could have this giveaway drive-thru style."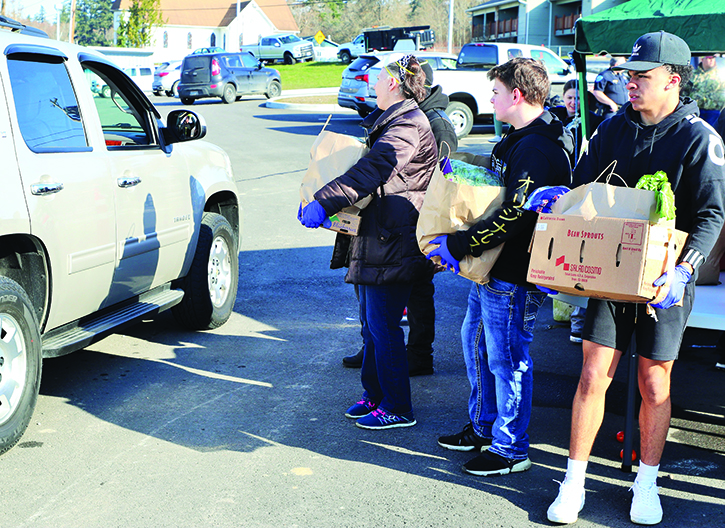 A community of local volunteers, including the Tulalip Police Department, casino food and beverage employees, Senior Center staff, and Sacred Riders motorcycle group members, came together for the benefit of those most in need of a positive uplifting in the form of fresh produce. The volunteers broke down over 5,000 pounds of food, sorted it by type and then proceeded to spend hours bagging it up for convenient, family-sized portions.
"This event brought us together and created something positive from a dark set of circumstances," said event co-coordinator Rochelle Lubbers. "I believe most of our membership knows how blessed and fortunate we are to be such a tight knit community, where we can share resources with those who are most in need. We are serving our community with nutritious, perishable foods that can really be used in this time of uncertainty."
It took only a single hour to give away all 5,000 pounds of food, distributed in nearly 500 bags filled to the brim with the likes of potatoes, spring greens, carrots, zucchini, lettuce, berries, oranges, pears, and much more to our reservation families. Milk, cheese, pasta, and a variety of breads were included as well.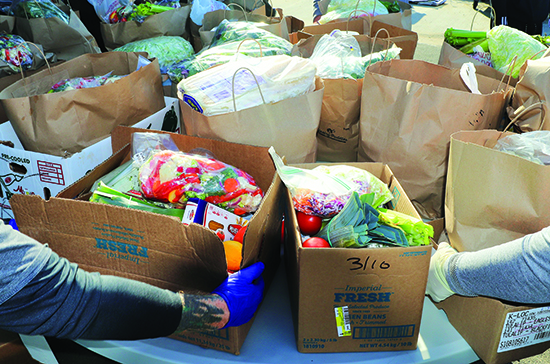 An additional 1,000 pounds of fresh produce was donated to the Marysville Food Bank to help replenish their low food supply.
"This donation is greatly appreciated. We really don't know where we're headed with need and supply, so this help tremendously," said Marysville Food Bank director, Dell Deierling.
It is a traditional teaching to never let food go to waste. By giving away thousands of pounds of fresh produce to so many families, the hope is the food fulfilled its purpose and made for healthy snacks and meals for those most in need, on and off the reservation.
"The Tulalip Tribes knows that all members of our community and our neighboring communities are impacted during this difficult time," stated Chairwoman Teri Gobin. "Tulalip has always taken care of our community. We will continue to do what we can, not only for our people, but also for our friends and neighbors."