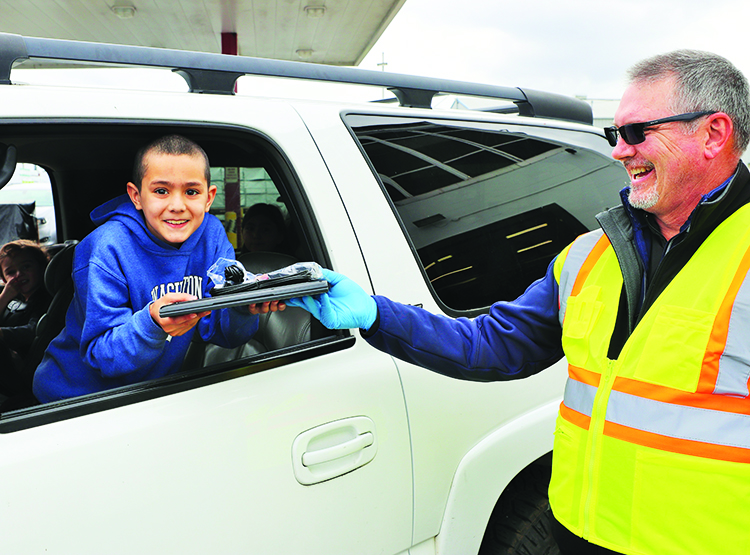 By Micheal Rios, Tulalip News
All schools are closed in Washington State for at least another month, as part of a state-wide response to the coronavirus pandemic. It's been over three weeks since students in the Marysville School District (MSD) have been in their classrooms and received formal education from their teachers.
While schools will remain closed for the foreseeable future, education must continue. That is why the dedicated staff and educators of MSD are doing their part to bring learning opportunities into the home of every MSD student household.
"Our main purpose is to make sure our students receive a Chromebook to continue their education even though they aren't attending school right now," explained MSD Superintendent Jason Thompson. "We also have an assortment of school supplies, hygiene kits and grade-level activity packets for kids to work on. It's so important to make sure our kids are still learning every day."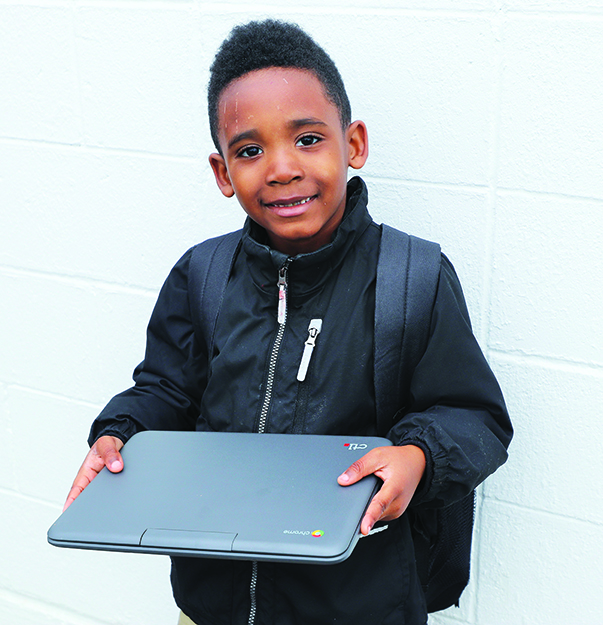 During the fourth week of March, the District held two drive-up, K-5 Chromebook checkouts for its elementary students. Because sixth graders on up to high school seniors were already assigned Chromebooks earlier in the school year, these drive-up style distributions were only for households with Kindergarten through fifth grade students.
"These two distribution events took a lot of work to put together, but knowing our students will benefit immensely makes it all worth it," said assistant superintendent Scott Beebe. "With these Chromebooks our students will now be able to video chat with their teachers and fellow students. It's a big undertaking, but the results will be amazing."
Each Chromebook was individually inspected by tech-savvy personnel to ensure they were updated with the right software and programs to meet students' needs for the new normal: distance-learning.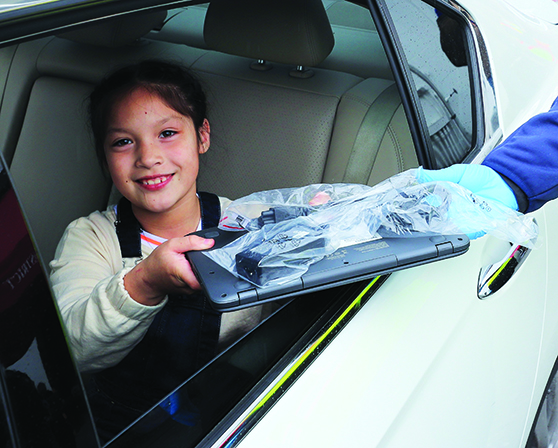 On Thursday, March 26 the second Chromebook checkout occurred at the MSD's Service Center. Originally slated to begin at 2:00 p.m., vehicles started to line-up much earlier with concerned parents who worried about a limited supply and wanted to make sure their student received a coveted Chromebook. As cars continued to show, the line got longer and longer. At one point the line of vehicles spanned multiple city blocks, running down both State and Cedar Streets.
From young Kindergartners to veteran 5th graders, many students were ecstatic to see their teachers and school staff as their parents drove them through the checkout process. In their excitement, several kids were witnessed unbuckling themselves and nearly climbing out their backseat window to wave and say hello to their favorite teacher.
The majority of Tulalip K-12 students attend schools within Maryville School District. Tribal member parents and kids were among those who waited upwards of 90-minutes to checkout a Chromebook. They could also take advantage of the additional school supplies and in-demand hygiene kits being offered.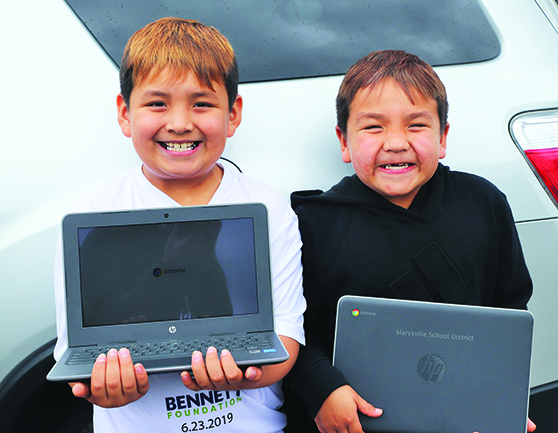 "We waited in line for a strong hour-and-a-half to get our boys a Chromebook," said Carlos Ancheta. "Stores are low on supplies right now, so getting these basic essentials for school and hygiene will come in handy."
Not every household has a home computer, setup for video chatting, and access to the internet or WIFI. During checkout if a parent submitted paperwork for their student saying they did not have internet access at home, then they received a Chromebook with built in cellular data provided by Sprint. By dispersing these specific Chromebooks to MSD students the opportunity gap normally created by lack of internet access has been filled.
"We're really blessed to have a school district that cares so much about our kids," shared Sheena Robinson after her two sons got their Chromebook and supplies. "We don't have a computer or the internet at home, so this makes a world of difference for them. They'll be able to get online for classes through Zoom, conferences with their teachers, and websites they can practice their reading and math. I'm looking forward to them getting back to learning."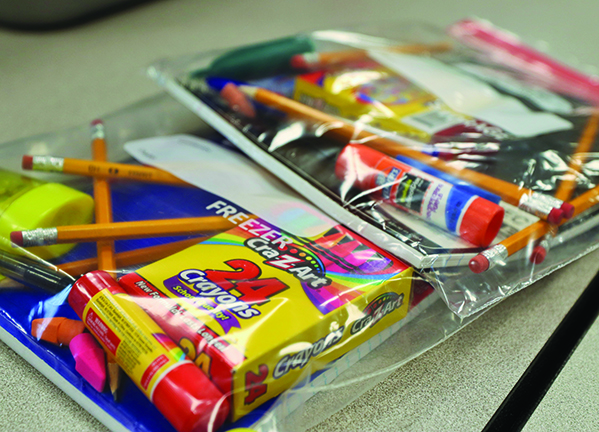 After completion of both drive-up checkouts, Marysville School District staff distributed over 1,000 Chromebooks to their elementary-aged families. Students also received an assortment of school supplies and hygiene kits to reduce the financial burden their families may be going through during this unprecedented school closure. Getting back to a daily routine of these cheerful kids continuing their education can provide a critical sense of stability in these uncertain times.