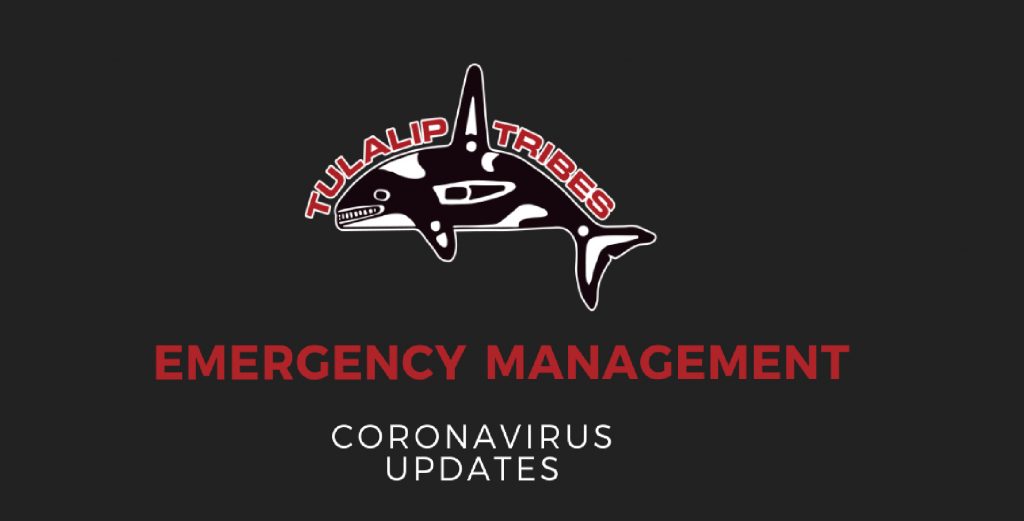 April 8, 2020
Today in Emergency Management, we are working on preparing for a COVID-19 quarantine facility if needed, tracking expenses for reimbursement, and developing a direct relationship with FEMA, rather than filing through the State.
Many news sites are predicting that we are at the peak of COVID-19 infections. We want to encourage you to continue taking precautions. Our Board of Directors Stay Home, Stay Safe order is still in effect. Do not visit with people who do not live in your household and limit travel to essential tasks only.
We're often asked what individuals can do. Limiting exposure is the first step. Our doctors at the Karen I. Fryberg Health Clinic have asked us to encourage people to continue moving and to practice breathing exercises to be more resilient if we catch the virus. Practice these three to five times a day.
Diaphragmatic breathing: To feel your diaphragm, put your hand on your belly, and sniff like you're smelling a flower. The lifting in your stomach happens when your diaphragm contracts. To perform diaphragmatic breathing, attempt to breathe deep into your belly where you felt your belly lift. See if you can breathe in for 5 seconds, and breathe out for 5 seconds.
Pursed lip breathing: Take a slow deep breath with your diaphragm as described above, half-open your lips, and slowly breathe out as if you are making a candle flicker. This will strengthen your diaphragm and breathing control, and should make breathing throughout the day easier and smoother. You have healthy breath control if you can do this for 20 seconds!
Summed breathing: Take a small breath and pause for 2 seconds, then repeat this until you are unable to inhale any more. You may exhale quickly. This will allow air to get behind any mucus blockages in your lungs, and push it out. This will reduce the risk of pneumonia or lung infections.
In addition to breathing exercises, walking 30-40 minutes, at least three times a week can improve lung health and doctors encourage us to get up and move for five to ten minutes once an hour. As always be safe and if you have any unusual symptoms (chest pain, lightheadedness, confusion, prolonged shortness of breath, or breathlessness while not doing an activity) please contact your doctor.
Stay safe and healthy and remember wash your hands!
Contact: Ashlynn Danielson, Emergency Preparedness Manager,
adanielson@tulaliptribes-nsn.gov