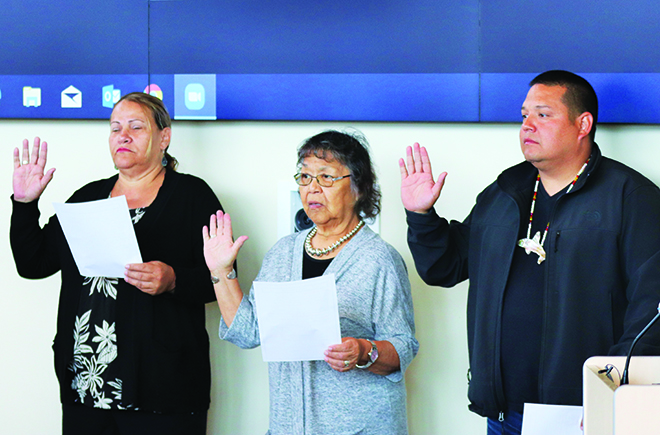 By Micheal Rios, Tulalip News
Back in mid-March, coronavirus concerns prevented Tulalip from holding its annual general council meeting. However, fast forward nearly two months and the reservation-wide stay-home orders, social isolating, and self-quarantining gave many progressive citizens plenty to think about in terms of the future direction of the tribe and the immediate needs of the people. As a stunning result, being at home with plenty of opportunity to cast an absentee ballot led to an unprecedented rate of voter engagement and ballots casts for this year's Board of Directors election.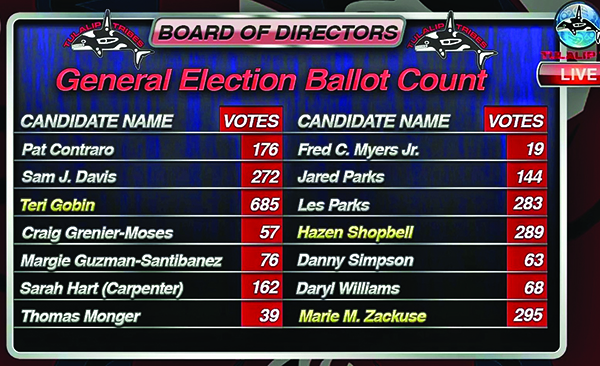 The election results were broadcast on Tulalip TV and streamed live on Tulalip News Facebook as Elections Committee members hand counted ballot after ballot. Starting just after dawn, at 6:00am on May 12, the strenuous process took nearly 11 hours to complete. With hundreds of tribal members viewing in and the excitement mounting, the top three vote getters were announced at 5:00pm by Rosie Topaum.
Chairwoman Teri Gobin retained her position with a staggering 685 votes, longtime leader Marie Zackuse made her return to the board after just a one year absence with 295 votes, and in a nail biter, Hazen Shopbell edged out incumbent Les Parks with 289 votes to 283.
The latest rendition of Tulalip's Tribal Council was sworn in on the morning of Wednesday, May 13 by Vice-Chair Glen Gobin.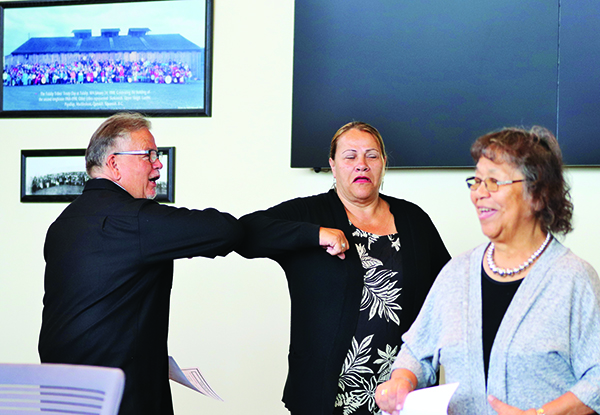 "We are facing some of the hardest times in decision making for our tribe," explained Glen. "Possibly going back to something of a life style that we grew up in, where there weren't a lot of things the tribe could provide for us other than community support. We must continue to move forward caring for one other and find ways to work together. This means having our young people stepping up to learn and grow to ensure our future as a nearly 5,000 member tribe."
A prime example of the youth rising to meet the demands of leadership is now newly elected and first time Board Member, Hazen Shopbell. He steps into his position as the youngest active member of tribal council.
"It was pretty intense watching the election race yesterday with so many deserving candidates," admitted Hazen. "I'd like to thank all the people who supported me and got me to this point. Politics can be nasty, but we have to come together to support one another as a tribe. I'm humbled to be in this position and look forward to serving my tribe."
Marie Zackuse served on the Board of Directors from April 1990 to April 2019, earning the distinction of longest serving female in Tulalip history. After a brief 12-month layoff, she brings her extensive knowledge and love for her people back to the forefront.
"I'd like to thank all the tribal members and community who brought be back to the Board. I give all the glory to the Creator," stated Marie. "I'm dedicated to serving my people and helping each and every one of them. We've got to protect our community to carry on together. Words that I carry on from the past are from Big Shot, he always reminded us to stay together and love one another. This is what we need to do in this time."
After completing her first 3-year term, Chairwoman Teri Gobin's extraordinary support by the people was clearly evident in the 685 times her names was read aloud.
"I was shocked and so surprised at how well I was supported in this election. I'd like to thank everyone who supported me and gave me the opportunity to follow in my father's footsteps," said an impassioned Teri. "I know my dad is smiling down on me today.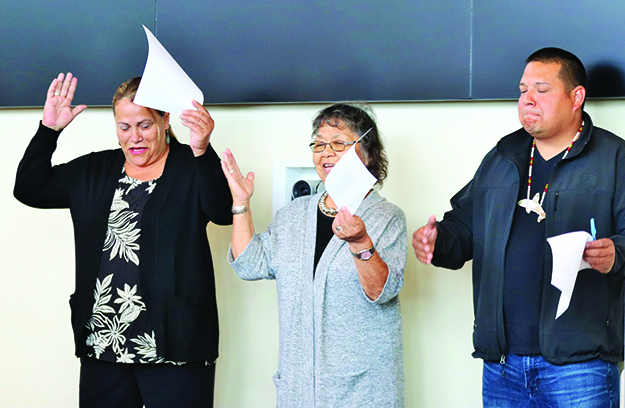 "It's been my pleasure to serve these past three years," continued Teri. "I've learned so much while fighting every day for our sovereignty, treaty rights and future generations. I'm so proud to be here representing our people and will continue to move us ahead in a positive way, while keeping an integrity, passion and respect for everybody."
The safety and health of the community remains an utmost concern. Until we've reached a point where it is deemed socially responsible to hold a general council, the Board of Directors officer positions will remain the same. Teri is Chairwoman, Glen is Vice-Chair, Treasurer is Misty Napeahi, and is Mel Sheldon is Acting Secretary.