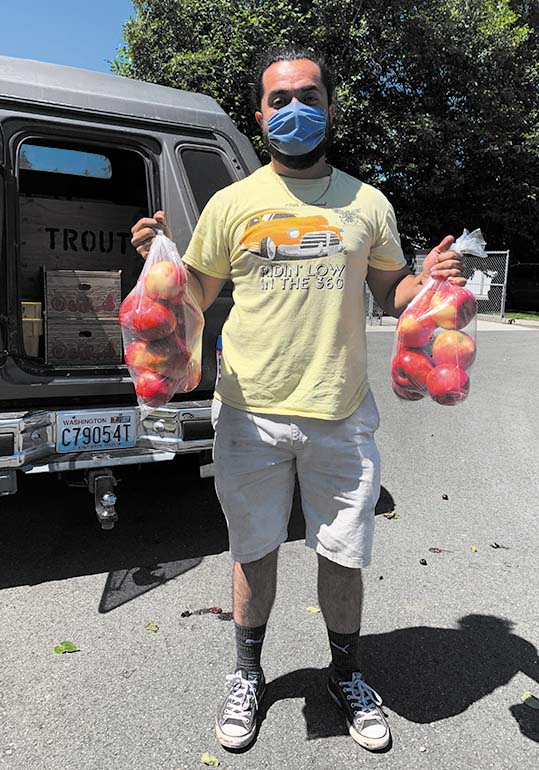 By Kalvin Valdillez, Tulalip News
"Can I get one bag of apples, two bags of cherries, and if you still have them, some apricots too?" inquired a local man of the Maryville-Tulalip area.
Simply nodding yes, Hugo Sanchez-Garcia began to scoop plump, ripe cherries into paper bags while making friendly conversation with the customer as he fulfilled his request.
"Will $60 work?" the man asked.
"Yes, absolutely. Thank you," Hugo graciously replied as he handed him his order.
Only two short orders behind this gentleman, a lady ordered nearly double his order, three bags of apples, four bags of cherries and two punnets of apricots.
"I have a big family," the woman said while offering a smile that was ever-so-slightly visible underneath her mask. "This will all be gone by tomorrow."
This time, however, when the currency-produce exchange occurred, the lady stated she only had $12.
"That's perfect," Hugo said sincerely and kindly. "Thank you."
Nobody was prepared for the curveball that the year 2020 had in store for us. The presence of COVID-19 has caused many people to reevaluate their lives in terms of health concerns and also their line of work, as businesses are beginning to lay off employees nationally, and in some cases permanently close altogether.
Hugo found himself in a predicament that many Americans are currently facing; continue searching for employment in his most recent line of work, or start anew. Hugo chose to pivot.
"After COVID hit, it was kind of hard for me to find a job doing what I was doing before," Hugo explained. "And my dad has been kind of nagging me for a while to bring fresh produce here because there's a lot of fruit in Chelan, which is where we grew up. So I thought, let's give this a shot and see how it goes."
Filling up his pickup truck with freshly picked fruit from orchards at Chelan, Hugo becomes his alter-ego, better known as the Apple Guy, when making weekly deliveries all through Western Washington. Originally, the Apple Guy was taking online orders and making home deliveries. That is until he got in contact with Tulalip tribal member, Natosha Gobin, who helped him establish a base at the parking lot of the Tulalip Market.
"He has different stops up and down I-5," Natosha said. "He sets up shop and sells bags of apples on a sliding scale – $5, $10, free. If you show up and you say you don't have the means to buy apples, but you would love a bag, he'll give you a bag of apples. He's also done some pretty big donations to our community. He's donated apples to me knowing that I know a lot of people in Tulalip, so we put those apples on the doorsteps of some of the elders and the seniors."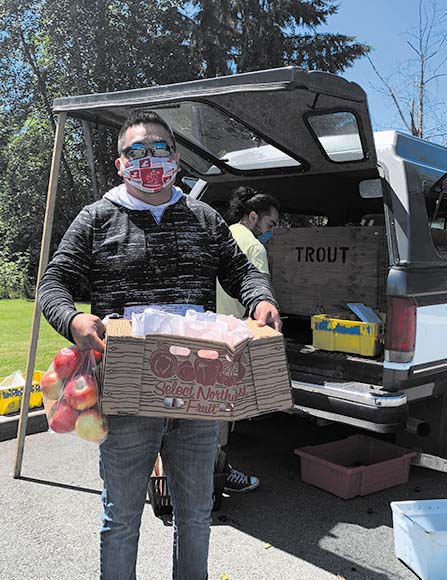 With Natosha's assistance and rave reviews all over Facebook, word about the Apple Guy's produce delivery service has the town buzzing.
"My wife, she's always on Facebook so she tells me when he's around and what he's got," said Tribal member Kurtis Enick. "He posts every week, which is a great for my family. When I go home with this, I know that they're going to be so happy with me, because my daughter is just now starting to get her teeth and she loves eating apples. My wife likes the apricots and the cherries, and my son is a vegetarian and only eats fresh produce.
"It feels really good knowing everything is local, everything is coming from Chelan or somewhere in Washington," Kurtis continued. "It feels really good to taste that fresh-off-the tree fruit, that good stuff. And it's a whole lot better than going to the store and looking through all the fruit that they say is fresh but it's not really that fresh, nowhere near as fresh as this."
Although it is important for Hugo to profit off of these deliveries to cover costs as well as living expenses, money is not his main objective. In fact, currency is sort of a miniscule aspect to this project compared to the reason he decided to 'give it a shot'.
"I do operate on a sliding scale," he said. "There are two guiding principles that I set when I first started out. One of them being that access to food is a human right. The second one is that we're all occupants on Tribal lands, so it's important that we move as guests, it's our responsibility.
"I think it's also important to recognize that fresh food isn't as easily accessible on certain reservations. I think a lot of people, and especially a lot of communities of color, don't have access to a lot of fresh fruits. So, what is the point of bringing it all the way out here if folks couldn't afford it? I think ultimately every individual knows what they can and can't afford. So, I trust their judgment to pay what they can."
Hugo is currently selling a variety of apples including Honeycrisp, Fuji, Gala, and Granny Smith. His selection of cherries right now are Rainier, Bing, Sweetheart and Lapin. Hugo also has apricots and will have peaches in the near future.
Be sure to follow The Apple Guy on Facebook for his complete list of produce for sale as well as his weekly scheduled stops.