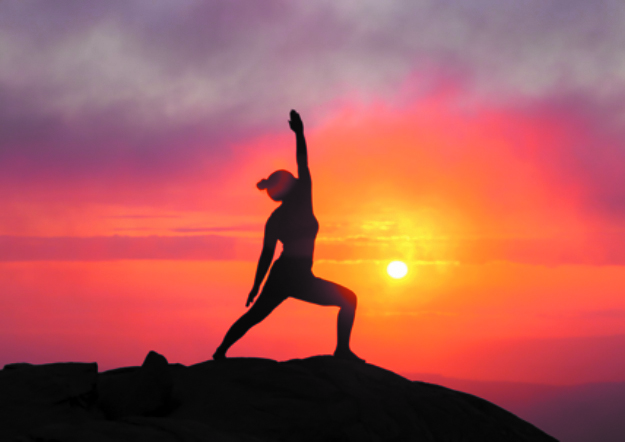 Submitted by Tulalip Tribes SNAP-Ed Coordinator, AnneCherise Jensen.
Did you know the U.S. spends $117 Billion dollars in annual health care costs associated with inadequate physical activity? According to the CDC, only half of adults get the physical activity needed to help reduce and prevent chronic diseases. Believe it or not, getting enough physical activity could prevent 1 in 10 premature deaths. More and more research suggests that living an active lifestyle can help prevent certain types of diseases like Heart Disease, Type 2 Diabetes, and certain types of cancer. Not only that, but physical activity helps boost the feel good hormones in our brain, helping us feel more content and happy.  
The CDC recommends individuals should get at least 150 minutes a week of brisk physical activity and at least two days a week of muscle strengthening activities. Though, it can be hard getting in the habit of being active, when you start small, you can slowly build yourself up to more challenging activities. Here are some tips on how to incorporate a more active and healthy lifestyle, so you and your family can live your healthiest and happiest life.
Evening and Morning Walks: Start and end your day with a brisk walk. Getting small doses of physical activity at the beginning of the day, helps wake you up and feel more alert. Taking walks in the evening is a great way to burn off the post dinner calories and enjoy the late summer sunsets. If you feel up to it, try jogging to build cardio and lung capacity.
Family Bike Rides: If you have a few bikes on hand, try planning a family bike outing in your local neighborhood. Riding bikes is a fun and exciting physical activity kids are eager to participate in. To be safe, make sure to wear a helmet and stay in the bikelane or on the sidewalk. Gardening: Gardening, weeding and spending time in the yard is a great way to increase physical activity throughout the day. Not only does this get you moving, but allows you to connect with nature, while learning more about plants and food. Gardening also has been known to be therapeutic and relaxing to many individuals. If you don't know how to garden, there are hundreds of books and youtube videos that can help point you in the right direction.
Stretching / Yoga: Stretching is one of the best forms of exercise. Stretching keeps the muscles strong, healthy and flexible. Without stretching, muscles would shorten and become tight. Other known benefits of stretching include: improved posture, decreased neck and back pain, increased blood flow, a deeper and more peaceful nights sleep, mental clarity and stress reduction. Create a safe space in your home where you can spend 15-30 minutes stretching a day.
Hiking: Hiking is one of the best forms of exercise you can do for your body, especially in the summer months when the mountain trails are accessible. Not only do you get a great cardio exercise, but also a bone and muscle strengthening exercise. For more information on hiking ideas + safety, check out WTA.ORG.
At home workout station: You don't need a ton of space to be able to get in a good workout. Try creating an at home work out station in your backyard or garage. Start by collecting affordable equipment like a jump rope, resistance bands, and small weights. If you don't have equipment, you can improvise and use canned goods, filled water bottles, or even tools as weights. Practice stretching in place, getting repetitions of squats, sits ups, jumping jacks, and knee kicks. Be sure to check out online fitness videos or smart phone apps for professional workout routines.
Foraging / Harvesting: Participating in foraging and harvesting is a great way to connect with culture, nature, plants and the human spirit. The outdoors have so much to offer, and learning cultural traditions is a great way to stay moving while getting more physical activity. Not only is this challenging for the body, but for the mind as well.
Home Improvement Projects: Accomplishing tasks around the house is a terrific way to stay moving and motivated throughout the year. Home improvement projects can vary from a wide variety of tasks, including yard work, carpentry, landscaping, building, and fixing up the house. Many of these projects require the use of muscle, strength and skill – all good for the body and the mind.
Outdoor games with kids: Children love interactive engagement with parents/adults. This is a great opportunity to squeeze in both physical activity and quality family time. Try classic games like tag, frisby, and sharks and minnows. Check out the local basketball court and go shoot some hoops. On a real hot summer day, organize a water balloon fight for both parents and kids to enjoy.
Cleaning & Organization Projects: Cleaning and organizing your home is a great way to stay active. Not only that, but it can help ease feelings of depression and anxiety. Having a clean space is a key to inviting a happy, peaceful and calm atmosphere into the home.
Take the Stairs: When you get the opportunity, always take the stairs. A few flights of stairs may not seem like a lot of physical activity at first, but doing this often will add up to great results. Doing so will help you burn more calories throughout the day, while building lung capacity, strengthening your bones and stimulating muscle growth!
Make Screen Time an Active Time: When family TV time comes along, get creative and turn lazy time into active time. Have a contest to see who can do the most push-ups or jumping jacks during a commercial break. Older kids and adults can stretch, practice yoga or lift weights while watching TV.
Know there are many other forms of physical activity you can do to help keep active. These are just a few common ideas to help get your fitness journey started. Know that ultimately, you are in control of your body and capable of doing amazing things!
**This material was funded by USDA's Supplemental Nutrition Assistance Program – SNAP. This institution is an equal opportunity provider.
Sources: https://www.cdc.gov/physicalactivity/about-physical-activity/why-it-matters.html