Submitted by AnneCherise Jensen,SNAP-Ed Coordinator
A healthy breakfast gives us the fuel and the energy we need to make it through the day. Believe it or not, our bodies are constantly burning calories, even when we are sleeping. After the recommended 8 hours of sleep each night, our bodies wake up craving "fuel" aka breakfast.
Research shows breaking an overnight fast with a well-balanced meal could make a significant difference in the overall health and well-being of individuals – especially for youth, teens and children. In fact, that's where we get the word "break-fast" from, indicating you are breaking a 7-10 hour natural fast that happens while you are asleep. Skipping breakfast can lead to poor mood, low blood sugar, lack of energy and fatigue. However, eating a well-balanced breakfast with whole grains, lean protein, healthy fats, and fruits and vegetables can help improve behavior and school performance as well as foster a healthy weight.
Ultimately, eating breakfast helps us feel more alert, awake, and energized when we start our day. So it's true when they say, breakfast really is the most important meal of the day. Here are some examples of some easy healthy breakfasts to start your day off right.
Baha Breakfast Burrito (recipe provided below) 
Berry Good Banana Split ( recipe provided below) 
Scrambled eggs with avocado and salsa.
Whole wheat toast with peanut butter and bananas
Whole grain cereal with low fat milk and berries
Fruit smoothie with and almond milk.
Instant oatmeal with almonds, dried fruit and low fat milk
Cottage cheese & fruit: pineapple, peaches and strawberries are great choices! 
Avocado Toast with a tomato slice 
Veggie & Low Fat Cheddar Cheese Omelet 
Whole Wheat Pancakes with strawberries 
Hard Boiled Eggs and Fresh Fruit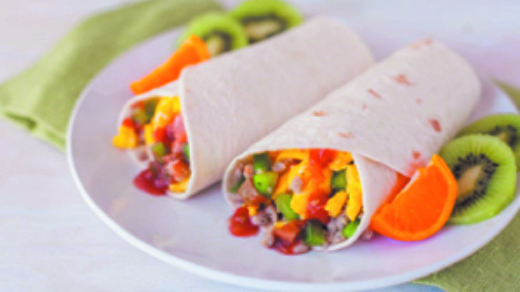 Baha Breakfast Burritos
Ingredients (Makes 4 servings)
1 cup black beans or pinto beans
4 eggs 
4 tortillas, (try corn or whole wheat)                                              
2 tablespoons red onion (chopped)
1 large tomato (chopped) 
1/2 cup salsa, low-sodium
4 tablespoons yogurt, non-fat plain
2 tablespoons cilantro (chopped)
Directions
Warm up the beans on the stove or in the microwave. 
Dice up the tomatoes and onions.  
Whip up the scrambled eggs on a frying pan. 
Microwave tortillas between two sheets of slightly damp white paper towels on high for 15 seconds.
Divide bean mixture, onions, tomatoes  & eggs between the tortillas.
Fold each tortilla to enclose filling 
Serve topped with yogurt, salsa and cilantro
Berry Good Banana Split 
Ingredients Serves 1
One small banana 
1 cup low fat vanilla yogurt 
1 tablespoon low fat granola 
½ cup fresh blueberries or other berries 
Directions
Cut the banana in half lengthwise.
Spoon yogurt into a bowl.
Place the banana halves on both sides of the yogurt.
Top yogurt with granola and berries. 
Serve & Enjoy! 🙂