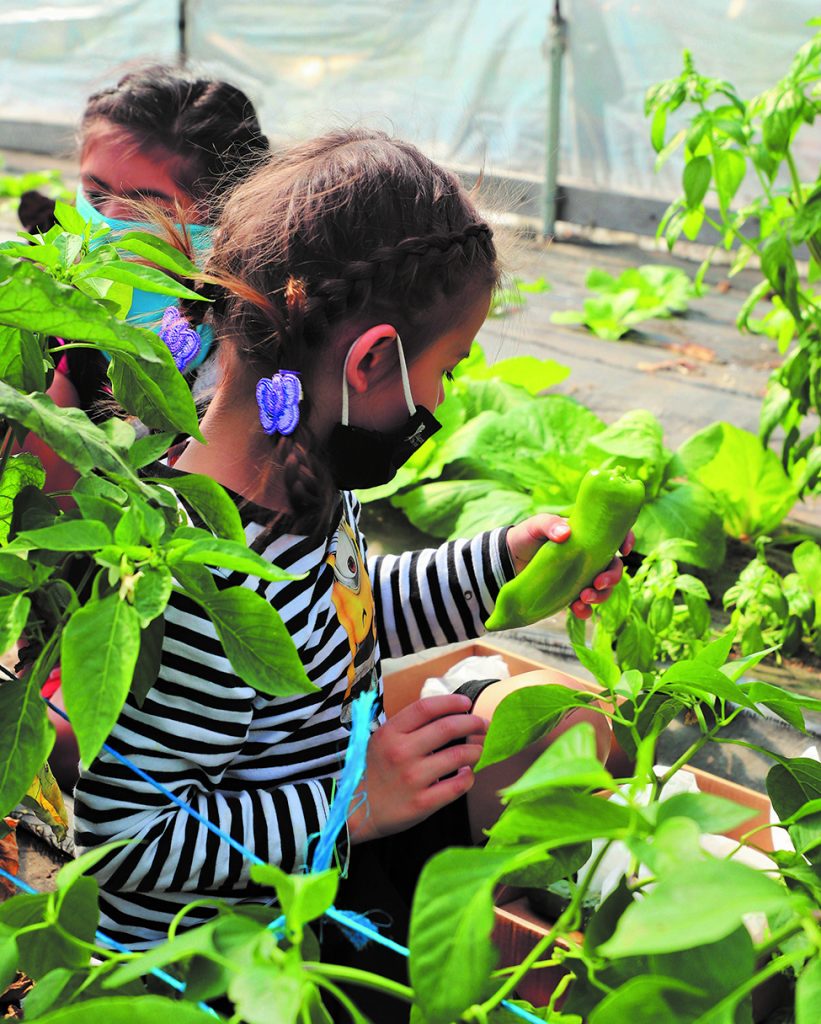 By Micheal Rios, Tulalip News
Have you been desperately wanting to have a family outing before summer is over, but haven't found the opportunity to do so yet? There's still time to make it happen and an ideal destination is an organic u-pick farm located just over 20 minutes from the heart of Tulalip. Conveniently located off exit 208, Garden Treasures is an everyday, local farm stand, farmers market and garden center.
Going out to a farm to pick your own produce gives children a sense of where food comes from, demonstrates the satisfaction of seeing how seeds grow into fresh produce that nourish your body, provides a great opportunity to get some fresh air and sunshine while social distancing, and it's just a fun way to spend a summer day together as a family.
"I really enjoy having elders and kids visit the farm," said elder advocate Dale Jones. "They have big smiles on their faces while enjoying the opportunity to be out in the farm and eat the fresh foods. Our elders are happy to visit with each other again and sit and work with the plants or watch us make tea and lavender bundles. The kids can see how the food grows and they learn how it is better for them than fast food and candy."
Spending time outdoors while wandering the vast fields and green houses at Garden Treasurers is the perfect opportunity to get back to nature, both physically and spiritually. Their seasonal u-pick garden is full of berries, vegetables and an assortment of flowers. They don't use any synthetic chemicals or fertilizers, so your u-pick experience is safe, clean, and natural.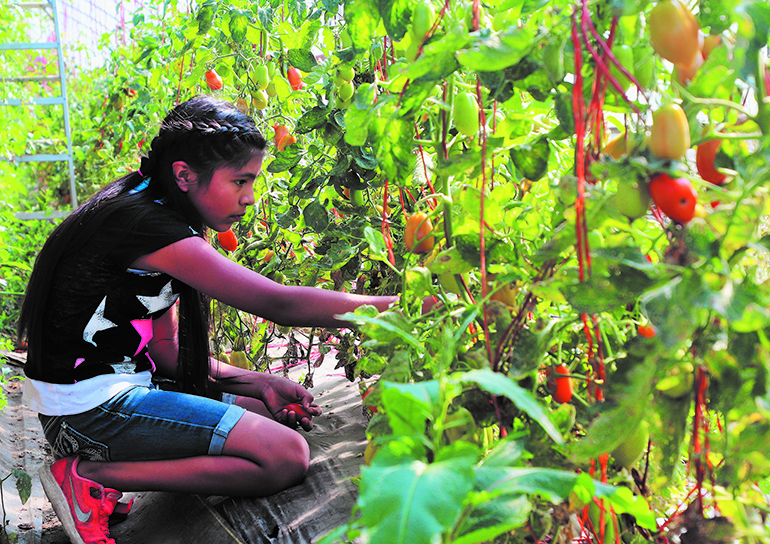 All Tulalip tribal members, their families, and any patients of the Tulalip Health Clinic are encouraged to take full advantage of a unique partnership between Garden Treasures and Tulalip's own Diabetes Care and Prevention Program. From 9am to 5pm on Wednesday, September 16th and 30th, those listed above can visit the farm, enjoy a healthy bite to eat, and get a tour by Diabetes Care staff. Most importantly, every Tulalip household is allowed to pick up to $30 worth of nutritious produce from the garden.
Unlike overly priced grocery stores and organic shops, $30 worth of fruits and vegetables at Garden Treasures goes a long way. You can easily pick an assortment of sweet and spicy peppers, cucumbers, tomatoes, squash, eggplant, zucchini, strawberries, huckleberries, edible flowers, carrots, celery, and some herbs with the $30 credit. Numerous Tulalip individuals and families have done just that, and for many it was their first time ever picking veggies.
Donna and Jim Furchert brought their daughters, Joy and Patience, to Garden Treasures and came away with quite the colorful harvest. "We've never picked fresh fruit or fresh veggies before, so I wanted us to experience this as a family," explained Donna. "We're going to incorporate everything we picked into our dinners over the next few days."
Six-year-old Patience said she liked digging for carrots and peppers the most and was super excited to stumble upon the strawberry patch. Of all the foods though, she was seen devouring cherry tomatoes straight off the vine at every opportunity.
Catrina Cultee was another first timer to the local, organic farm. She brought her 5-year-old daughter, Nevaeh, and niece Manaia. "It's out first time out here and we absolutely love it!" marveled Catrina while perusing the fields. "Never knew we had a u-pick farm this close to the reservation. This seems like the perfect way to get fresh vegetables and fruit. It's a way to get the young ones excited to eat more vegetables, too, because they can pick them themselves."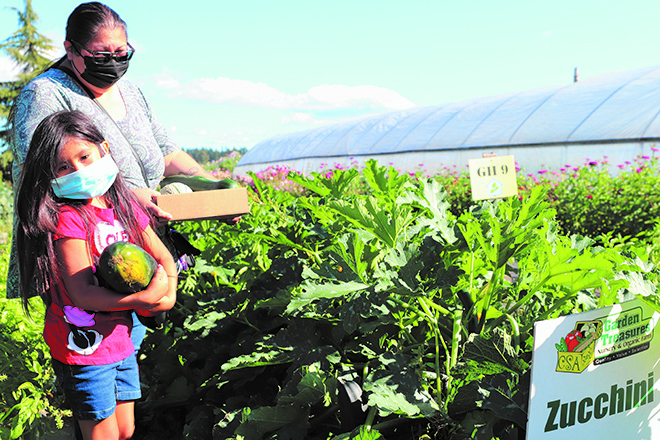 When 14-year-old Manaia came across the greenhouse full of sweet, spicy and Pablano peppers she was instantly in heaven. Turns out the teenager loves spicy food and got some ambitious ideas while picking to her heart's desire.
"I definitely want to make a sauce from the tomatoes and peppers," beamed Manaia with two handfuls of peppers. "I love spicy food! I'm looking forward to making burritos with all these veggies, some meat, and peppers, of course. Being out here, all the different flowers, seeing sunflowers taller than me, is so cool. The giant zucchini is crazy. I didn't know what it was at first because I've never seen a vegetable like that before."
For Tulalip citizens desiring to eat healthier and want to add a variety of vitamins and nutrients to their everyday meals that will naturally boost immune systems, fruits and vegetables is the answer. People who eat more fruits and vegetables as part of an overall healthy diet are likely to have reduced risk of chronic diseases. Plus, eating fresh produce is vital for health and preventative maintenance that will make you just feel better and have more energy.
In addition to all the health benefits is the wisdom and positive encouragement the Diabetes Care and Prevention Program staff have to offer while visiting the farm on September 16th and 30th. They will be there to answer all questions about the nutritious foods and offer advice about healthy meal making and dietary requirements for those managing diabetes.
"I am getting to an age in life when it's important to pass down knowledge and share my gifting with others, especially the younger generation," explained Roni Leahy, Diabetes Program coordinator. "I love being with all the people and listening to them talk about their experiences in the garden or the kids discovering how the plants they eat grow. It is such a precious opportunity to talk about the plants and how important they are in health of our bodies. This truly is prevention of diabetes and other chronic diseases."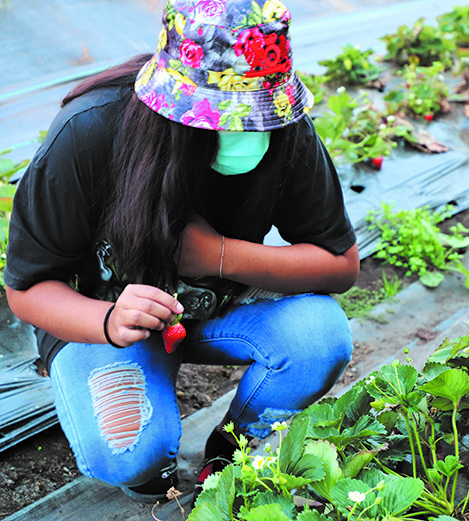 "My favorite part is seeing the community members and their families out at the farm enjoying the vegetables and knowing they are going to go home and prepare a meal they will all remember and enjoy," added Brooke Morrison, Diabetes Program assistant.
Visiting Gardening Treasures u-pick farm to harvest the freshest foods will boost your health without creating a dent in your wallet. Bringing the kids can only help them create a lasting relationship with nature and plant seeds of curiosity and excitement for eating a variety of vegetables. Maybe even, this will be the inspiration your family needs to plant a garden at home.
"I couldn't believe how big their fields are and how many different kind of vegetables they offer. It was really, really nice being able to pick whatever I wanted," said Tulalip elder Virginia Carpenter. "I haven't picked strawberries since I was a teenager, some 70 years ago.
"I'd tell anyone in Tulalip, whether an elder, youth or anything in between, the trip to this farm is worth it and you'll really enjoy it," she added. "To walk around outside and be around all the fresh flowers and see all their goods, it really puts your mind at ease and makes you feel better with everything else going on in the world right now."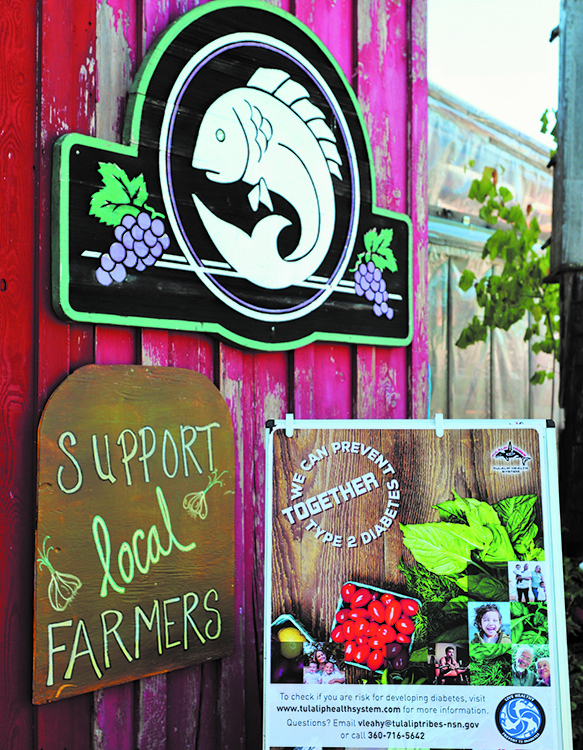 For more information about the two upcoming Garden Treasures community days brought to you by the Tulalip Health Clinic's Diabetes Care and Prevention Program, please call 360-716-5642.
The coming weeks are the perfect time to still find ripe strawberries and garden-fresh produce at your local, organic u-pick farm. Spending time outdoors, the most natural form of social distancing, beats waiting in line at the grocery store and will help support your local farmers.