By Kalvin Valdillez, Tulalip News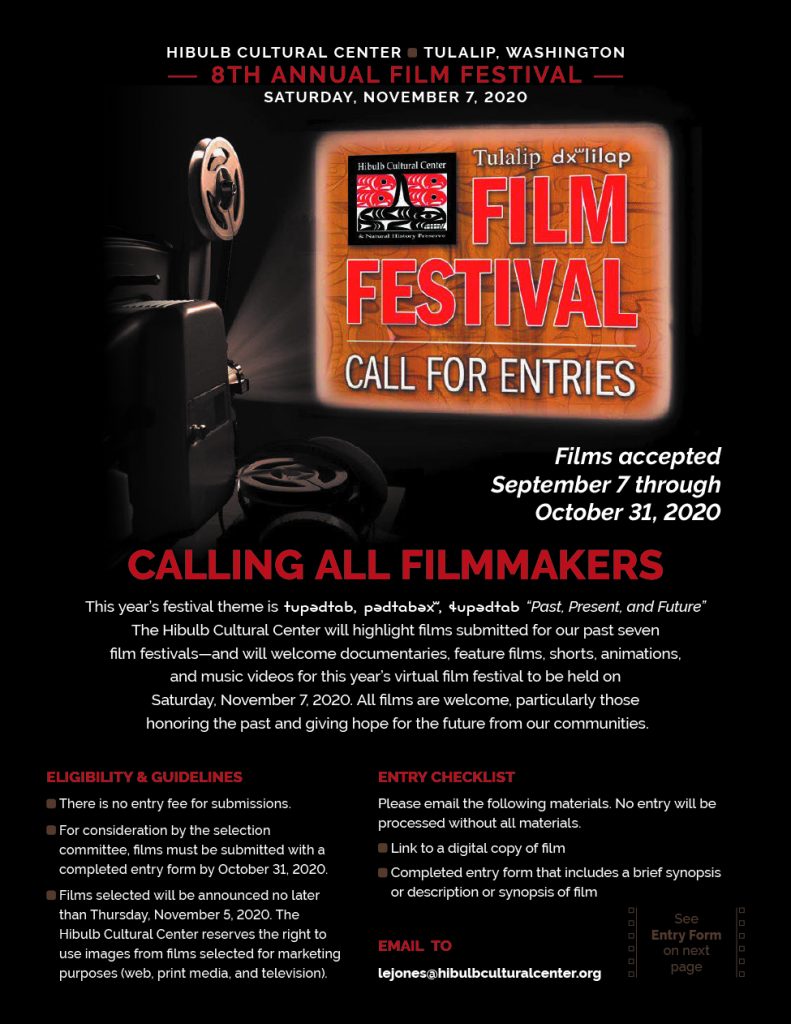 The film festival lives on! With each year that passed since the Hibulb Cultural Center (HCC) first announced the Film Festival, more and more participants found community by bonding with other likeminded creatives at the yearly Fall time event. Each year the film festival culture grows stronger as Indigenous filmmakers, actors, and storytellers showcase their art to the public. The festival is open to all who work in film, whether you live locally or a few states or continents away, everyone is encouraged to take part in the festival and several filmmakers, scorers and screenplay writers from around the world submit their works each year.
"The film festivals began at Hibulb to celebrate films and filmmaking, and to highlight Coast Salish communities as well as communities around the world and the values that we share," explains Lena Jones, HCC Education Curator and Film Festival Organizer. "There is always an international element to our festivals that remind us of the beauty of the world."
In years past, the event typically occurs throughout the course of an entire day and movie lovers are treated to multiple screenings in both the HCC classrooms and longhouse. The participants who submit their films provide an introduction before the film plays and afterwards, they explain in detail the intricacies of each scene and answer any questions from the audience, allowing the creatives to fully engage about all the specifics that go into making a film.
Lena expressed, "We believe it is important to celebrate Indigenous filmmakers and actors because they carry our voice and perspective into the world, a perspective that is much needed during these times. They provide role models for our younger generation with their strong, healing messages. They uplift their communities. We know there is so much talent in our communities and so much knowledge to draw from in our heritage."
With local events throughout the nation being pushed-back or canceled completely due to the coronavirus, it is refreshing and exciting to see the continuation of the film festival, especially since last year's event drew many spectators and submissions. And although the HCC is open to the public, with many safety measures and practices in place, they are taking an extra-cautious approach to this year's festival because of the infectious disease and are proceeding with the event digitally.
"The show must go on," said Lena. "This year the festival will be virtual. We will livestream the film awards and lifetime achievement awards on our Hibulb Cultural Center Facebook page at noon on November 7, and we will post links of the films for folks to view. An audience award will be given this year on the film selected by the audience as the overall best film."
Over the past eight years, the festival has welcomed several genres of films such as music videos about rez love, fantasy films, documentaries about local tribes and their people. Local cinephiles are often treated to a look into tribal lifeways when films regarding sovereignty, treaty rights, harvesting, and art are shared during the festival.
Some films feature songs and on-screen interactions that are spoken and sang in the filmmaker's Native language, such as fan favorite films by Tulalip Filmmaker, David Spencer Sr., Waiting for Blackberries and I Am Frog in which the film's dialogues are spoken entirely in Lushootseed.
"The films are diverse. Each year we pick a theme for the festival," said Lena. "This year is 'Past, Present, and Future'. Our judges, Swinomish tribal elder and filmmaker Robin Carneen, filmmaker Mike Van Luvan, and chef and film consultant Brit Reed all bring unique and inspiring perspectives to our film festival. We're honored for their help and expertise.
"We accept all films. In the past we've received historical and biographical documentaries, animations, romance, fantasies, thriller films, action films, comedies, music films, experimental films, and sci-fi films."
So far, the HCC has received five film submissions including, Bittersweet Life as We Know It by Julie Antony, Nobody Cares by Tim Fraser-Granados, Salish Cedar Canoes by Costa Boutsikaris, The Battle of Blythe by Robert Lundahl, and The Vision, Death, and Ghost of Isaac Ebey by Jefferson Elliot. The Film Festival will continue accepting submissions throughout the month of October as they gear-upfor the 8th Annual Hibulb Cultural Center Film live on Facebook, November 7th.
"It is important for the festival to continue," Lena stated. "There's so much history, heritage, diversity, and beauty in our communities. Our cultures and values are medicine to our communities. This is one way to keep spreading the wisdom and highlighting the ideals of our ancestors. We would be happy to receive more entries for our festival. The entry form can be found on our Hibulb Cultural Center website, Film Festival 2020, https://www.hibulbculturalcenter.org/Events/Film-Festival-2020/. Then e-mail me the form along with a link to your film. My e-mail address is lejones@hibulbculturalcenter.org."