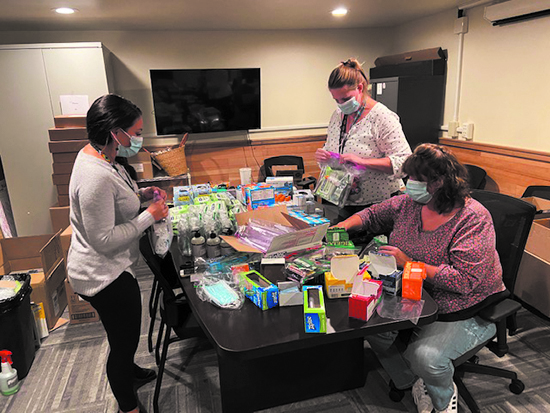 By Kim Kalliber, Tulalip News
Being prepared is key in any health crisis. It's especially important during a nationwide pandemic like COVID 19. With cases on the rise again at Tulalip, staff at Community Health, in partnership with Emergency Management, have prepared wellness kits for those testing positive with the virus.
According to Morgan Peterson, Community Health Nurse, 70 kits have been assembled and are available. "These are a starter kit to help promote health and wellness. Family or friends can pick them up at the Community Health building. We also will deliver the kits the persons home."
"These kits are for all Native families residing on the reservation and receive care at the health clinic," said Morgan. "We will provide these kits to Tribal families that have tested positive outside of the Tulalip Health Clinic."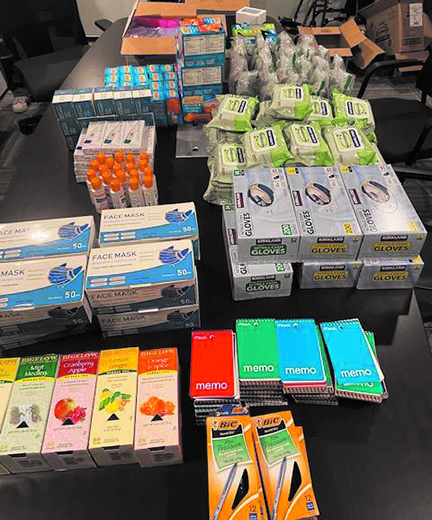 These kits include many essential items such as:
Hand soap
Sanitizer
Disinfectant wipes
20 masks 
20 pairs of gloves
Teas
EmergenC
Pulse oximeter
Thermometer
Booklet to track and monitor symptoms 
An info card on how to use the items and who to call if you need help
There is a limit of one COVID care kit per household and three kits have been given out so far. Clinic staff are asking those picking up kits to please call first, and staff will bring the kit to your car.
"Community Health nurses and nurses of the Health Clinic are here to answer any questions or concerns so don't hesitate to call," added Morgan.
The Clinic is offering COVID testing to any patient of the clinic. You must be or become registered to receive COVID testing.
For more information, please contact the Tulalip Health Clinic at 360-716-5662 or visit tulaliphealthsystem.com.