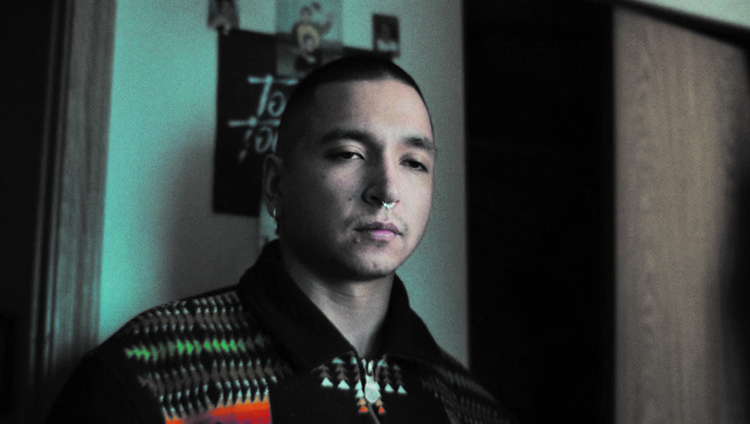 By Kalvin Valdillez, Tulalip News
"How did I let this happen?" cried a mourning Indigenous mother.
"Did you know?" she asks, turning her attention away from a photograph to a young Native man standing in her doorway.
"I had no idea, I didn't think it mattered," he responded, fighting back tears of his own.
"He's my son, he matters."
This emotional dialogue may seem familiar to you if you grew up in Native America. However, it is directly quoted from an upcoming project titled In Spirit, a short film based on a story by Tulalip tribal member, Nathan Williams, also referred to as his moniker, DEAMA. For years, Nate has been expressing himself creatively, giving people a glimpse into his world, whether through music, street art, fashion or most recently, film.
"If I were to put it in my words, short and sweet, the film is about a troubled kid named Jared," Nate explains. "He's about 17 or 18 years old and he's trying to come to grips with his own emotions, with the passing of his long-time best friend turned addict. I tried to make it like a saturated version of my story, as much of my reality as possible without making it the same exact scenario. I tried to paint a typical scenario for everybody else's situation when confronting those emotions. So, I would say it's based on a true story, but the film was not the actual timeline."
There is a meme, or a statement rather, that occasionally will make an appearance on the social media platforms, stating "our generation has been to more of their friend's funerals than to their weddings," and unfortunately that is a reality that many Indigenous youth live with in modern society. At tribal gatherings that aim to bring attention to today's drug epidemic, Tulalip Board Member Mel Sheldon often opens the events by asking attendees to raise their hand if they have ever lost anybody due to a drug overdose. Each time nearly everybody's hand goes up.
According to current research conducted by the Washington Post, over the course of 8 years, 2006-2014, Native Americans were approximately 50% more likely to die from an opioid overdose than any other race. Furthermore, a new study by the Center for Disease Control (CDC) showed that the suicide rate amongst Native teens is continuing to rise and is up 139% for Native women and 71% for Native men since 1999.
If you are a non-Native reading those statistics, you may find yourself shocked to learn of this news. This is felt on an even greater level for tribal communities because those 'statistics' are often our siblings, cousins, uncles, aunties, parents or friends. And while those articles may provide a lot of eye-opening info, more times than not, they fail to encapsulate the hardship Indigenous Nations are feeling – what they go through with each young tribal member that is buried far too soon.
In Spirit places you directly into that storm of emotions that we are left to deal with after our loved ones make the transition to the afterlife; the hurt, the anger, the guilt, all of those raw emotions are on display and they are portrayed so evocatively you almost feel like you're reliving moments of your personal life. Nate explained that when casting the roles for the film, he called upon the people in his life that best fit the personalities of his characters, and that all of the cast members were first time actors.
"We tried to go across everything that could possibly happen emotionally in these scenarios," said Nate. "I'm super impressed with how everyone killed their roles. For the most part, we kind of just gave people a template of what to say. We told them to say it naturally, how they would speak if we were having a normal conversation; the way you say it, your cadence, your emotion that comes out. I think that helped a lot of people with their performance because they didn't feel like they had to remember their bars. Every shot was under ten takes."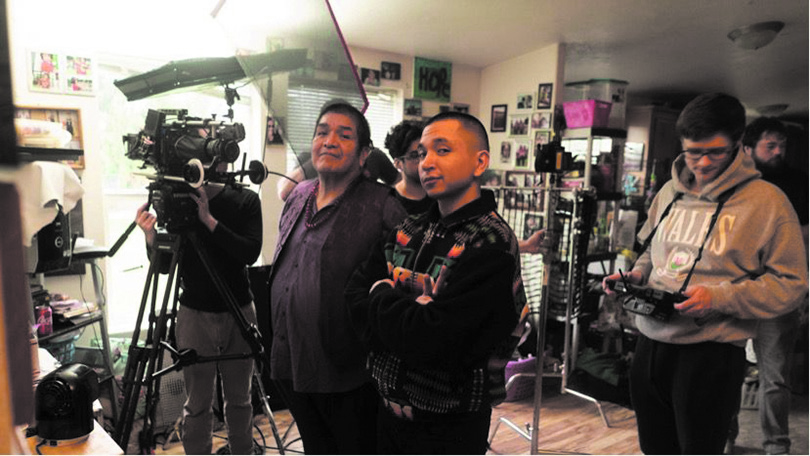 The 8-minute film was originally intended to be just a scene in a full-length feature that Nate was writing at the time he met the film's director, Jonathan 'Jon' Salmon. The two creatives crossed-paths when Jon hired filmmaker Luis Perez, a close friend of Nate's, for a 3-part series dubbed Residents. That project was shot in three neighborhoods in the Pacific Northwest; South Seattle, Tacoma and Tulalip. From that project, Nate and Jon built a collaborative relationship and the first project they worked on together, a music video for Seattle artist Ben Zaidi, won Best Music Video at the Tacoma Film Festival.
"From there, we started talking," Jon stated. "A lot of people don't know what happens on tribal lands, and they're not too familiar with the genocide of Indigenous people and how the genocidal trauma can continue to affect and spread through the lineage of the people. We opened up and talked about our experience with death, how fast I thought I was losing people from the young age of 15 all the way up until today. And he talked about how it happens on the reservation and how it happens at Tulalip. We need to talk about that because that's something that's always put in the headlines, the opioid epidemic tearing apart suburban white neighborhoods, but you never hear that same focus and energy put in the tribal lands that need resources more than suburban families who have the means to deal with it, in a sense."
After a ten-month writing session, the two created a script that they felt could honestly address the issue of generational trauma and how it affects the Native youth specifically. Once the roles were cast and locations were successfully scouted, filming began at the beginning of 2020 before COVID struck. And thanks to what Nate credits as Jon's deep connections, multiple crews – filming, editing, makeup, colorists, were in place and the entire filming process took place over the course of only 48 hours. Post-production was relatively quick as well, taking approximately 5-6 months to wrap the film up.
Nate expressed, "I got to give it up to Jon for being such a good director, because he's down to get real personal with you. There were times he would pull me to the side and remind me what I was there for. Coming from the situation we are in, you grow accustomed to suppressing your emotions to a degree. You don't want to relive those emotions, because you don't genuinely want to hurt yourself again, but you got to put yourself in that ballpark for the film and that is what Jon is good at getting you to."
And while Nate praised Jon for his work ethic and his execution of bringing his vision to the screen, Jon was quick to reciprocate, claiming that it was a collaborative process the entire way through, stating, "The film was organically developed. It wasn't me saying, let me tell a story that I didn't know anything about or relate to any of their experiences. It was me and Nate walking through everything together because he's also the main actor in the film and the producer as well."
Jon is non-Native but has close ties to families within the Puyallup tribe, which allowed him to have a better understanding of the reservation lifestyle than many filmmakers throughout the region. Coupled with his conversations with Nate, he took on the project with intentions of not only raising awareness to the drug epidemic and dealing with the loss of a loved one at a young age, but also to find a way to support a program or organization that helps Natives work on their mental health as it relates to generational trauma.
"We understand that there is trauma," he said. "We were trying to do something informative and insightful, we do believe we achieved that, but the film was also highlighting a very traumatic event and it kind of encouraged the cycle of trauma that I try to break in all of my work. We can't open up a wound and not want to help people deal with it. We want to partner with an organization; whether it's from the Tulalip Tribes, or any tribe in the State of Washington that offers services for the mental health and mental improvement for young adults between the ages of 13-30, to help them cope with experiences like this."
The duo plan on officially releasing In Spirit on Indigenous Peoples Day, October 12th. The film is a must-watch; a modern day observation of how generational trauma is impacting the future of Native communities nationwide, as well as an important piece of work that helps open up a much-needed conversation about issues that are often overlooked or deemed too uncomfortable to talk about growing up on the rez.
"I feel like us, as Native Americans, are way too accustomed and jaded to these situations, and for the most part people aren't seeking the therapy needed for certain things," Nate expressed. "I don't know if it's because they don't feel supported or if they just don't have the resources. But as fortunate as the Tribe can be, I still feel like mental health is one of those things that's not taken as serious as it should. We wanted this film to be the mirror; this is us – we are like this. As a community, we need to take it upon ourselves to help the people around us. That's what I'm on." 
View In Spirit here: