By Kalvin Valdillez, Tulalip News
As the Tulalip Police Department continues to grow, they welcome aboard four new lateral officers to the tribal police force, bringing the total amount of TPD officers to nearly forty strong. Although some of the lateral officers have been a part of the crew from as early as May of this year, they were officially sworn-in to their positions on October 7, joining in celebration with the latest cohorts of cadets-turned-officers who just returned from three-months of intensive training at the U.S. Indian Police Academy in New Mexico.
After vowing to protect the land and people of Tulalip and uphold the law, rights and constitution set forth by the Tribe, the lateral officers; Michel Carrington, Justin Lee, Austin Correa, and Theodore Ojeda, took a moment with Tulalip News to formally introduce themselves. They inform the community  about their past experiences in law enforcement as well as their new journey, which takes place on the sduhubš' territory, known in modern times as the Tulalip Reservation.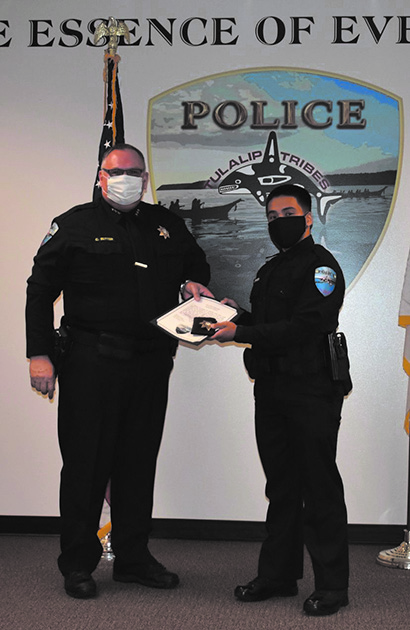 Michel Carrington (Transferred from Sauk-Suiattle Fish and Wildlife)
Tulalip News: Welcome to Tulalip! How does it feel now that you are a sworn-in member of the Tulalip Police Department?
It's awesome. Growing up, I'm from the Sauk-Suiattle, I always shopped here and was always amazed at what the Tulalip Tribes has done for their reservation and governance. I didn't have too many role models growing, but all the police officers of my community would stop and say hi and I looked up to them. They are who inspired me to become a police officer, I remember saying 'I want to be just like them.' The reason why I wanted to come to Tulalip is because there's lots of opportunity and you can see that the Tribe is going to keep growing.
Why do you believe it's important to keep that role model aspect of the job going for kids and people who want to become police officers?
The positive influence and impact it could have on the youth. For me growing up, it was the little things, when they would come around and ask how's your day's going. When they'd give me a sticker here and there, things like that, because not a lot of kids have that positive role model when they're growing up, especially in Indian Country.
How long was the process since you made the decision to go for it?
It was quite a while. I first wanted to be a fish and wildlife officer. Obviously, as a tribal member, hunting and fishing inspired me to become a fish and wildlife officer. Our fish and wildlife at Sauk-Suiattle was at the natural resources department. I applied as a technician and it got transferred back to the police department. And that's when I got my opportunity, because there wasn't a lot of officers, they were wanting tribal members to apply, so I took my chance and that's where I started.
Can you speak about the importance of serving a tribal community as a Native police officer?
People, especially kids, like to see their color, their same person, and will feel more open to talk to you. It's the same with adults too. They may respect you more or feel more open to talk to you because they're talking about deep personal stuff that not many can relate to or understand.
I bet having that understanding of tribal lifeways is definitely helpful out there. Now that you're a part of the squad, what are your future goals?
I plan on staying right here. There isn't a lot of call volume at home (Sauk-Suiattle), it's low crime. There's about 400 tribal members there, so it's real small. My goal was to come to a bigger department and bigger reservation and learn what they have to offer. My plan is to stay as long as I can. And my advice to anybody interested in following this career is train, learn the codes in your community, and get to know the local police officers because knowing people is a real big thing too. If you know somebody they'll help you and guide you to where you need to be.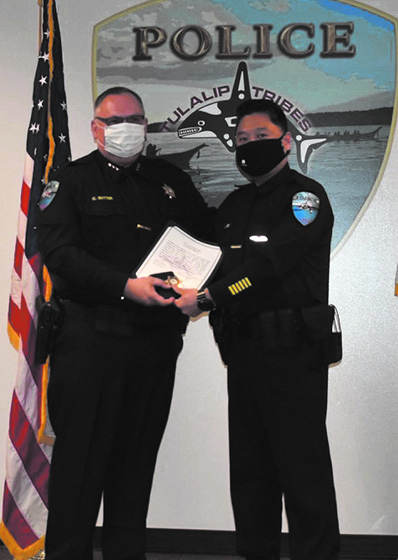 Justin Lee (Transferred from Edmonds Police Department)
How does it feel joining the Tulalip force?
It feels great! This is my third agency. I've heard a lot of great things about this department. I've known Sgt. Bardsley for like 20 years, Chief Sutter – amazing guy, and of course Paul Arroyos, I've taken his undercover classes before. The more I get to know about this place – it's a great department.
What brought you to Tulalip?
To have this caliber of communication, training and caring. Police work is one thing, but being here you get to understand the culture and the community in interactions on any given day and that speaks volumes, because that translates to a better community and more support and better unity as a group.
In this day and age, communication has broken down and because of bad communication, there's misunderstanding and because of misunderstanding there is distrust and because of distrust there's the social issues we face. If we can change all that from the beginning, and work together, I think we're advancing as a group, community, and society. Everybody wins, except if you're a criminal, obviously.
What inspired you to become an officer of the law?
To protect and serve. I'm a minority. My family has been victims of crimes, I'm a second-generation immigrant, so I've seen that. I've been burglarized before and I also faced the racial tension – I've seen that – and I experienced it as a police officer, both externally and internally. Having said that, I've always wanted to help people. That's the whole reason I became a police officer, to help Korean Americans initially. There're not many fluent Korean speaking officers in the state of Washington and I wanted to be a part of that. I've utilized my language skills in many ways, in many agencies throughout the years.
That was my catalyst, or beginning. Then when I got the experience, I fell in love with what we do. It's a mentality, a culture. When you bleed, you bleed blue. When you have that support, you build comradeship. I had five co-workers who are LL currently serving in other agencies who came to support me during the swearing-in celebration.
What are your overall thoughts of the department so far?
This is a great place; do we have room to improve? Absolutely. Are we on par with other agencies? Not really, but that's not everything. I think we have a great foundation, we're a young department, less than 20 years old. I think we have great leadership, I think those leaders understand the vision of the tribe and of the people. Having said that, is there room to improve, hearing that other departments receive better benefits, absolutely. Hopefully this will bring forth improvements too. We could have officers stay here, instead of providing them some of the best trainings and then when watching them leave because other departments have better benefits. Right now, there are a scarcity of good officers. We lose them left and right; they leave within a year or two here. I'm hoping that will change as we improve, whether it be benefits, pay, better overall package. I know we have the foundation, now it's time to build something solid so people can say that the Tulalip agency is where I want to work. Not because they are great officers but because of everything else that's offered here.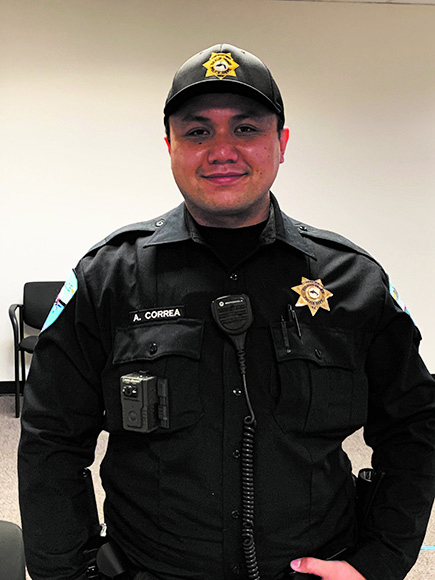 Austin Correa (Transferred from Tacoma Police Department)
What brought you to the Tulalip reservation?
Originally, I was born and raised in California. San Jose specifically. I moved to Tacoma, Washington about ten years ago and ever since then I lived in that vicinity. I began my law enforcement with Tacoma Police Department in 2018. I wanted a new change, the things down there weren't that great to me. I decided to venture out around the whole state, Tulalip was fortunately one of the departments I applied to and they were the first department to offer me a position as a lateral officer, so I'm gracious to them and they were gracious to me, and I signed the final offer right there and then.
When did you start and what are your thoughts about the community?
I like the community, so far. I've been here since June and everyone has treated me with respect in the department as well as the community itself.
Right now, I'm in the position as a transport officer, so I do more social stuff like transporting those who have been arrested and bring them to court. I get to know them on a personal basis, it's kind of interesting where I'm at. I like it in this position, I plan on going back to patrol within a year or so. But where I'm at right now is where I'm comfortable both business-wise and personal-wise because I have a wife and a one-year-old son at home, so the schedule itself is amazing and is beneficial to my family.
What made you want to become a police officer?
Funny thing is I actually wanted to be a firefighter growing up. What influenced me was my grandfather and my uncle, they were prior law enforcement on the big island of Hawaii. I didn't see much of the career then because they both retired before I was born, but just the stories they told, the stuff they did on a day-to-day basis was something that pushed me to venture out to a career like this. My brother is also a police officer with the Tacoma Police Department and has been with them since 2015. With him recently becoming an officer and telling me the ways he was helping his community, that was something I wanted to do, to help change the life of someone in any way possible. That's what led me down the path of law enforcement.
You mentioned you were Hawaiian, why do you believe it's important for minorities to serve on the force, especially in a tribal community?
I feel like it provides a safe net for the community. We want the best for everybody because we know, Hawaiian, tribal, it's a tight knit family; we care for one another, we help one another. That's another reason that drew me to this department, the family aspect. I grew up with that all my life, being Hawaiian, family is key. We use the word ohana, that's a key aspect of why I wanted to come here. Seeing a minority being an officer could help influence positivity to our younger generations to this career and actually reach out to us and feel safe and know we'll do the job and help them in any way possible.
Since the incidents earlier this year, law enforcement has not been a great career to pursue, it's like people judge us based off the career. I want everyone to see that, yeah this is a career we chose, but we're all human inside and we want to do good, we know we can do good by you. I encourage more training, but in order for that training to happen we need money to be put in the departments. I feel like the defund the police that's going around, those monies should be put towards us getting more training, not taken away because I want everyone to feel safe to call law enforcement.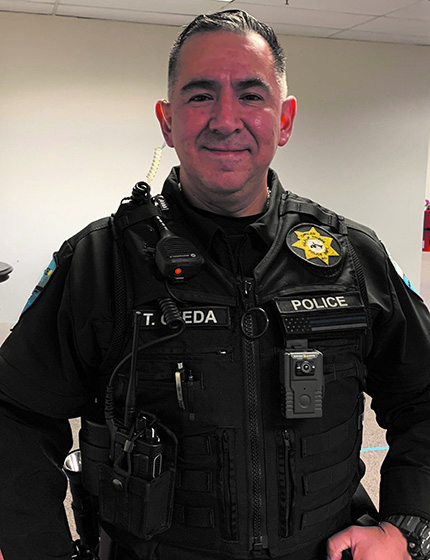 Theodore Ojeda (Transferred from Harris County Sherriff's Department, Houston, Texas)
Let's begin with your background, how did you make your journey to Tulalip?
I was a deputy sheriff in Houston, Texas. My children live here in Washington State. At the time when the four officers were shot in Lakewood, Washington (2009), I was trying to become a police officer. I tested, but no one was hiring. I talked to my uncle Jesse, who's in Houston, and he knew the sheriff. He said that they were actively hiring. I applied, they flew me down, and I signed on with them, thinking I was going just do the to the minimum two-year commitment and lateral back up here.
Well, something happened in my family dynamics that caused me to stay down there for eight years. I was flying back and forth every three to four months to see my children and spend time with them. One day, my daughter was cheerleading at the new football field in the Mission Beach area. There was an officer there and he said they were hiring. When I got back to Houston, I applied. I came up here on my own dime and I tested, went through the interview process and everything. I also applied to a few other agencies. I made a promise to myself that whatever agency saw my potential and made me an offer, that I would sign. Of all the other agencies that I tested for, because I was number one for Lacey, number two for Olympia, and Vancouver had me on their list too, Tulalip was the first to offer me a spot. I came here and I had the pleasure of meeting Angela and Chief, they sat me in the office and they interviewed me. Right afterwards, they made me an offer. It's funny, no sooner than I signed that offer, the other agencies reached out to me too, and I told them I appreciated it and that it meant a lot that they finally saw what I was worth, but I told him that I already signed with Tulalip, and so here I am.
What do you think of the community and the reservation so far?
I've been here since May and I love that the people have a lot of respect for each other, and the elders. I come from an agency that's 5,000 officers strong and we have a little bit of community policing out there and that's something that I'm trying to promote out here as well, getting involved with the community. Right now, I'm almost done with my shadow phase, my training. I know the Chief is excited for me to go out there and try to develop something. I was told that maybe I could head-up a bicycle patrol. When I was in Harris County Sheriff's Office, myself and a few other officers were involved with the homeless outreach team. We dealt a lot with the homeless and went to some nonprofit organizations and they were able to donate toothbrushes and toothpaste and that progressed to getting some attorneys and medical for those that needed help. I don't know if Tulalip has anything here yet because I'm going through the training but once I'm done, I would like to see if there's anything that we could possibly do to help the with the homeless out here.
What experience do you bring to Tulalip?
I bring a lot to Tulalip. There's a lot of things that they don't have here that I've experienced. I'm a rescue diver, bicycle patrolman – part of this special response group when we hired to riot control and stuff like that, and the Honor Guard as well. We did the special funerals for our fallen officers, and for family members. I'm happy I'm here. I think the Chief sees something in me, and I'm grateful for that.
When did you know that you wanted to become a police officer?
I went into the Marine Corps in January of 1989. I did 14 years in the Marine Corps, and I met my wife, now my ex-wife, in Hawaii. I was stationed in Hawaii. When I came here, I fell in love with Washington State and told myself this is where I was going to make my home. But then when our family fell apart – I was from Texas, so I was planning this start over down there. But my kids are growing up and I wanted to be there for them. So, I applied up here. But what really got me into it, like I said, was the fallen four in Lakewood. That's actually what made me want to try to make a difference.
What are some of the things you wish to accomplish in your new position on the force?
Try to develop some type of game plan where we can get some of the tribal members that are homeless or are addicted to opioids, some type of help. Try to reintroduce them into life and make them part of the community again. That way, when we see them on the street, they're no longer looked at like an outcast. I think a lot of these people, from my experiences, just need somebody to talk to. If I could try to help at least one person, it's worth it to me to take that step.
Eventually, I would like to be a field training officer as well. I admire Chief Sutter, he's a good mentor. I asked him if there was a mentor program here, and I think that's something that we need. The way we do policing today is a lot different from what they used to do a long time ago. Today is more about talking to the citizens and finding out what we can do as officers to make the community better.
For a tribal community, do you find that the people are more willing to open up and talk to you as a minority-in-blue?
I always had that desire to help people, that gift to talk to people. It doesn't matter what color you are, what religion you are, what gender you are – if you're gay or lesbian, or transgender. If somebody is in need of my help, I'm there. I see people for people. I believe in honor, respect, loyalty.
Any message or words you would like to share with the Tulalip community?
I tell the Chief all the time that I thank him for seeing my potential. And I'm just a small little seed right now. I hope that as time goes on, as I get to know more about the traditions of the people here and what's really expected from the community, I can partake and try to help. Like I said, even helping one person makes things satisfying for me.
The new TPD officers are excited to get acquainted with the Tulalip community. They have also expressed a strong desire to learn more about the traditions, culture and history of the people, so when you see them, be sure to say hello. And if you are interested in pursuing a career with the Tulalip Police Department, please reach out to Angela Davis, TPD Professional Standards Manager, to begin your new career journey. For further details, visit www.TulalipTribalPolice.org or call the non-emergency line at (360) 716-4608.