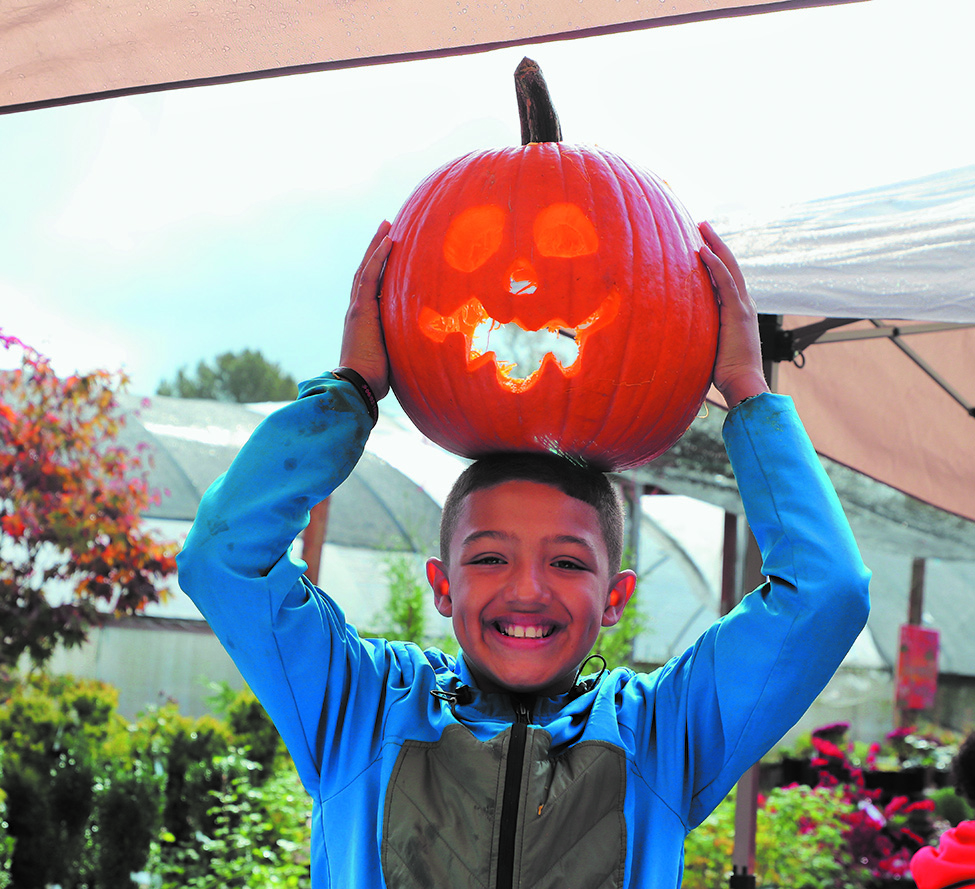 By Micheal Rios, Tulalip News
The coronavirus continues to have its way with planet Earth's human civilizations. Worldwide there have been 40 million confirmed cases, 1.1 million deaths and, most importantly, over 30 million people have recovered. Seemingly every major news channel in the United States continues to break stories about surging spikes, outbreak hot spots, super spreader events and the dreaded second wave. Yet, life continues to adapt and find new ways to thrive. As is the natural order of all things.
Pumpkin picking is a perfect example. The typically mundane tradition is done in the weeks leading up to a holiday where individuals pretend to be something else by wearing a costume in an effort to receive as many sugar-filled treats as possible. But now? Leaving the house, going outside in a social distancing friendly environment, and picking a plump pumpkin at the local farm is simply party business. More than that, it's a reassuring pick-me-up during a global pandemic.
On Saturday, October 17, the greater Tulalip community and patients of the reservation's health clinic were cordially invited to Garden Treasurers organic farm for a host of fun activities, highlighted of course by roaming the make shift pumpkin patch. Over the last few months, Garden Treasures has become a sanctuary for those in desperate need of fresh air and sunshine. There people can take a leisurely stroll through acres of vegetable-fill greenhouses and flower gardens, while reconnecting with nature.
"We had 150+ community members participate in last weekend's farm tour and u-pick. In our 11-year history, that marks our largest non-ceremonial event ever!" marveled Veronica 'Roni' Leahy, manager of Tulalip's Diabetes Care and Prevention Program. "The enthusiasm of those who come and share their thoughts with us of how they want to use their harvested foods gives our team an opportunity to share our knowledge and cooking skills with them.
"For me personally, I love to listen to their hearts speak about the plants and their experiences with them," continued Roni. "I enjoy answering their questions about how the plants grow and how to care for them. Our team is well rounded at the farm, we have people with different skills and levels of understanding who eagerly want to share their gifts with others."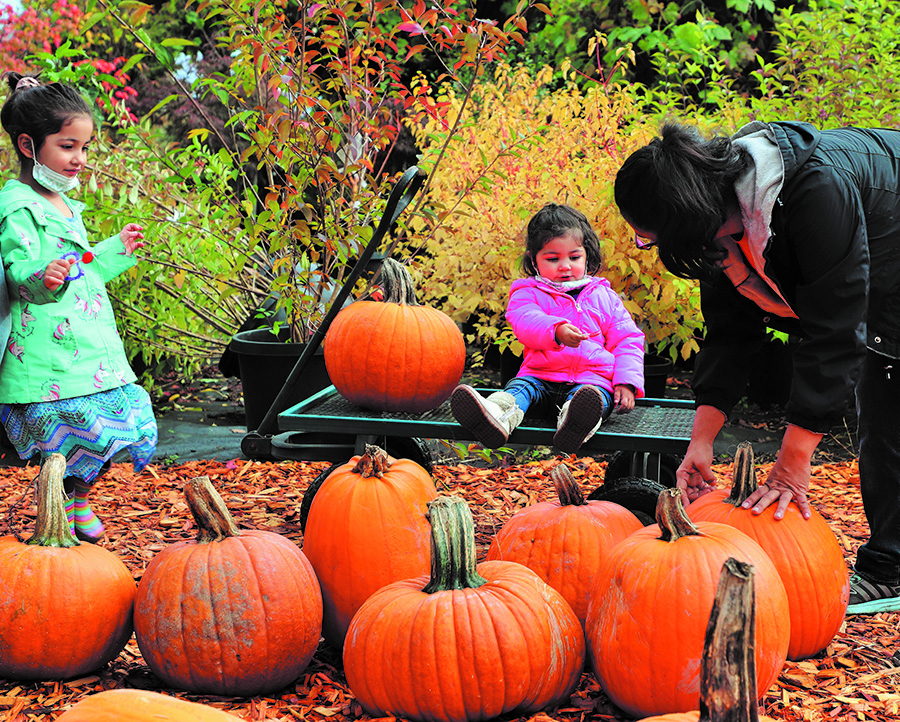 Farmers markets and local organic farms are making the most of an otherwise dire situation this year. Under the scope of pick-your-own or u-pick, both considered a type of agritourism, business is booming during the growing seasons of Covid-19. As nationwide health concerns and pandemic-induced lockdowns continue to loom, farms, as food producers, are essential businesses and remain a healthy alternative to overly processed, pre-packaged grocery stores.
So many popular entertainment venues are closed, but people remain eager to get out and do stuff. Especially parents seeking family activities. That's one of the reasons Josh and Danielle Fryberg attended the community farm day with seven kids and two grandparents in tow.
"It's a good time for us to be together as a family and benefit from something that one of our Tulalip departments put together for our community to stay healthy," said Josh. "We've participated in a few u-pick days now, and learned something new each time. We've been able to learn about what fruits and vegetables grow in which seasons, and realized how much healthier the foods are here than what's sold in stores. You can literally see the difference, taste the difference, and even smell the difference."
Eleven-year-old Kyla Fryberg displayed her picking prowess when she ventured off to the carrot field and then to the greenhouse where strawberries grow. She wanted to make sure she got the perfect snack foods for her two pet rabbits, and some carrots for herself.
"It was really nice," chuckled Kyla about her time roaming the farm. "There are pretty flowers and lots of carrots to pick. I like fruits and vegetables, mostly carrots and apples because they are my favorite. I think it's important for kids eat vegetables so we can grow to be big and strong."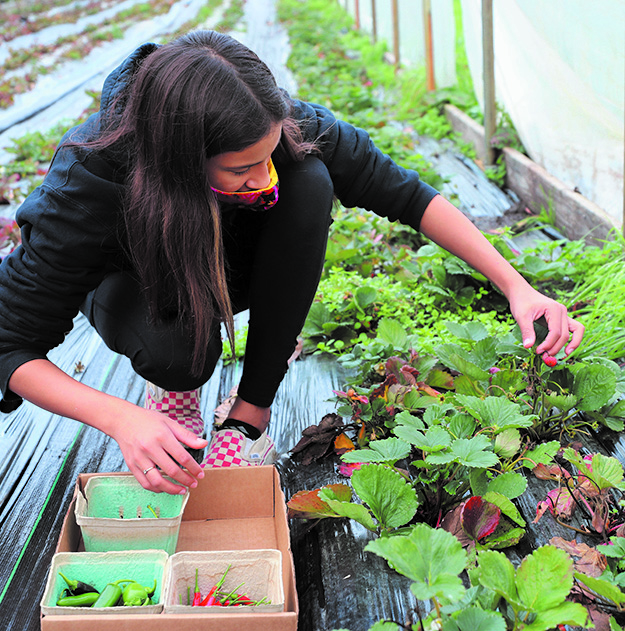 For Tulalip citizens desiring to eat healthier and want to add a variety of vitamins and nutrients to their everyday meals that will naturally boost the immune system, fruits and vegetables are the answer. Nearly everyone left the farm with not only their own pumpkin, but a fresh bounty of organic food to add to their favorite meals. Those who eat more fruits and vegetables as part of an overall healthy diet are likely to have reduced risk of chronic diseases and have more energy to tackle every day stresses.
Sisters Marilyn and Denise Sheldon made the most of their afternoon farm visit. Their goal was to handpick a variety of beautiful flowers, ranging in colors and size, to make unique bouquets. Along the way they thoroughly enjoyed a brisk fall excursion while experiencing the joy shared by Tulalip youth able to spread their wings and run around.
"There were all kinds of organic fruits and vegetables," said Marilyn Sheldon. "What I liked most was seeing our people out here enjoying all of it. There were little ones running around being happy they were outside and able to pick something cool. There were adults and elders walking around with beautiful bouquets of flowers they created themselves."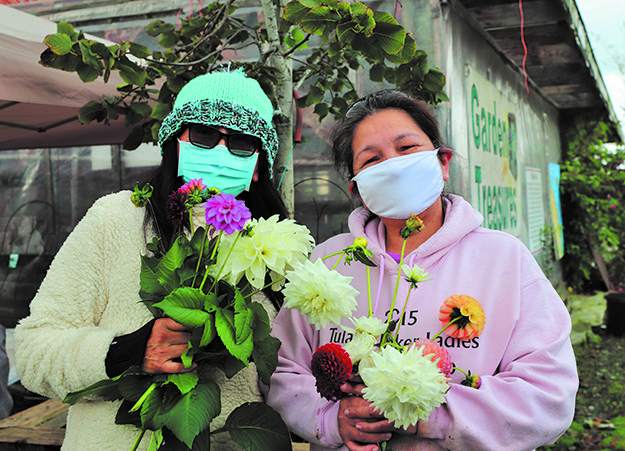 "You can pick whatever you want!" added Denise. "I enjoy soaking up all the pleasant aromas from flowers to vegetables to herbs. Some of the herbs I hadn't seen in their farm grown form before and had to smell them in order to figure out what was what. I'm thankful to receive a large pumpkin because I've been excited to bake pumpkin seeds and try out a new recipe to make pumpkin bars."
Several children took full advantage of the on-site pumpkin carving demonstrations. Young Dalyn Jones spent his morning at the farm with his great-grandpa Dale. He put his carving skills to the test when he attempted a difficult owl design. After his first attempt didn't exactly go as planned, the owl had an unfortunate accident that couldn't be fixed, he skillfully carved an exquisite squiggly face design.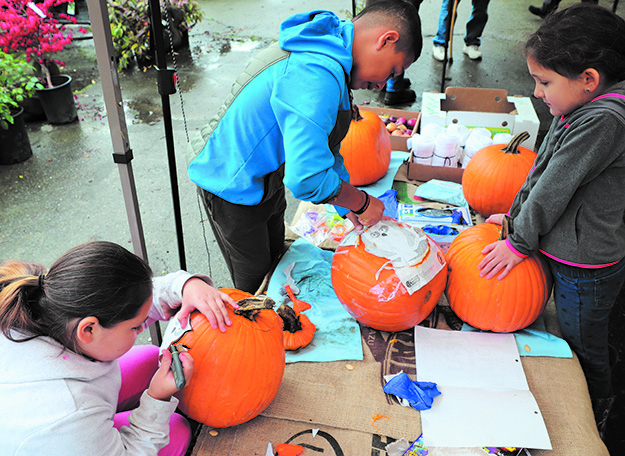 "Who doesn't like to carve pumpkins? Not me," shared 10-year-old Dalyn while showing off his jack-o-lantern. "I think it's so much fun. I call mine Squiggles. I'm excited to bring it home and put a candle inside. It'll go outside my house until Halloween. I can't wait for Halloween because I'm dressing up as a vending machine."
It was a day filled with laughter, excitement, and pleasant stories shared by some who hadn't seen each other in months. One person after another roamed the pumpkin patch, but none did so quite like the younger kids who beamed with a sense of independence and pride as they picked the perfect pumpkin to claim as their own.
The community thrived in the open-air space Garden Treasures offers. From youth to adult to elders, there was something for everyone and activities to experience together. Roni and her Diabetes Prevention team are so thrilled with Tulalip's response to the farm days that they are already planning to expand future activities to include crafting, educational opportunities with native plants and berries, and more hands-on workshops.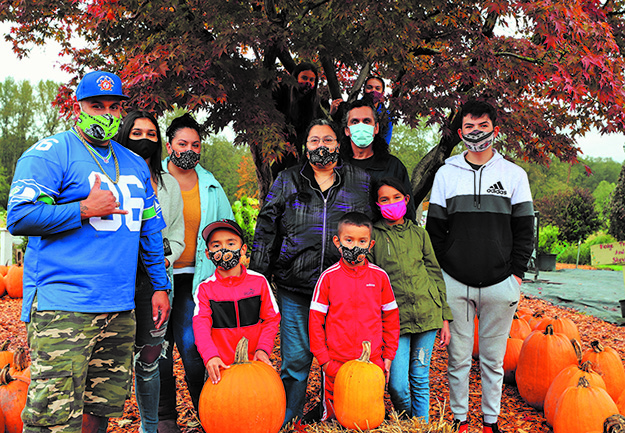 "It's like watching a connection occur right before your eyes. It's like watching people you care for enjoy life's gifts," reflected Roni on the countless memories made from first time farm visitors and veteran food harvesters alike. "For example, watching kids experience the ocean waves for the first time, or catching their first fish. It is something that completely fills your heart. This is what our whole team experiences and why we have this driving force of motivation to share with others the opportunity to experience the farm with all our people.
"Peer-to-Peer motivational education seems to have the biggest impact on our lives," she added. "The farm, the clinic gardens, and our field trips give our multi-disciplinary team the opportunity to bring people and nature together. Our days always end with our hearts filled with good memories and hopeful anticipation to create more. This is why we do this work; we believe that creating positive memories and connective experiences with our food sources truly helps in the development of a healthy and vibrant community."