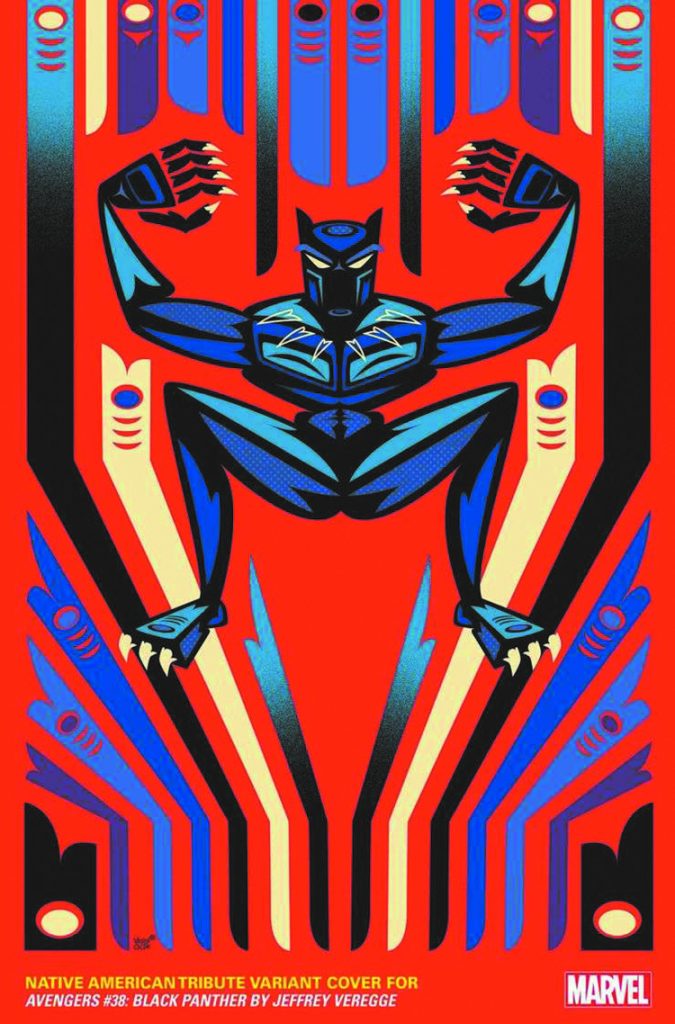 By Micheal Rios, Tulalip News; Images courtesy Marvel Comics
November is Native American Heritage Month. It's an entire 30-day calendar month dedicated to celebrating rich and diverse cultures, traditions, and histories of America's first people. Heritage Month is also an opportune time to educate the general public about tribal sovereignty and raise awareness about the 574 federally recognized tribes and their inherent uniqueness. Moreover, it's an opportunity to spotlight tribal citizens who dedicate themselves to conquering the challenges Native people have faced both historically and present day.
Jeffrey Veregge, a Port Gamble S'Klallam tribal member, has been an artist since the moment he was able to hold his first action figure and create stories of his childhood superheroes on paper with whatever art utensils were available. That creative fire and passion for super powered warriors and comics never faded as he grew from imaginative youngster to inspired illustrator. His desire to keep improving eventually led him to the Seattle Art Institute where he studied industrial design technology.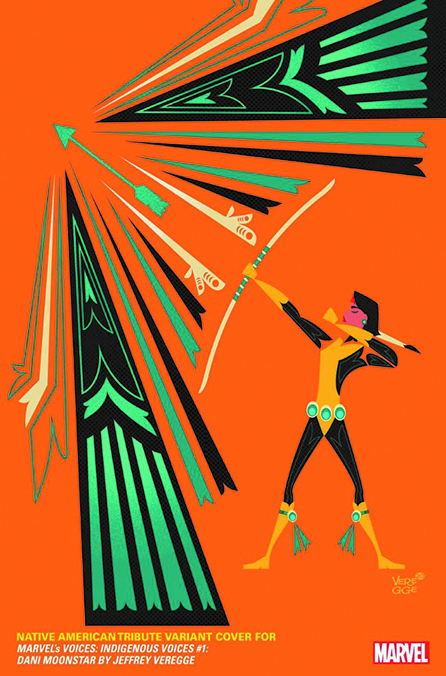 Afterwards, he was fortunate enough to study under the tutelage of Tsimshian master carver, David Boxley. It was with Boxley's vigilant guidance Veregge learned the basics of Salish formline design. Formline is an Indigenous art of the Northwest Coast and is distinguished by the use of characteristic shapes referred to as ovoids, U-forms and trigons.
"A member of Port Gamble S'Klallam, I was raised and spent a majority of my life on our reservation known locally as Little Boston, which is located near Kingston, Washington. Although I am enrolled there, I am also of Suquamish and Duwamish ancestry," explained Veregge to Tulalip News in 2015. "I graduated with honors from the Art Institute of Seattle and had the privilege to study with Tsimshian master carver, David Boxley.
"Salish formline is beautiful and felt like a natural extension. Comic books, Star Wars and all this hero stuff are equivalent to modern day myths. Salish art has told stories and myths [for countless generations]," he continued. "My work is a reflection of a lifetime love affair with comic books, toys, TV and film; taking my passions and blending them with my Native perspective."
After graduating from the Seattle Art Institute, Veregge had a job at an advertising agency for eleven years. Working in advertising allowed him to tap into his creative side, but the Native artist within wasn't satisfied, he needed something more. He went to art school to hone his skills and have fun, not to have his inner artist constrained by the everyday politics of advertising.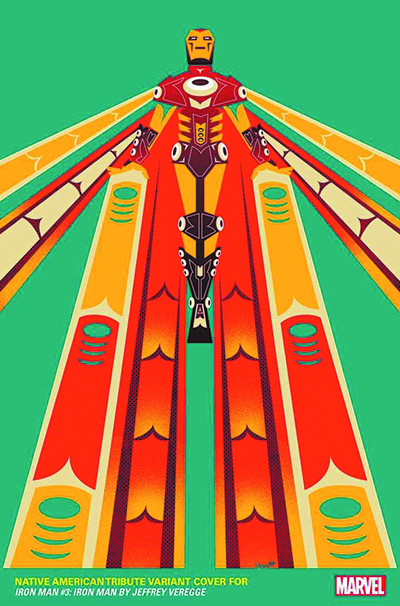 For him, being an artist wasn't just to sell art and make money. Being an artist meant loving what you do and constantly searching for new ways to create. It meant viewing a blank piece of paper as a magical canvas to express the imagination of a cluttered mind who loves comics, movies, Sci-Fi, and action figures. So he left the advertising agency and embarked on the artist's mission: to create something truly unique.
A search for a new, personal and bold direction in his work resulted in Veregge creating Native Superhero comics. The sleek lines of the Salish design applied to superheroes such as Batman and Spiderman give them a solid, yet defined silhouette against a simple background. The use of negative space and vivid color contrast so well that the illustrated defenders of peace and justice convey a real sense of power and motion.
"Basically, I am just trying to have fun and get back to that kid that went to art school to begin with, wanting to create artwork that I want to see and make just for the hell of it," described Veregge of his formline remixed, boundary pushing artwork he creates today. "There is a time and place for preserving the old ways, the traditions, but then there is the call for all artists to push the limits, find new ways to say things, and new stories to tell."
The eye-catching, Salish remixes of Earth's greatest heroes brought about one opportunity after another to showcase his work in local comic book stores, online publications and the occasional commission. Then a monumental shift came in 2018 when he was asked to host a 15-month solo exhibit at the Smithsonian in New York City, called 'Of Gods & Heroes: The art of Jeffrey Veregge.'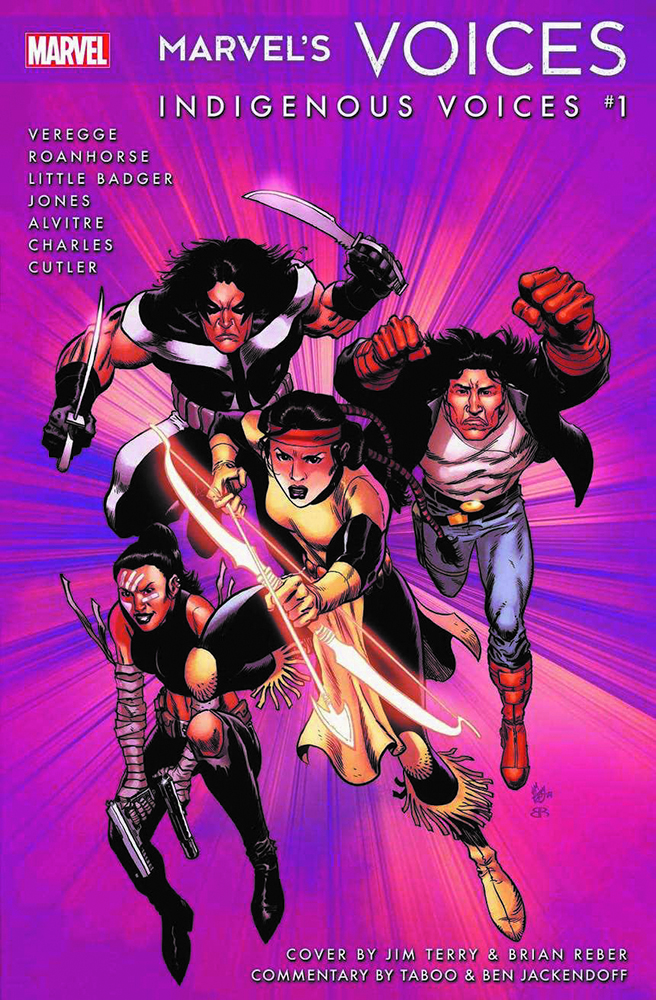 His growing fan base dubbed him 'Salish Geek', while online Veregge went by the moniker 'NDN Geek' when contributing writing on behalf of pop and nerd culture. His explosion onto the highest levels of the art scene eventually meant his one-a-kind designs reached the game-changing creatives at Marvel Comics. It was perfect timing, too, as the comic book goliath was in the midst of developing an all-new collection titled Marvel's Voices.
"Marvel's Voices started and evolved from a popular Marvel podcast into a larger program within our comics," explained Marvel Comics Editor-in-Chief, C.B. Cebulski in a press release. "Our first anthology in this program was released this past February and the reception from fans was incredible. It was clear we needed to do more to lift up more voices and talent and increase representation in and behind our stories. This is the first step of our next expansion of the program to discover new writers and artists who can bring their voices to our characters, both old and new. And this is only the beginning."
In a cosmic shift for Native representation, Marvel will be celebrating Indigenous history this November with a landmark special, Indigenous Voices #1. Written and drawn by some of the industry's most renowned Indigenous talent, including none other than the 'Salish Geek' himself, Jeffrey Veregge. Now a celebrated artist, he is leading this super powered movement alongside a team of creators to explore the legacy and experiences of Marvel's incredible cast of Indigenous characters.
In addition to the new Indigenous Voices comic, Veregge illustrated Native American heritage tribute variant covers for other popular comic titles that will feature Dani Moonstar, Black Panther, Iron Man, Captain America, Hulk and others. All depicted in his signature Salish style.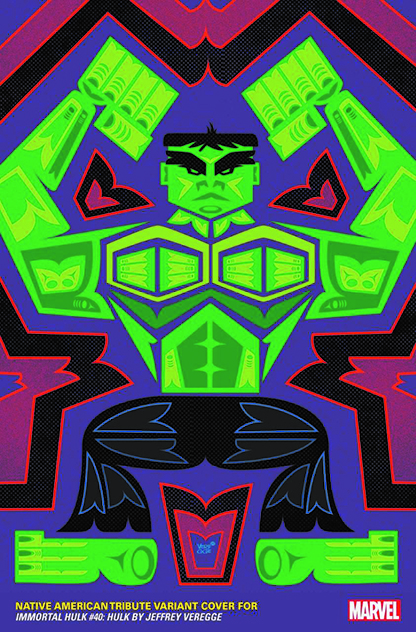 "I am truly grateful for the platform that Marvel has not only provided for me and my work, but with this edition of Marvel Voices, all of Native America," Veregge said. "This is an opportunity to share the cultural influences that we as Native artists and writers grew up with that will add more depth and dimension to the Native heroes in the Marvel Universe."
In a world severely lacking in authentic representation of Indigenous cultures, Veregge has reached the highest pinnacle of his craft while helping bring Salish formline to the comic book mainstream. Globally there are millions of Marvel fans, including a very devout base of comic book enthusiasts. The exposure to November's Indigenous Voices and the must-have Native Heritage tribute covers offer immeasurable introductions and learning experiences about Salish formline and traditional Native storytelling
"For thousands of years, Native and non-Native storytellers have used art as a means to share the tales of their people," reflected Veregge. "For me, I am simply carrying on a tradition that started with my ancestors by using the means of today, and all its modern conveniences, to share the tales that I love. Art evolves, artist tools advance, but the essence of what I do is the same as those who created with the canvases nature provided to tell the stories of gods and heroes long, long ago."
Don't miss out on the opportunity to own a piece of Native history with the Salish remixed covers of your favorite superheroes. Contact a local comic shop this month to pre-order the exciting new Marvel comic, Indigenous Voices #1, featuring stories, words, and images created by an all-Native ensemble.