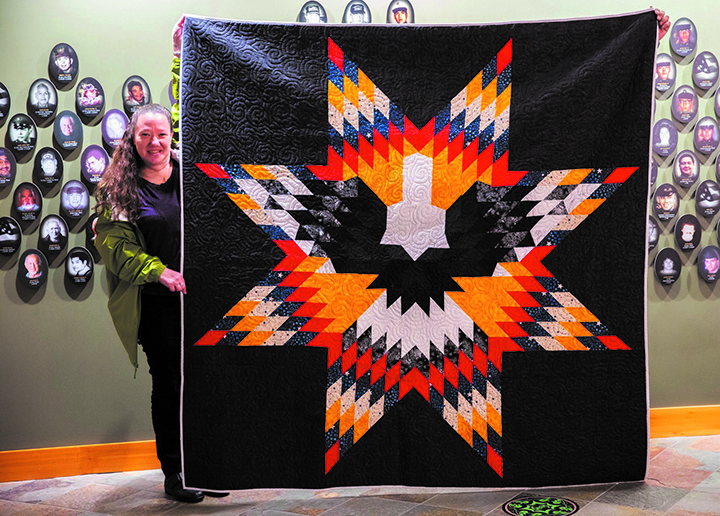 By Kalvin Valdillez, Tulalip News
"Oh, how gorgeous," exclaimed Misty Napeahi, Tulalip Board of Director.
"So beautiful, that took a lot of hard work," added Tulalip Chairwoman, Teri Gobin, as a handmade quilt, crafted with extra love, was gifted to Mel Sheldon, BOD member and Vietnam Veteran, on the morning of Friday November, 6. Overcome with surprise and emotion, Mel thanked the designer, Sheila Hillaire, for her work while still entertaining the room in true Mel fashion, causing fellow board members to chuckle as he received the honoring.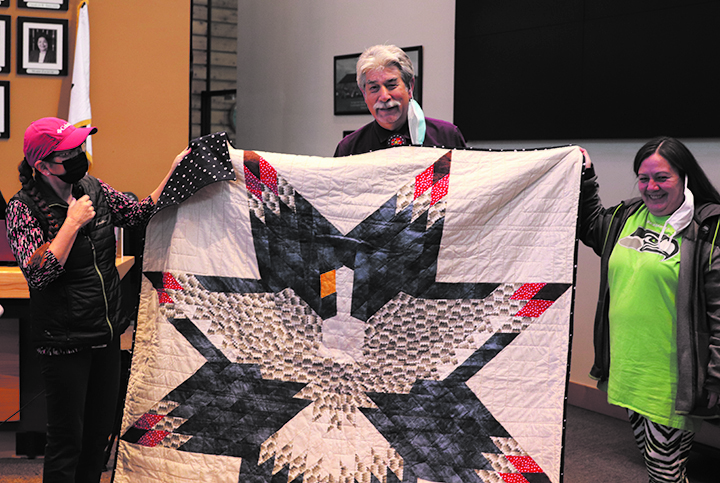 A group of Tulalip women have dedicated their time and energy to a venture that warms the hearts of many, and often brings overwhelming tears of joy to Tulalip veterans and their families. The Veterans Quilt Project was founded in 2016 and since then approximately thirty-five quilts have been gifted over the years, honoring service men and women of all military branches. Each Fall, the ladies decide on a pattern and create one quilt each for the Tulalip Veterans.
Sheila explained, "As a group we chose what pattern to use when we got together in October last year, pre-COVID, and started working on it. I actually had the star done that weekend, everything else took me a bit longer and I finished in July. I knew it was going to Mel and we are related, so it was really special to me. It felt great to be able to personally hand it to him. This is my second year participating in the quilting project. The first quilt I did went to my father John McCoy, it just so happened that he was receiving the first year I did the program."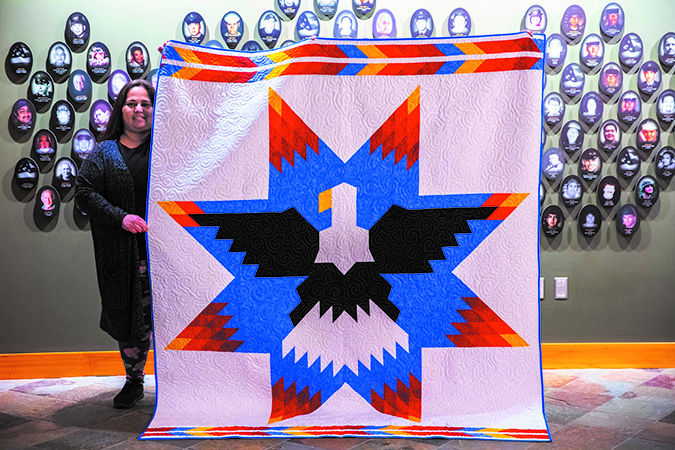 Normally, the quilts are gifted to the veterans at the Hibulb Cultural Center's yearly Veterans Day event. Due to the pandemic, the ladies opted to hand-deliver this year's quilts to the veterans, continuing the tradition after the cancelation of the museum's annual celebration. Like Mel, seven additional Tulalip vets were caught off-guard as an unbeknownst and impromptu blanketing ceremony took place in their honor, most likely on their front doorsteps.
The Veterans Quilt Project has received partial funding from the Tribe's non-profit organization, The Tulalip Foundation, since its beginning and the ladies raise the remainder of the costs for materials by way of fundraisers throughout the year.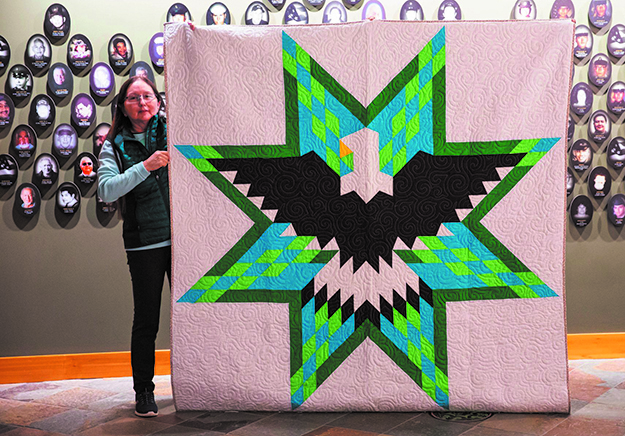 Said the Foundation's Executive Director, Nicole Sieminski, "We love supporting community driven projects. It's always great to see the amazing work these ladies do and it's such a great opportunity to support our veterans."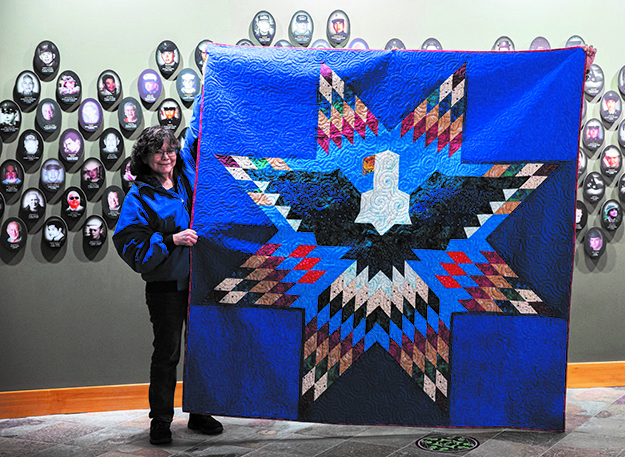 The list below names the quilters as well as the veterans who they designed this year's quilts for:
Candy Hill-Wells – Raymond Fryberg, Marine Veteran
Sara Andres – Joseph Jones, Marine Veteran
Rae Anne Gobin – Gary Holding, Navy Veteran
Sheila Hillaire – Mel Sheldon Jr., Army Veteran
Benita Rosen – Larry Wooster, Air Force Veteran
Sonia Sohappy – Steve Gobin, Navy Veteran
Sherry Dick – Guy Madison, Marine Veteran
Lena Jones – Daniel Moses Sr., Army Veteran
After providing smiles and a personal thank-you to the Tulalip Veterans, the ladies are excited and already planning for next year's project.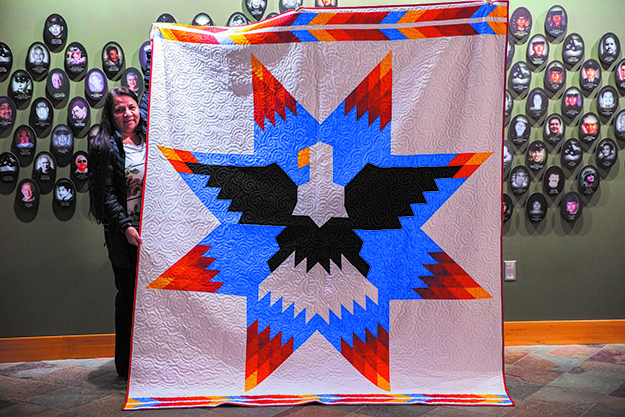 "We enjoy doing this work and giving back to our community, making sure our veterans are recognized for protecting us and our country," expressed quilter and Project founder, Rae Anne Gobin. "Each one of us took the time to select our fabric and put our love in each of these quilts. We hope each recipient finds the quilt comforting. We know our veterans put their lives on hold while serving, and helped protect us to keep our freedom. We care for and love our Tulalip veterans and want to honor them for their service and let them know, you are not forgotten and will always be remembered."