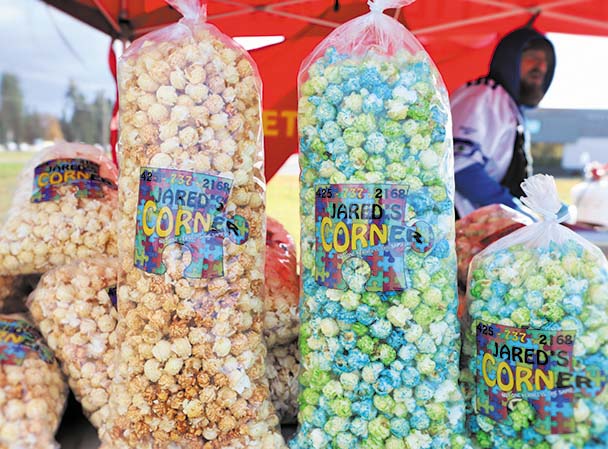 By Micheal Rios, Tulalip News
Kettle corn has been described as the perfect snack. Its unique combination of sweet and salty, with just the right amount of crunch, is a highly sought after mouthgasm at fairs and outdoor festivals by people of all ages. For one Tulalip family, kettle corn represents something much more significant than an occasional treat, it represents a voice for the voiceless.
"Our youngest son Jared has autism. He was put on the spectrum when he was a toddler," explained former Board of Director, Jared Parks. "As a family of eight, it's been an adjustment for us all. We've learned so much about autism and how it's a spectrum, which means that it effects people differently. For our son, he has nonverbal autism. He may not be able to speak, but he can still express himself."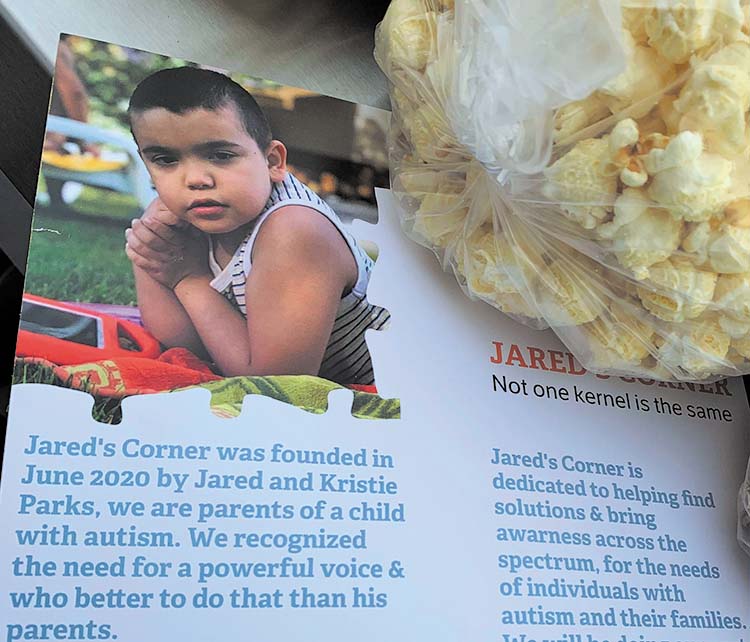 That expression is clearly evident when 7-year-old Jared II is around kettle corn. His parents say "he lights up and has a grin from ear to ear". Young Jared's love for flavorful popped kernels was the inspiration behind his parents' decision to create a small business venture named after their son, called Jared's Corner. Their mission? To help raise awareness about autism spectrum disorder.
Autism impacts people regardless of race, ethnicity, socioeconomic status or political allegiances. It is estimated that 25 million people are affected worldwide. There is no cure for autism, and currently boys are approximately 4.5 times more likely to receive an autism diagnosis than girls. Often not discussed is the high rate of autistic individuals who are nonverbal, which is true in roughly one-third of all cases.
"I had to throw out the parenting book with all I knew and needed to learn new ways to communicate and show affection," shared momma bear, Kristie Parks. "It's been challenging. I tell my kids all the time 'I love you' and they say it back to me, but my son can't. He's never called me 'mom', or been able to tell me if his tummy hurts or if someone hurt him. What my son has become is my family's biggest teacher. He's taught us to slow down our lives, be extremely patient, and accept all of life's blessings."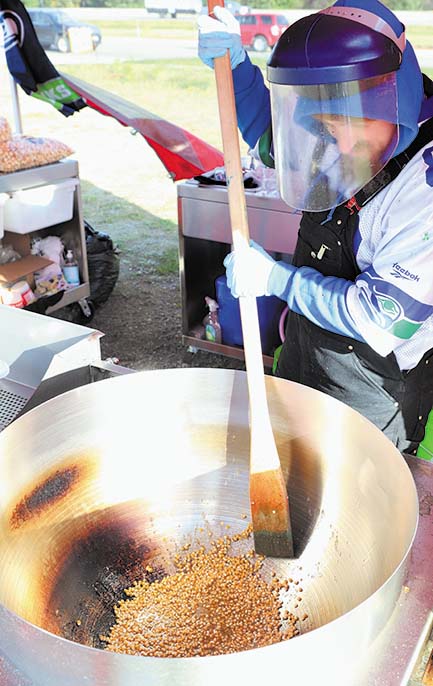 According to the Centers for Disease Control (CDC), nearly 1 in 54 children have been identified with autism. That's nearly twice the rate from 1 in 125 found in 2004. The dramatic increase and recent spotlight shining on the developmental disorder has opened opportunities for the nation to consider how to serve people on the autism spectrum and their families.
"Our son is different from our other five kids in so many ways, but we really do view it as a blessing," added Jared. "He's taught us to be better parents. We're more patient and compassionate because of our son. Now, we want to spread awareness about autism and it just so happens kettle corn is a good metaphor for the spectrum.
"Basically, we can take a batch of this kettle corn, lay it out, and see that no two kernels are the same," he continued. "They are all different, just like those on the spectrum. That's the meaning behind our slogan, 'not one kernel is the same'."
By founding Jared's Corner this past summer, parents Jared and Kristie intend to speak on behalf of their son to customers who stop by their stand to purchase a bag of freshly popped kettle corn. While completing their transactions, customers are informed of Jared's Corner's namesake and the meaning behind the logo.
The puzzle piece is a highly recognized symbol for autism spectrum disorder. It symbolizes all the different ways individual kids fit together. It symbolizes the complicated ways this disorder may manifest itself in children. It also symbolizes how there is no one therapy that works for everyone, and sometimes it's a whole puzzle of therapies that when pieced together just right actually make a difference.
The Parks family is dedicated to helping find solutions and bring further awareness across the spectrum to the needs of individuals with autism and their families. They will be doing their part by donating a percentage of annual income to pro-autism foundations.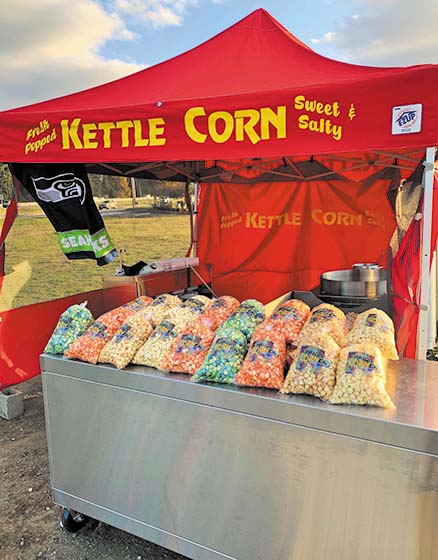 "Being baby Jared's mother, his voice, his protector, it was and still is an unbelievable roller coaster ride," said Kristie. "We want to share our experience because the autism rate continues to go up and there is so little information available to parents and families who struggle in silence. Our goal with Jared's Corner is to help promote understanding that just like 'not one kernel is the same', every child is different and every autism story is different."
Jared's Corner is conveniently located on the Tulalip Reservation along Quil Ceda Boulevard, in the vacant lot between Cabela's and Home Depot. They are open for business Thursday – Saturday from 10:00am – 5:00pm. Other locations and times to come, such as outside Tulalip Market and Remedy. Keep a look out for the red pinched tent or follow Jared Parks on Facebook for details.
Regular kettle and caramel kettle are always available in medium ($5 bag) and large ($10 bag). A third flavor is offered as well, which ranges from cinnamon toast, chocolate, vanilla, orange and grape. Because this is the Pacific Northwest, aka Seahawks Territory, every 'blue Friday' a mixed batch of green apple and blue raspberry is available.
Jared's Corner can also provide kettle corn for private parties and events. For more information or to place an order to support a wonderful cause, please call (425) 737-2168.