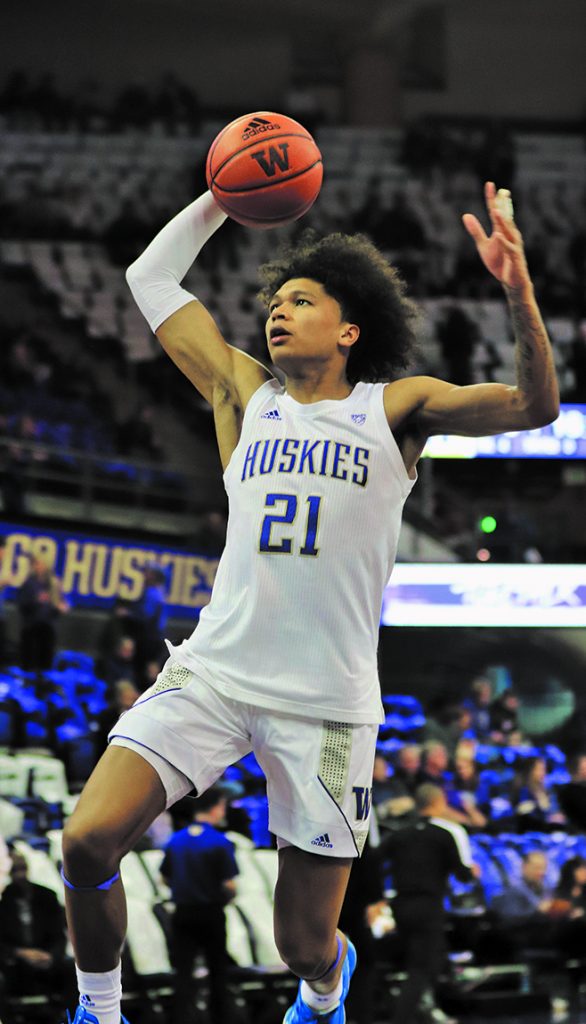 By Micheal Rios, Tulalip News
Tulalip tribal member RaeQuan Battle has been getting buckets since the moment he was able to shoot a basketball. From his early days spent endlessly shooting in the Tulalip Boys & Girls Club gymnasium to his more formative years at Marysville Pilchuck High School, where he led the Tomahawks to back-to-back State tournaments, RaeQuan's talents on the hardwood have always been astonishing.
Last year, during his freshman season at the prestigious University of Washington, RaeQuan showed his shooting touch was made for the collegiate level. Averaging a shade over 11 minutes per game, he scored double-digit points five times, connected on twenty-two 3-pointers, and saw action in twenty games for the Huskies.
Now in his second year, the Tulalip phenom is determined to take his game to an even higher level. A sentiment echoed by his head coach during the offseason.
"The thing that makes him great is, he's got what great players have, which is ultimate confidence," Huskies head coach Mike Hopkins told The News Tribune. "I believe that he thinks if he took a half-court shot, it's going in…I wish I had that as a player.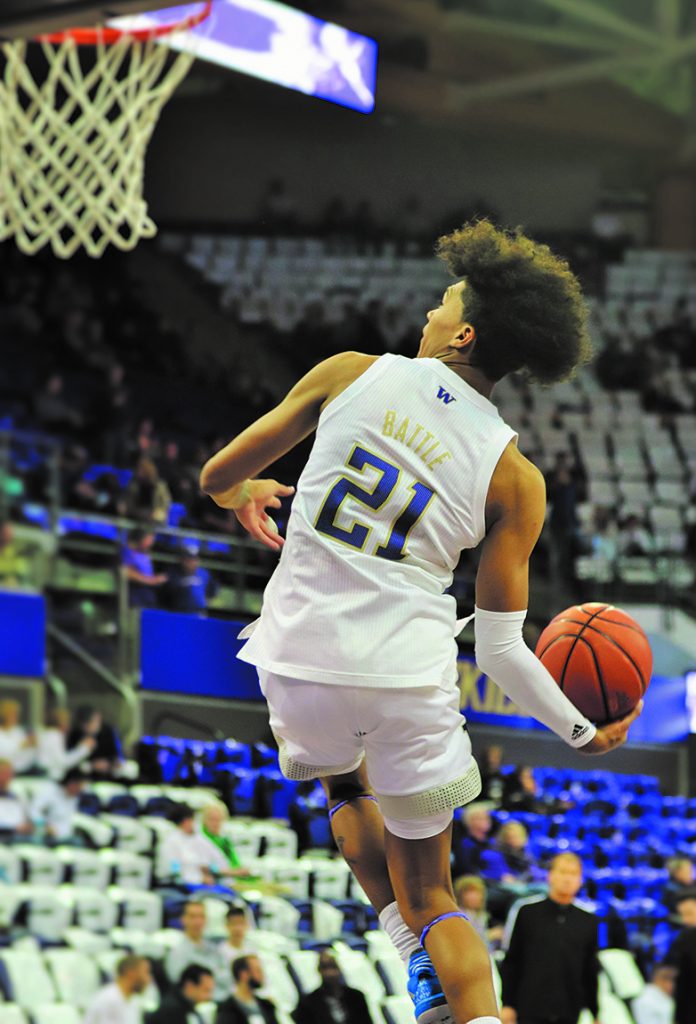 "At the end of the day, he had some incredible moments as a freshman," Hopkins continued. "His ability to shoot the ball and he's got a quick release. The one thing that people don't know about RaeQuan, [he] can fly. Like he can really jump. His future is on a different level. His potential is just limitless."
Limitless potential. That's very high praise from any coach, especially one running a D-1 collegiate program. To his credit, the 19-year-old RaeQuan fully understands that in order to reach his full potential he has to continue training his body for the strength and conditioning necessary to compete on both sides of the court, while continuing to look for ways to improve his all-around game.
"I'm focused on improving my ball handling and my defense. Once I've added those to my game, to go with my shooting and athletic abilities, I could do whatever I want on the basketball court," said the sophomore sharpshooter. "Hitting the gym for a variety of workouts to help me get stronger is a priority, too. I know putting in the work will make me better."
All his dedication to improving his game in the offseason was on full display in the Huskies season opener versus the #2 ranked team in the country, Baylor, on November 29. Coming off the bench, the 6'5 shooting guard led his team in scoring and minutes played. Never one to shy away from an open 3-pointer, he went 2-8 from downtown while also displaying his court vision for three assists. 
Outside of his athletic prowess on the court, RaeQuan has accepted the mantle as cultural ambassador for his Native culture. Something many his age typically shy away from.
"I do consider myself an ambassador for the Tulalip Reservation," he explained. Even on the Seattle campus with thousands of students, he stands out for his towering frame and eagerly describes his proud Tulalip culture to anyone curious enough to ask. "Whenever my name gets said, I want people to think of Tulalip, and for everyone back home to know I'm proud of where we come from."
Quite literally wearing his culture on his sleeves, RaeQuan has a number of tattoos honoring his tribe. 'Respect the past, Create the future', accented by eagle feathers, is on the inside of his left arm. However, it's the large Lushootseed print on both forearms that stand out most. One arm reads 'dxʷlilap' (Lushootseed spelling of Tulalip) and the other 'səswix̌ab' (Lushootseed spelling of his mom, Jacquie Battle's Indian name).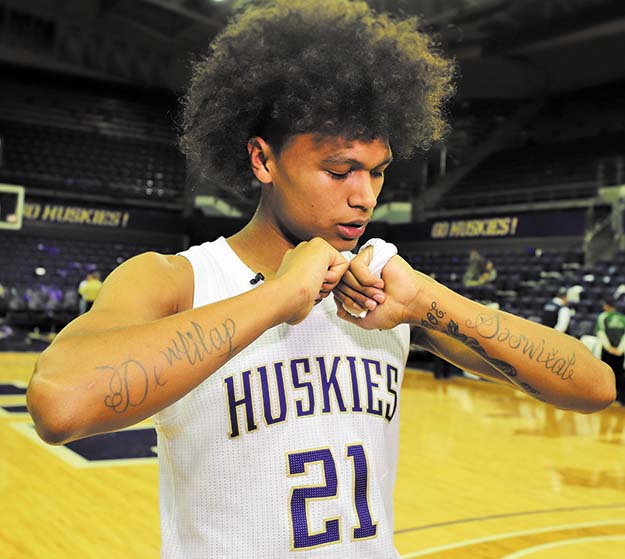 "I wear number 21 for my mom," said the Marysville Pilchuck alum. "She wore it in high school. My mom worked her butt off to provide for me and my siblings. She's always done whatever is necessary for us, and I want to repay her by being the best man that I can be."
With his playing time expected to increase this season and his offensive role sure to expand as well, the future remains bright for Tulalip's latest sports icon. With the ultimate hoops dream to play in the NBA, RaeQuan remains dedicated to all the youth who adore him as their hero.
"It means a lot knowing [Tulalip youth] look up to me because I'm proud to be a role model to them and show them what's possible," he shared. "I still love visiting the Boys & Girls Club and the Teen Center on the reservation because it brings back a lot of memories, and it shows all the kids that I haven't forgot about them. After all, they are my number one fans."