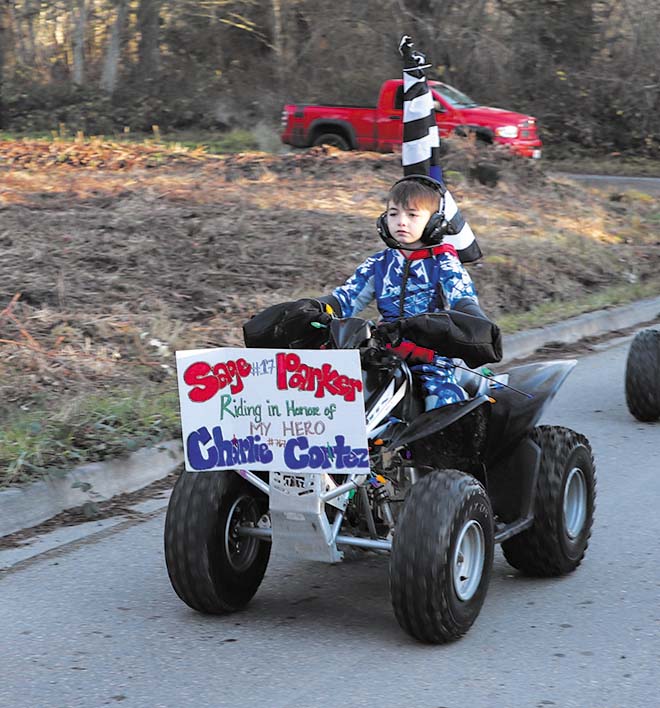 By Kalvin Valdillez, Tulalip News
"I'm so thankful that all these people came out for my grandson today," tearfully expressed Sandra Grenier. "He is so loved. I very much appreciate it."
On the twenty-fifth day into the search for fallen Tulalip Police Officer Charlie Cortez, the Tulalip community held a special honoring parade in his remembrance. Thin Blue Line flags waved in the air, attached to hundreds of vehicles ranging from sports cars, motorcycles, pickup trucks, vans, police squad cars, fire trucks and ORVs, extending from the Tulalip Youth Center to Marine Drive.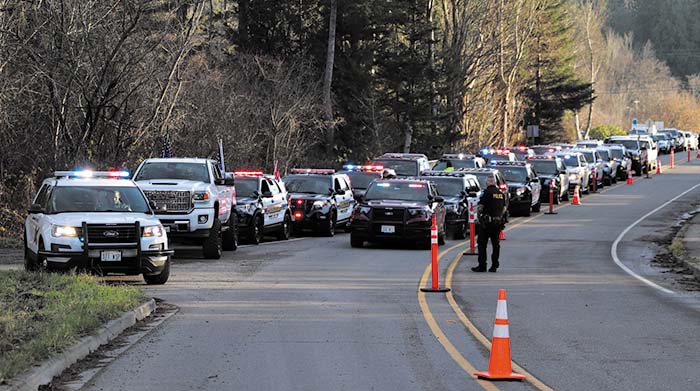 Tulalip hero Charlie Cortez, a father, son, cousin, motocross rider, protector and exerciser of treaty rights, and man of the Tulalip people dedicated his life to serving his community. Weeks after the announcement that the Fish & Wildlife officer presumably died in the line of duty, the Tulalip Police Department and a multitude of volunteers continue to scour the Salish waters in hopes to recover and return the 29-year-old officer home after he went missing at sea on the night of November 17.
"I want to express my heartfelt condolences and thoughts and prayers for the entire Cortez family and all who loved and knew Charlie. It's such a tragic loss for our community and for our police department and of course for his family and loved ones," said Tulalip Chief of Police, Chris Sutter.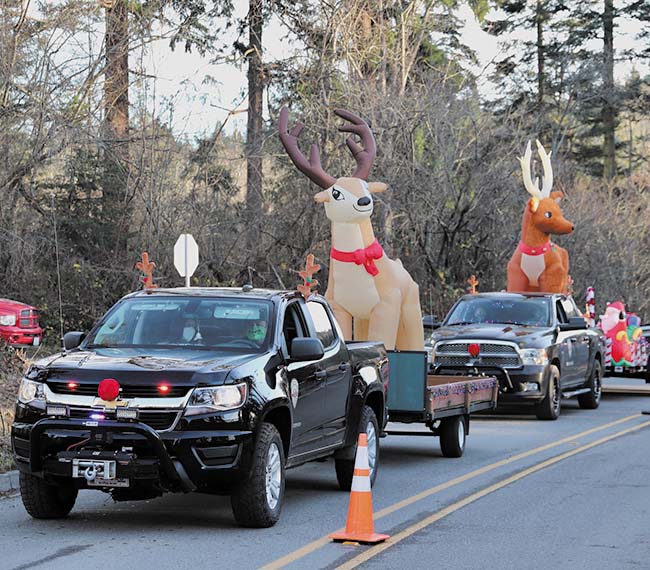 For generations, Indigenous families have relied on the strength of their tribe to both get through and understand trying times. Tribal communities often ban together to hold gatherings and ceremonies as well as raise funds for grieving families, providing medicine in the form of song, dance, stories, hot food and presence. Unable to host such a gathering due to COVID-19 restrictions, Torry and Christina Parker organized the parade to bring a bit of healing to the family.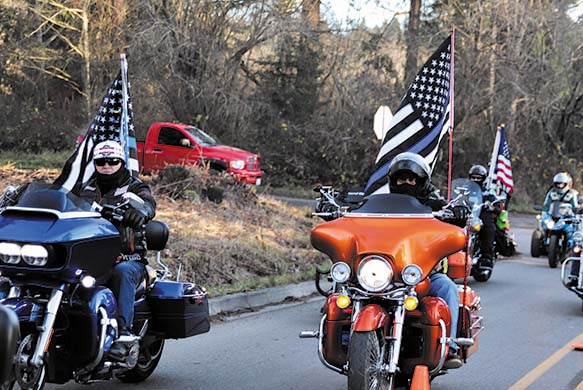 At 3:00 p.m. on December 12, dozens of police vehicles hailing from departments all across the state, signaled the start of the parade when their sirens began to flash and wail simultaneously. As each vehicle made their way down Totem Beach Road, they displayed posters, signs, and décor in honor of Charlie. Some of the more moving posters were carried by Tulalip tribal youth with messages such as, "I love you" and "I'm riding for my hero Charlie Cortez".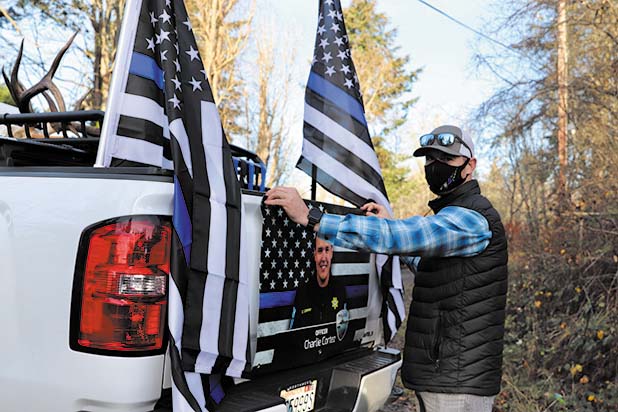 Teri Nelson, Charlie's aunt, emotionally shared, "We're beyond grateful for everybody in the community, for their love and support."
An overwhelming surprise to many, the parade's caravan consisted of at least two-hundred vehicles and lasted for over 30 minutes as Charlie's colleagues, friends, family and fellow hunters and motocross riders joined-in to pay their respects. Charlie's family watched the entire moving display of community from the Tulalip Marina, waving as each car passed by. Prior to the parade, the family asked participants to wrap their vehicles in holiday fashion as this was Charlie's favorite time of year, celebrating not only Christmas but his mother's, brother's and son's birthday each December.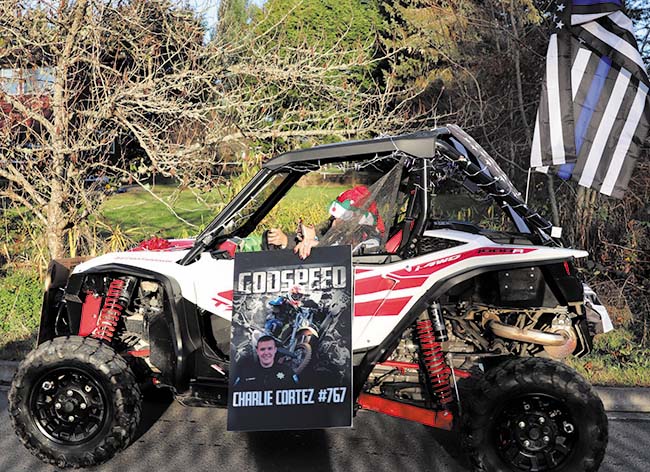 "Just to see everyone put that time aside today and come together in a safe way for Charlie, and make it fun and decorate their cars, it was powerful," said Charlie's first-cousin Kayla Scheiber. "Starting with all the police officers making their sirens go off, and the fire trucks after them, then all the Harley's and cars, it was really meaningful and I know my family appreciates it a lot, as well as Charlie in spirit."
In addition to paying tribute to Charlie's life, the tribe is also using the parade as an opportunity to let the people know that recovery efforts will continue until Charlie is brought home, welcoming any volunteers to the cause.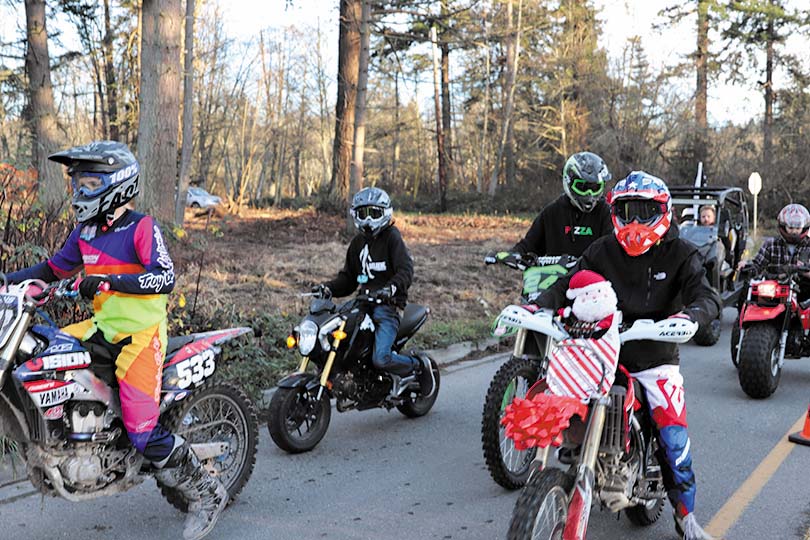 "It was a great show of love and support," said Chief Sutter. "Thanks to our entire community for all that they're doing and continue to do in our search and recovery efforts. It was inspiring to see all the law enforcement agencies, fish and wildlife agencies, fire departments and numerous organizations, groups and families who came out to show their support and love for the entire Cortez family and in honor of our beloved officer Charlie."
If you have any information in relation to the search for Officer Cortez, please contact  (360) 926-5059 or email BringOfficerCortezHome@gmail.com

"I'm glad that we took this time to honor Charlie," Kayla expressed. "We needed this as Native people, it's really important for us. And the fact that Charlie is still missing – I believe this is something that will help him get found at some point. I know that coming together in this way is healing and will help bring him home."