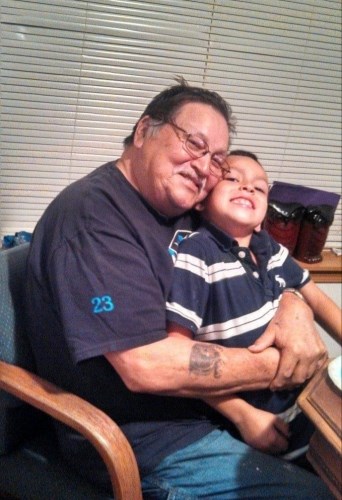 December 24, 1944 – December 18, 2020
He was a good man. George K. Tsoodle 1. He was born December 24, 1944 to loving parents Dora Autobo & Henry James Tsoodle, in Mountainview Oklahoma. He was a member of the Kiowa tribes of Oklahoma.
He made it to the 7th grade, but began working at the age of 9. His passion for fixing things guided him through multiple careers from moving furniture, Welco lumber co. security at theTulalip casino & ended his career with the Tulalip tribes after working 18 years in July 2020 after retiring he built a pig farm & spent the rest of his days maintaining it at home. He was a spiritual believer. His dedication to the smokehouse helped many lives created many spiritual children. Like Walter Bradley, Rosalie Topaum, and many others he followed Kenneth Moses SR & JR along the coast, to help with their spiritual work. His passion in sports introduced him to his wife Vickie Tsoodle and made him into a very passionate softball coach to his daughters and the fellow girls who played on the their teams. He continued his unlimited support for sports when his grandchildren played basketball, softball or whatever it was they decided to play. Since the beginning he has been an avid Seahawks fan, the original 12th man.
Preceded in death by his mother Dora Autobo and his father Henry James Tsoodle his siblings Hawley Tsoodle vena J. waters Annamae Clawson Russell T. Tsoodle his nephew Joey Brungardt and his grandson Sateshon R. Conway and many loved ones. Survived by his wife Vickie Tsoodle and his daughters Paula Tsoodle Mel Tsoodle Jk Tsoodle Dorthera (Diya) Tsoodle and his grandchildren George Tsoodle 2 Jayson Tsoodle Jessyca Tsoodle Roxanne Conway Jakeb Conway Joann Ancheta Candace Tsoodle Iissaya Ancheta Dora Conway Aarron Tsoodle-Miller Sylus Edwards Berta Conway Dalilah Tsoodle-Jones Zackary Jones Ezekial Tsoodle-Edwards Abrielle Tsoodle-Jones great grandkids Seria Ahlberg Gabrial Tsoodle Kain Tsoodle-Ahlberg Tiana Tsoodle-Ahlberg leviathan Tsoodle-Ahlberg Sahale Conway Sire Conway and his siblings chuck Tsoodle Geneva Brungardt Al Tsoodle Susan perish and numerous Nieces, nephews, friends and family. George and Vickie were married for 48 years sorely be missed by many.
A family committal service will be held Tuesday, Dec. 29, 2020 at 10:00 AM at Mission Beach Cemetery. Arrangements entrusted to Schaefer-Shipman Funeral Home.