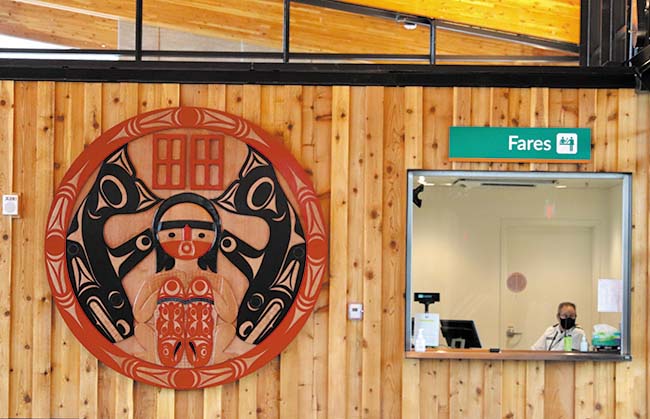 By Kalvin Valdillez, Tulalip News
"One of my goals is to keep my culture alive. With this project I wanted to give respect to our elders that have passed down all this information to us through the generations. I want to give respect to our elders that gave us life, that taught us who we are and the importance of our culture, the importance of our territory, the importance of understanding that our people are still alive and that we still practice our culture. We never stopped," expressed Tulalip Master Carver and Artist, James Madison.
Mukilteo-Clinton commuters who boarded the infamous white and green, double-decker ferry boat, at approximately 6:00 p.m. on December 29, were the first to experience a shared vision between Washington State Department of Transportation (WSDOT), Washington State Ferries (WSF) and a handful of local tribes; Tulalip, Lummi, Muckleshoot, Nooksack, Samish, Stillaguamish, Snoqualmie, Swinomish, Suquamish and Sauk-Suiattle. After twenty years in the making, the project officially broke ground in 2019 and days before the start of 2021, the Mukilteo Multimodal Ferry Terminal opened their tollbooths to people traveling across the waterways to Whidbey Island.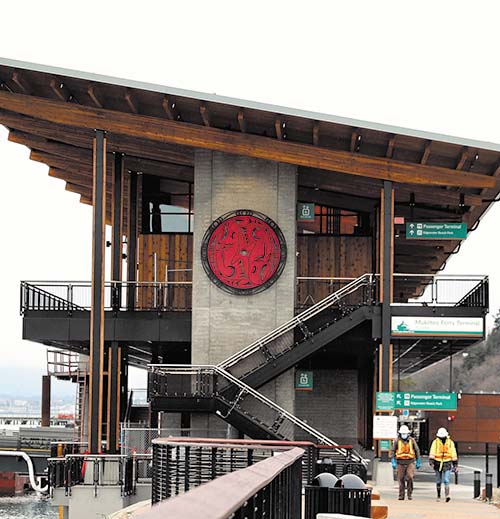 Said Phillip Narte, WSF Tribal Liaison, "This new facility sits on Indigenous lands where the Snohomish and other Indigenous peoples fished, hunted, and gathered for generations. Without the partnership of eleven federally recognized tribes, we would have not been able to build this facility."
The debut of the new ferry terminal was a hot topic over the past several years. Highly anticipated and discussed amongst Washington State residents, government officials and tribal nations due to its location and the necessity of a new terminal to help address a plethora of issues the city of Mukilteo faced including traffic congestion and the safety of their townspeople and ferry riders. The previous docking station was in use for over sixty years as the state's second busiest terminal, carrying 4 million travelers annually, and WSF anticipates over the next twenty years, the amount of foot passengers will increase by 100%.
"This project represents everything that matters to Washingtonians," stated Washington State Governor, Jay Inslee. "The largest ferry system in the country has a new facility we can all be proud of – it is a symbol for the bright future we're building here in Washington state."
Previously, on any given day you could expect ferry-boarding traffic for miles, stretching from the sidewalk of Ivar's Seafood Bar to Paine Field, but the new terminal aims to address that problem, now located a third-of-a-mile from the old station and off the main road. The terminal also includes closer drop-off and pick-up zones for bus passengers as well as a transit center for Sound Transit. Loading lanes have also been extended in both length and number of lanes, holding up to nearly 250 vehicles at a time.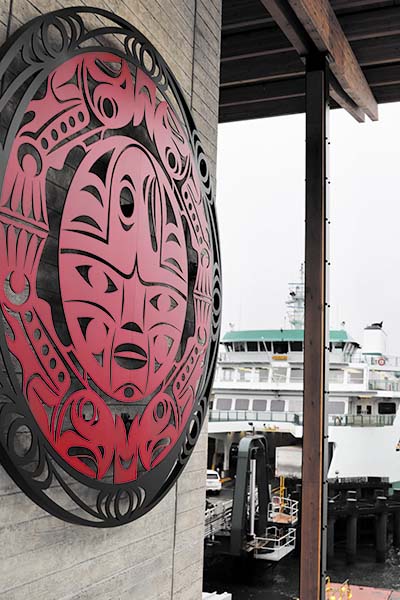 In addition to many new and exciting features, the terminal is located at a historic site, a location special to the tribes who frequented the Salish Sea long before the invention of ferries. People who called present day Mukilteo home since the beginning of time, harvested salmon and shellfish from its shores generation upon generation, and gathered at that location 165 years ago to sign the 1855 Treaty of Point Elliott.
That Treaty is a formal agreement between the federal government and the people who make up the central and north Puget Sound tribes, including the Snohomish, Snoqualmie, Skykomish and other allied bands. As direct descendants of the Snohomish, the Tulalips ceded millions of acres of land, agreeing to move their people to the present-day Tulalip reservation. In return, the Tribe retained their rights to fish in their usual and accustomed grounds as well as hunt and gather on open and unclaimed lands in order to continue practicing their traditional cultural lifeways.
"This project is a pretty big deal for me because I've fished all along here all my life," said Joe Gobin, Tulalip Artist and Master Carver. "We used to go there with Stan [Jones Sr.] and my dad, Bernie Gobin. I was also on the Fish Commission for like 30 years, and we actually had to negotiate for that ferry terminal to even go in because we had to give up certain fishing rights. It was a long time ago. It didn't happen overnight, we knew that going into the project. It took a lot of years. It took a lot of negotiation. And this is kind of what came out of it, they recognize that this is our land, Tulalip's, not anybody else's."
Signage is posted along a walkway leading up the 5,865 sq. foot building that details the history and traditions of the Tulalip people, including information about canoes, treaties and longhouses. Drivers, foot passengers, and even locals out for a jog or walking their pets can learn about the Coast Salish lifestyle and journey, beginning with pre-colonial traditions, throughout the years of forced assimilation, and up until the current cultural resurgence that shows local tribes reclaiming their traditional language, songs, stories and practices, as evidenced by the many Lushootseed words and phrases displayed throughout the new terminal.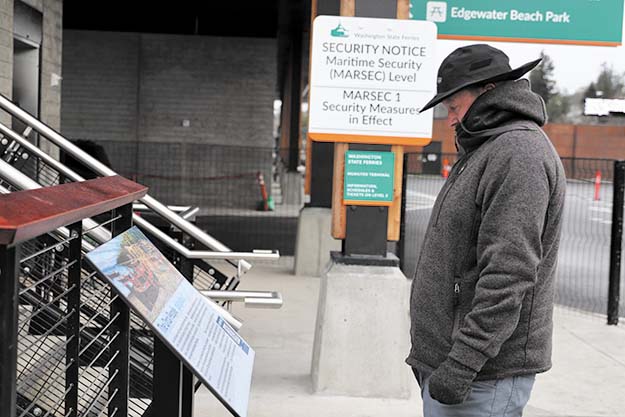 "I'm from Eastern Washington, that's where I grew up, and it's nice to see the history for people who may not have the biggest voice around here, so that folks that come through here can actually see what was here before white people," said Everett resident, Paul Shelton. "I like that it's true to the tribes that were here before everybody else and that they're properly represented, that makes me feel good."
The biggest attraction at the new ferry terminal, garnering a lot of buzz online, is the artwork commissioned by a number of artists who originate from the tribes that signed the Point Elliot Treaty of 1855, including several designs created by Joe and James. Over a dozen traditional and contemporary pieces are showcased at the terminal, which was constructed to replicate a traditional cedar longhouse.
"The longhouse idea, that might have been Hank," explained Joe thoughtfully. "My cousin Hank Gobin was involved with all of that in the beginning before he passed. He did a lot of the groundwork, making sure that it was representative of our people in the right way. That's how I approached this project, how I tried to do my artwork, representative of us; the killer whales, the salmon, our canoes."
In total, Joe can be credited for six contributions; two metal spindle whorl designs located at each end of the building (one killer whale, the other salmon), one cedar spindle whorl on the inside of the building that depicts the traditional Tulalip Seal Hunting Brothers story, two welcome posts (one man and one woman) located near the restrooms, and a full-sized cedar dug-out canoe, which hangs overhead inside the terminal and faces a gorgeous ceiling-to-floor view of Possession Sound.
Many other magnificent Indigenous works are on display throughout the 400,000 sq. foot property such as carvings and weavings by tribal artists who represent other sovereign nations, like the welcome figures located at the tollbooth created by Suquamish artist Kate Ahvakana.
James also made two artistic contributions for the project that are unique in design, traditional in story, and personal in heritage. In each elevator shaft, extending both levels, are dual-sided glass displays that place you in an underwater world, a Tulalip story that James grew up with and heard his entire life.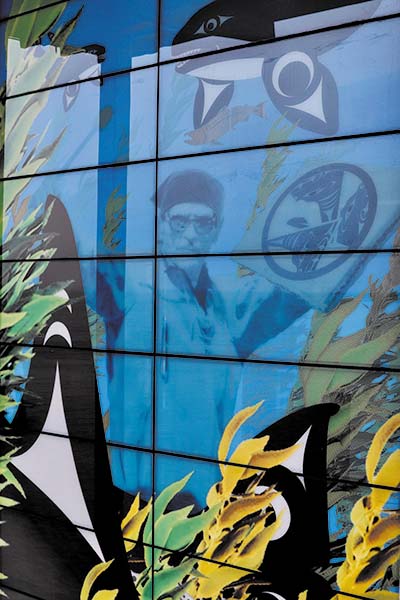 James said, "For me, it was important to speak from teachings that I learned from my grandfather. Teachings that he learned from his grandmother and from his uncle, who taught him in our old traditions and with our old stories. Those teachings have been passed down all the way to me. My art, the giant glass pieces, are kind of historical and are the very meaning of our existence in that area. My story is about the water people. It's a story my grandpa, Frank Madison, told me many times about this village that was under the water; there used to be a longhouse under the water and we, the human beings and animals, all spoke the same language. I have a portrait of my grandfather in the water amongst the whales and the salmon, two important creatures to our people. And the other glass mural is of my grandfather's mother, my great-grandmother Delia Jimicum. They're all amongst the water people. There's a longhouse in the background and that's the water people's longhouse."
As the original caretakers of this land, Tulalip kept the sacred Salish waters and all of its inhabitants in mind during the early phases of planning for the new terminal. Going green and minimizing the carbon foot print was a shared interest, as well as a special request, from the city of Mukilteo. This resulted in several design features that will be 'light on the earth' like minimal overwater coverage so marine plants can thrive in their native waters, and a shed roof covered with solar panels for energy efficiency as well as to collect rainwater. The Terminal also focuses on the proper treatment of storm water runoff with rain gardens and 'pervious concrete' in the holding lanes. And soon, Washington State Ferries will be going electric, which is great news for the environment.
"Putting the whale and the salmon in my art was important," James stated. "Not just because of stories that we passed on in our culture, but also to show the significance and importance of what the orca whale, we call it Blackfish, and the salmon mean to Native people in the Puget Sound. We need to take care of them, it's been my mission to put that message out there. It's so important for us to protect them because when they're gone, we're gone."
Although the project required lots of dedicated hours from several parties and took multiple years to complete, everybody's hard work could not be celebrated in-person together, unfortunately, due to COVID-19. Instead, WSF and WSDOT held a virtual ribbon cutting ceremony that featured commentary from many of the individuals who had hand in the project, and also numerous Washington State lawmakers like Governor Inslee and Senators Cantwell and Murray who are excited about the new terminal and its location's rich Salish history.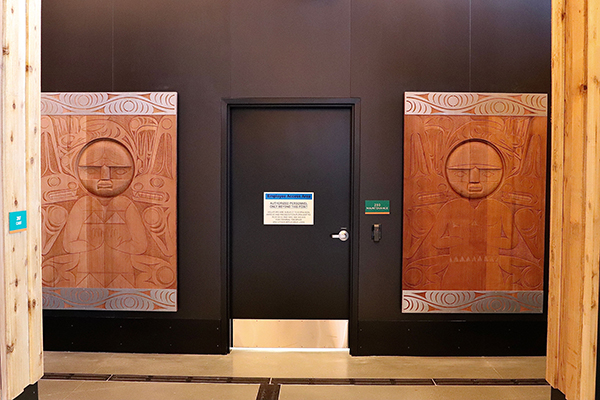 "I hope to see that all of this starts a trend when they start remodeling other ferry terminals and incorporate artwork by our people at all of them just like they do in Canada," Joe expressed. "It kind of opens up the door for other artists, so hopefully the younger artists are watching and start getting involved in more projects like this. I'm kind of the old guy now, the eldest artist out there."
James added, "It's been a long, long time coming for this project. And being a part of such an important project on our very land that our people lived on and harvested from, is important to our people. A building like this is significant, not just because it's our territory and it's on our land, but because people get to intermingle with all the art and read it, and read about us and about the area and the territory. I think that this needs to be done everywhere in the Puget Sound region. My hands go up to the Tribe and our leaders. I hope I was able to represent our people in the best way that I could."