By Kalvin Valdillez, Tulalip News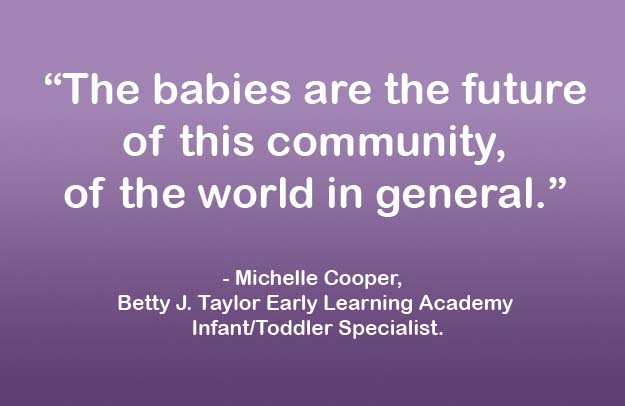 A long-practiced tradition in many Native American cultures has to do cause and effect, decision-making and understanding how an action taken today can have an impact on the quality of life for our people in the future. Through the seven-generation principle, tribes nationwide are making positive changes within their community whether it be educational, economic, cultural, financial, or health-based, keeping in mind our children's children. And for as far back as many can recall, the ancestors of the Tulalip people have always had their descendants' best interest in mind, keeping the lifeways of the people alive during a time when cultural identities were being stripped away by forced assimilation. 
"The babies are the future of this community, of the world in general," expressed Michelle Cooper, Betty J. Taylor Early Learning Academy Infant/Toddler Specialist. "I think it's important to make sure that we're supporting them as best we can, as well as their parents and their families. We want to make sure everybody feels comfortable and knows we're a team. Like they say, it takes a village; and I think it's important to continue that on."
Keeping true to the seven-generation principal, several departments within the Tulalip Tribes have provided services for the youth of the community for years, starting from birth and extending past high school, ensuring the children are presented with many opportunities to learn about the traditions of their people as well as succeed in their journey from adolescence into adulthood. But what many may not know is there are multiple departments within the Tribe that also help soon-to-be Tulalip tribal members, offering services to expectant mothers before, during and after the birthing process.
For instance, Tulalip Family Haven hosts a weekly hangout specifically for the mothers at Tulalip called Mom's Group. Pre-COVID times, the group sessions allowed local moms the space to reflect, share ideas, create crafts with their children, take part in a clothing exchange and receive incentives such as car seats and diapers in bulk. Mom's Group also warmly welcomed first-time pregnant mothers to discuss what to expect as a new mom and express any emotions they may be going through so other moms could in-turn relate and offer words of advice to help her work through any struggle she may be facing. Throughout the past year as we navigated the pandemic, Mom's Group continued to gather on a weekly basis via the Facebook messenger app.
"We are a support group that allows mothers and women raising kids the opportunity to come together," said Sasha Smith, Tulalip Family Haven's Family and Youth Support Coordinator and Mom's Group moderator. "We wish to provide a sense of belonging, a sense that there's other women in our community to support each other, a place where we can come and just talk about motherhood and ask questions that are hard to ask your doctor or anybody in your family. They're able to open up and just have a healthy discussion about childbirth and raising your children."
She continued, "We are still continuing on with Moms Group, virtually. We're able to do it over Facebook, we still meet every Tuesday from 11 (AM) to Noon. We just drop-in for about 5-10 minutes, we make sure there's some kind of lesson. It's amazing to see that they still have those strong connections with each other and that they still really enjoy showing up every Tuesday and having that time with their friends on Zoom."
The Betty J. Taylor Early Learning Academy, commonly referred to as TELA, has also stayed in touch with their students and families throughout the pandemic. During normal school years, the academy routinely held workshops for expecting parents that focused on the importance of early childhood development and worked with the parents, helping them get situated and ready for the new baby. TELA recently resumed in-school instruction again, but are not back to full capacity as of yet, and are still offering Zoom lessons to a handful of students.
Said TELA Director, Sheryl Fryberg, "Right now, TELA is doing a lot of Zoom meetings with our children and families. We are only providing direct services to up to 75% of our students, I think we maybe have, more realistically, about 60-65%. And then with the rest of the students, the teachers do Zooms with them and provide activity packets, so they're still receiving educational services from us. We want to provide all the support that we can, and especially with our young moms and just moms in general, they need support when they're isolated and not seeing their families. We want to always make sure that they know that we're here for them."
Another department that assists pregnant mothers and new families is Tulalip Community Health, through the birth equity grant.
"I am a Community Health nurse, as my primary role, and I have an background in OB," explained Morgan Peterson, Tulalip Community Health Nurse. "I've been a part of the birth equity grant which is focused on improving birth outcomes for pregnant women and the young children that they have. So, in my role, I try to focus on the nursing portion of it, case management of at-risk pregnant women and those young babies that have had NICU stays, being a hospital liaison for them."
Added Shayleigh Tucker, Tulalip Community Health Advocate, "I really like to call it a doctor translator. We are able to be the in-between, between the community language and the language that providers are using, and explain what they're doing. We also work with people's care teams to get them the best suitable care available. We were going to medical appointments with people before COVID. Right now, patient advocacy looks a lot more like helping our community members feel empowered in their prenatal care, it's a lot more text and call-based."
Throughout the COVID-19 outbreak, these departments have remained readily available to expectant mothers and have continued offering their services and resources. And now, taking it a step further, they are combining forces to reach even more people within the community who may not know what they have to offer new moms and young families, as well as to better serve their current clientele.
"Our plan for the new group, MCHC, is to establish a monthly parent education discussion group," said Family Haven Manager, Alison Bowen. "Our plan, for now, is Zoom education for the community. MCHC stands for Maternal Child Health Committee and the purpose of this group is to bring together all the different Tulalip entities that are working with families with young children, up to age five. Since we're all serving these families in different ways, we thought why don't we all come together, find out what families we're serving and not serving, what might be some problem areas where we can improve, what additional outreach we can do, as well as using our funds and our knowledge in the best way, so we're not duplicating services, but building on each other's strengths."
Officially kicking-off in February, MCHC will host a class once-a-month through Zoom, offering information to expectant mothers and their families and also providing any resources or services they might require. Originally a concept that formulated in the library of old Tulalip elementary school, roughly six years ago, between TELA and Family Haven, the idea has now come to fruition and MCHC members are excited about the new collaborative venture.
"I'm excited about the cohesiveness between all of us coming together," Morgan stated. "And also, for the families to also see that we're all united, working on the same things to support everybody, their children and their families."
"I like this collaboration that we have going on," said TELA Birth to Three Assistant Manager, Marci Vela. "There's a lot of resources that our pregnant moms might not know they have access to, and they kind of lose out on those services. This is a good way to let them know they have the support of all of us as a community."
The once-a-month MCHC classes will have a new theme every session and each department will take turns with the hosting duties, in which they will include an educational component as well as some fun activities. The participants will also get the chance to receive incentives, ask questions, address any of their fears or concerns, as well as connect with other mothers and discuss the few challenges and many successes that come with being a new mom.
MCHC has a number of ideas for the upcoming classes including a Father's Day event, doula training, and lactation and feeding education.
"I am a certified lactation educator and provide lactation and feeding support for infants and young children," said Tulalip Child Health Educator, Erika Queen. "Pretty much any way of feeding an infant and child, I'm happy to help with."
With the establishment of the MCHC, Family Haven, TELA, Community Health and beda?chelh are creating a better tomorrow for the future generations of Tulalip, not only by taking care of their soon-to-be membership before birth, but also ensuring that the mothers are in a healthy state -mentally, emotionally, and physically during the early stages of the beautiful journey known as motherhood. More details will begin to arrive in the upcoming weeks as MCHC gears up for their very first Zoom event, happening this February. Stay tuned to Tulalip News for more information and help spread the word to those who could benefit from the services, education and resources provided by the Maternal Child Health Committee.
Sasha expressed, "We're such a close-knit community, most people know each other and everybody's intertwined in family. I think it's important to have an additional outlet. Yes, you can go to your aunties and to your grandmas to get advice, but sometimes it's refreshing to come together and gain that knowledge and support from your peers. To help them understand that they're all going through similar things and that they can get through whatever it is they're going through together."