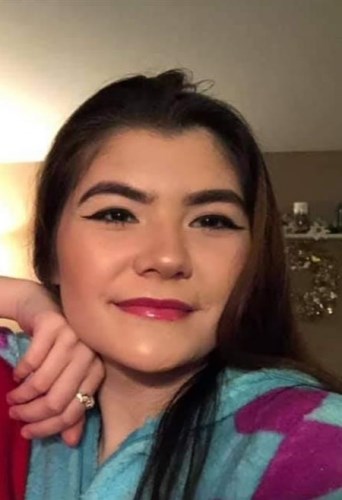 January 9, 2001 – February 15, 2021
My beloved granddaughter Danielle Jones has gone home to our heavenly father. 
It was my greatest honor and privilege to have raised her and loved her.

Every day of her life she told me she loved me, and I her. I will miss her with every breath I take. She was a lovely young woman who loved with her whole heart. She had a fabulous crazy sense of humor, and loved to laugh. She had a love for Anime, reading about history and watching scary movies.

She will be missed by so many people, but she was welcomed home by Jesus. She was preceded in death by her great grandmother, Louwella Jones (granny), great grandfather, Glenn Jones (papa), grandma Cam Walden and so many others who passed before her. I know they were all waiting at the gate to greet her.

Danielle was very proud of her Native American heritage, and loved telling people that she was native. She was getting back to her Native American roots. She was also Christian, and had been saved, excepting Jesus Christ as her savior. She is now in His arms. 

Danielle is survived by her baby daughter Lucille Jones, mother, Heather Jones, father, Leroy Henry, grandmothers, Glenda Heath and Pam Peters; special sister, Kaley Henry; and five younger siblings, Great-great Uncle Pete Henry, Aunt Debbie(ebby debby), Uncle Ken, Uncle Garry, Aunt Cheryl, Uncle Beau, Aunt Michelle, Uncle Allen, Grandpa Mike, and too many family and friends to mention including family in Tulalip.. We all loved her more than I can say. I will honor her memory by telling her little girl how much her mother loved her. I will share with her the story of her life. She is preceded in death by her grandfather, Duane Henry and uncle Robert Myers Jr.

In lieu of flowers please honor Danielle's memory by donating to University of Washington Mental Health Research

A graveside service will be held Wednesday, Feb. 24, 2021 at 12:00 Noon at Mission Beach Cemetery. Arrangements entrusted to Schaefer-Shipman Funeral Home.