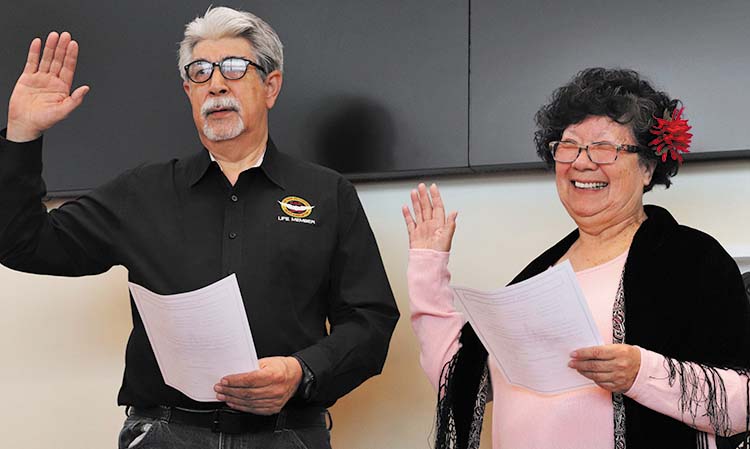 By Micheal Rios, Tulalip News
Back in March 2020, pandemic precautions prevented Tulalip from holding its annual General Council. The Board of Directors election was held though, albeit two months later in May, amongst reservation-wide stay home orders and a lot of self-quarantining. The unique set of circumstances gave many progressive minded citizens plenty to think about in terms of the Tribe's future direction and immediate needs of the people. As a result, the convenience of being able to cast an absentee ballot from the safety of home led to an unprecedented rate of voter engagement and ballots cast for the 2020 Board of Directors election.
Well, history repeated itself in the best kind of way last month as the 2021 Board of Directors election resulted in another historic voter turnout by Tulalip's membership. A whopping 1,413 total ballots were counted during the Tribe's March 20 election day.
Elder Pat Contraro sent shock waves through the reservation when she was declared top vote getter with 447. The stunning result was largely due to the hefty increase she received in just one year's time; last election she received only 176 votes. It's a true testament to her straight forward, no nonsense approach that she's ran on for years now. Her candidate platform never wavered from 'Transparency, Accountability, and Integrity!'
"I am honored that you have entrusted me to represent you – our membership," Pat announced via Facebook. "For the past several years many have allowed me into your homes. You have shared your needs, ideas, concerns, and aspirations for our Tribe. Our future holds challenges, but we can overcome them if we rise above the politics and go back to our teachings – which includes caring for our elders, our youth and one another.
"I look forward to working for and with you to restore jobs, increase housing, and make changes so our children may be assured of a positive future," she added. "I am eternally grateful to my tribal family, friends, and supporters who have remained and/or joined me in my journey during the past five years. I will serve you to the best of my ability and continue to listen and respond to your needs and concerns."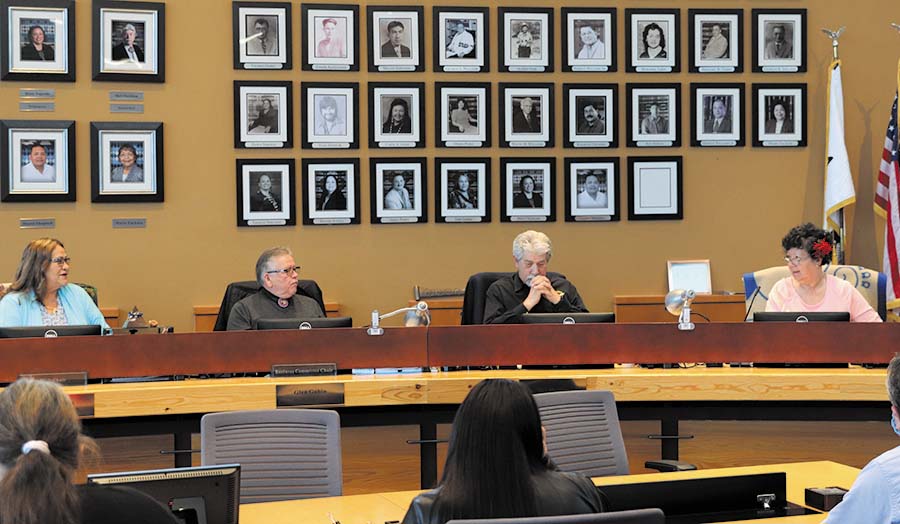 This year's second open Board seat ended up being a battle of incumbents, with Mel Sheldon, Jr. (385) outpointing Marlin Fryberg, Jr. (375) by only 10 votes. The super slim margin once again proved that when it comes to Tulalip elections, every vote truly does matter.
"To the 1,400+ members who voted in this election, thank you, your voice speaks volumes," reflected Mel after the election results were made official. "It shows how much our people care about their community. This was my closest election ever, outside of the year I got voted off, so it's a real learning opportunity for me. I will make it a priority to reach out and listen to those who feel their views aren't represented at the Board level, and look forward to building the momentum we created last year into even more economic opportunities for our people.
"As a Tribe, we are in a golden era of opportunity," he continued. "The continued success of our casinos and other business endeavors has created so much opportunity for our people. If they choose to capitalize on it, then they have opportunity for the highest quality of education, career opportunities in construction trades, and job opportunities in a wide range of tribal programs that will help us take our economic development to the next level."
The latest rendition of Tulalip's Tribal Council was sworn-in on the morning of Friday, April 2 by Chairwoman Teri Gobin. Extensive well wishes and messages of appreciation were given by one Board member after another to exiting councilmember Marlin Fryberg for his two-decades of service to his people. Then Pat and Mel raised their right hands and took their oaths to preserve, serve, and protect the constitution and bylaws of the Tulalip Tribe.
"As a team, I know we can get some really good work done," said Chairwoman Gobin as she looked towards her fellow Board members. "We have over 5,000 tribal members now. It's our entrusted responsibility to look out for their best interest, to create and develop necessary services that keep in mind our future generations, and to work together as a team for the benefit of all of our people. It's a challenge, but with a shared vision we can accomplish amazing things."