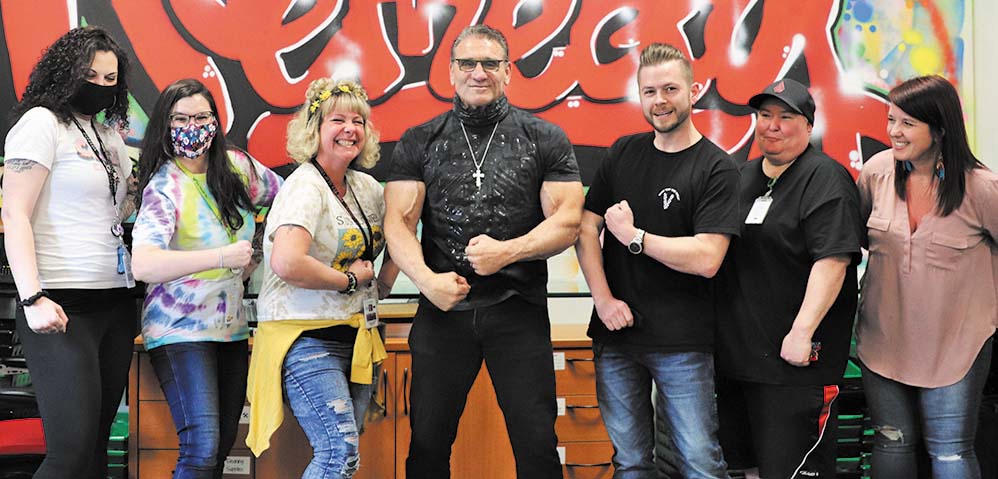 By Micheal Rios, Tulalip News
In collaboration with The Dab Roast and Tulalip entrepreneur Rocky Harrison, Ultimate Fighting Championships (UFC) hall of famer Ken Shamrock made a special guest appearance at the reservation's retail cannabis establishment on Monday, April 19. His highly anticipated arrival during National Cannabis Awareness Month was well-received by professional wrestling followers, UFC fans, and, of course, cannabis enthusiasts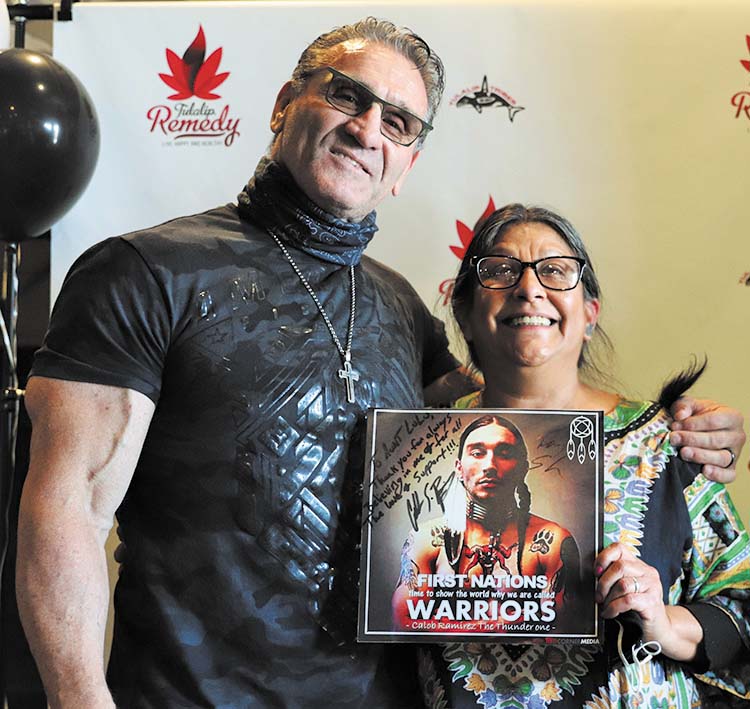 "Shamrock is here today to promote The Dab Roast, a new high quality vendor we recently got in for cannabis concentrates and who tribal member Rocky Harrison hooked us up with," explained Remedy manager Jenn Bontempo. "This is significant because it marks our first celebrity appearance at our store. Having celebrities promote Remedy and the products we sell broadens our customer base and brings in more potential tax revenue for the Tribe. As a staff, we're very excited to see what opportunities this creates for us going forward."
The fittingly nicknamed World's Most Dangerous Man's arrival to Tulalip was confirmed only days prior. Yet it built enough buzz for a platoon of adoring fans to descend on Remedy with childhood memories of his WWF wrestling, vintage ankle lock days, or more recent recollections of his dominance as a mixed martial artist during the UFC's foundational years. 

One such super fan was 34-year-old Jason Willden of Arlington. A regular consumer of Remedy's diverse cartridge selection, he was ecstatic when he got word that Shamrock would be doing a meet and greet. He arrived nearly three-hours early, was first in line, and waited patiently for an autograph on his replica WWF Intercontinental Championship belt.
"Shamrock was my whole childhood!" exclaimed Willden. "I remember being a little kid and watching TV when he became Intercontinental Champion in 1998. His wrestling persona was to always be the aggressor and just kick-ass."
As anticipation continued to build, the line began to wrap around Remedy. The early Summer-like weather of high 70s and radiating sunshine was perfect for the occasion. When doors opened and the event began, eager fans scurried inside Remedy where they had ample opportunity to purchase cannabis products, like the Dab Roast concentrate or some simple pre-rolled joints to elevate their mood.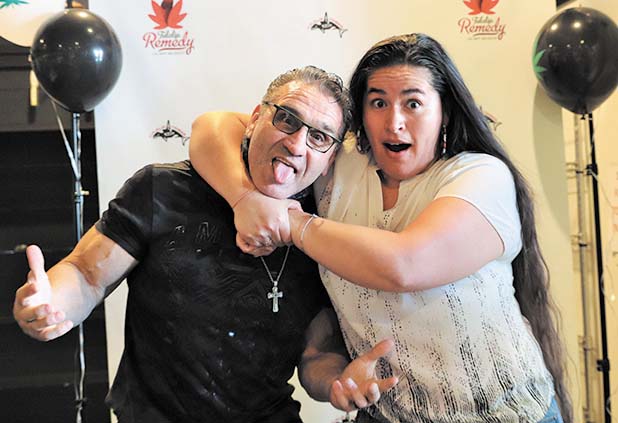 Unable to contain her excitement while waiting in line, proud auntie Emerlinda Sanchez stood out as she spoke to her MMA fighter nephew Calob Ramirez (Chickasaw) via video chat on her cell phone. Calob was unable to attend in person because he's currently training in New Mexico, but thanks to mobile technology was still able to exchange a heartfelt message with one of his heroes.
"Shamrock is a tremendous wrestler, grappler, striker…put simply, if it weren't for guys like him, I wouldn't have the opportunity to do what I'm doing," said Ramirez. "I'm so grateful to praise a living legend and express my gratitude for his inspiration on me and so many others who have pursued a career in mixed martial arts."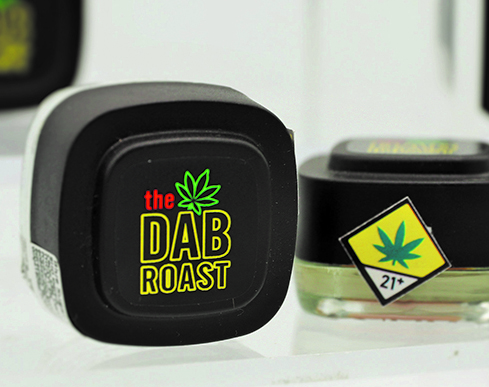 While many of the Remedy visitors came from off reservation to see the now 57-year-old former UFC Superfight Champion, there were a share of Tulalip citizens who turned out for the occasion as well. Super heavyweight David Enick, known for a thunderous punch in his kickboxing days, admitted he was a little nervous to meet Shamrock, but couldn't pass up the opportunity shake his hand and get a picture.
"For me, I don't know Shamrock too well from his UFC days, but have lots of memories watching him perform in WWE," said David. "It was shocking to meet him and really cool to exchange my experience as a fighter with one of the legends."
After two excitement filled hours of exchanges with fans, signing autographs, and providing photo opportunities there was one moment that stood out from the rest. One wrestling superfan was absolutely overcome with emotion as the WWF icon signed his authentic 1997 Ken Shamrock action figure he's owned since childhood. If that ain't love, we don't know what is.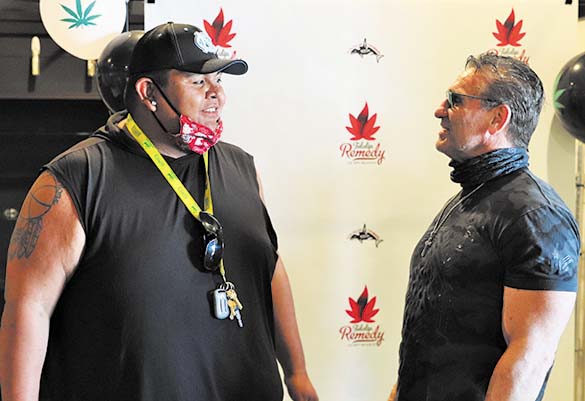 An expression of pure joy radiated from one fan to another, which Shamrock later described as "So cool. Those kinds of fan interactions really show the impact and inspiration that we as professional athletes and entertainers have. The fans are the main ingredient to our success, so being able to talk to them, hear their thoughts, and share in experiences about what I meant to them growing up is awesome. Events like this really allows me to show my appreciation for their support."
Fans came from near and far to have the WWF and UFC legend sign a beloved piece of memorabilia, say 'thank you for all the memories', and have a pic snapped with the World's Most Dangerous Man. Tulalip Remedy anticipates this being just the beginning. Stay on the lookout for more celebrity appearances in the near future.