"Giving up is easy. Making decisions to overcome and choosing actions that will get you to where you want to be is what makes champions."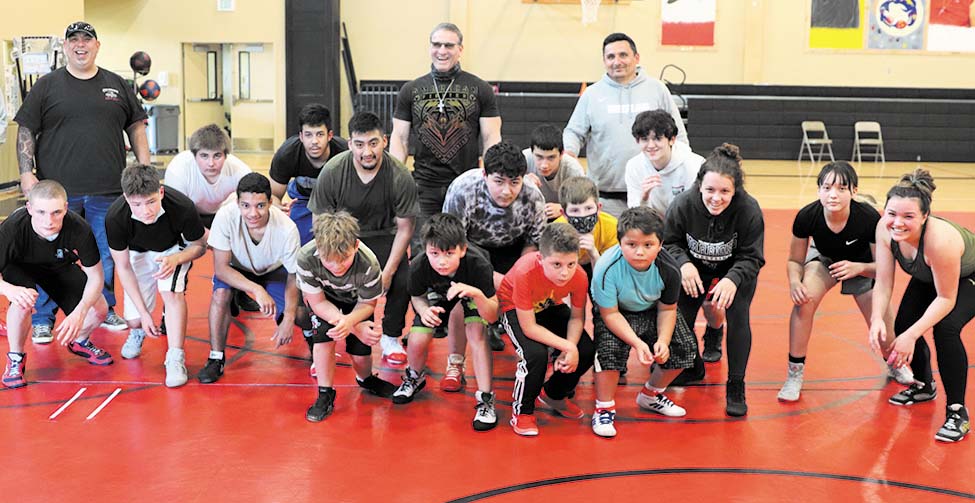 By Micheal Rios, Tulalip News
Seventeen local youth with aspirations to become wrestling champions someday were surprised by a special guest appearance from professional wrestling icon, Ken Shamrock, on Friday, April 23.
"It's not too often a guy like this walks in the room when you're in the middle of practice, so it's exciting to say the least," expressed coach Tony Hatch. "To be honest, I'm star struck to have a legend of his caliber here with us. Shamrock is one of the pioneers of Ultimate Fighting Champions, he's a Hall of Famer, and we're really lucky to have him in the area to share his insight with our kids."
The former WWF Intercontinental Champion and one-time UFC Superfight Champion shared his experience growing up with a rough childhood and being known as troubled teenager before ultimately turning his life around for the better. The still sweaty from conditioning youth had their attention captivated as the icon detailed how at just thirteen-years-old, his future did not look bright.
Ken had grown up fatherless in a poor neighborhood in Georgia, where he learned life's lessons on the streets. While his mother worked to put food on the table, he cruised the neighborhood with his friends, causing trouble wherever they could. The first time he ran away from home, he was only ten. He found refuge in an abandoned car with other delinquents, but wound up in the hospital after getting stabbed by another child. In the years that followed, he would be ousted from seven group homes and serve time in Juvenile Hall.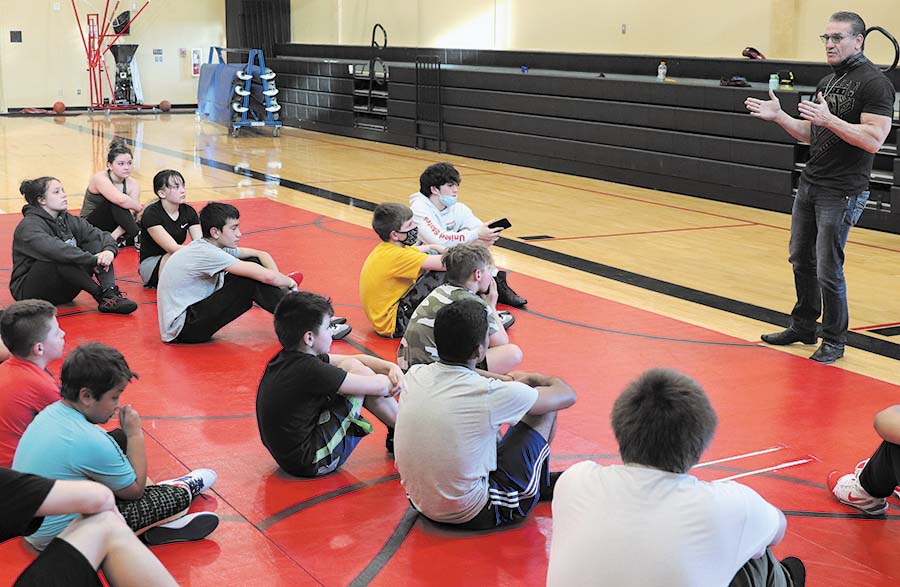 Although the strong-willed youth only weighed 125 pounds, Ken had his own way of looking at the world, and he was always ready to protect his pride with his fists. Showing no signs of rehabilitation, the State grew weary of him. He was given one last chance to turn his life around: he would go to a group home, the Shamrock Ranch, run by Bob Shamrock, a man renowned for working with misguided youths.
Bob had raised more than six hundred boys in his home, and his methods were both unique and effective. In response to the feuds that often arose with prideful boys sleeping under the same roof, he offered them an unorthodox method of resolution. If both parties were willing, he allowed them to throw on boxing gloves and duke it out in the backyard. It did not take long before Ken was the house champion in both boxing and wrestling.
Recognizing the boy had tremendous athletic ability, Bob redirected Ken's anger into sports. He got him on a weight-lifting program and registered him in wrestling and football. Along with becoming a leader for the other boys in the group home, Ken also became the son Bob Shamrock never had. Shortly after Ken turned eighteen, Bob legally adopted him, which is the origin story to how Shamrock got his now famous moniker.
"Your coaches have shared with me that some of you can relate to aspects of my upbringing," said Shamrock after detailing his childhood to the attentive teenage wrestlers. "For those who can relate, I stand here as a testament of what's possible despite growing up under such challenging conditions. For those who can't relate, I promise each and every one of you are going to go through some kind of adversity in your life, whether it's in high school or as an adult, that will test you to the core. And in those moments, only you can make a decision to do something about it, to choose a means of action to overcome the challenge, or to give up.
"Giving up is easy. Making decisions to overcome and choosing actions that will get you to where you want to be is what makes champions," continued the legendary mixed martial artist. "You can start right now, at your age, and make the decision on what it is you want to do and start following a path of hard work and commitment that will get you there. Hard work goes beyond the wrestling mat; it's at home with how you nourish your body and manage your family relationships, it's in the classroom with embracing your education, and it's in your commitment to being your best self even on the hard days."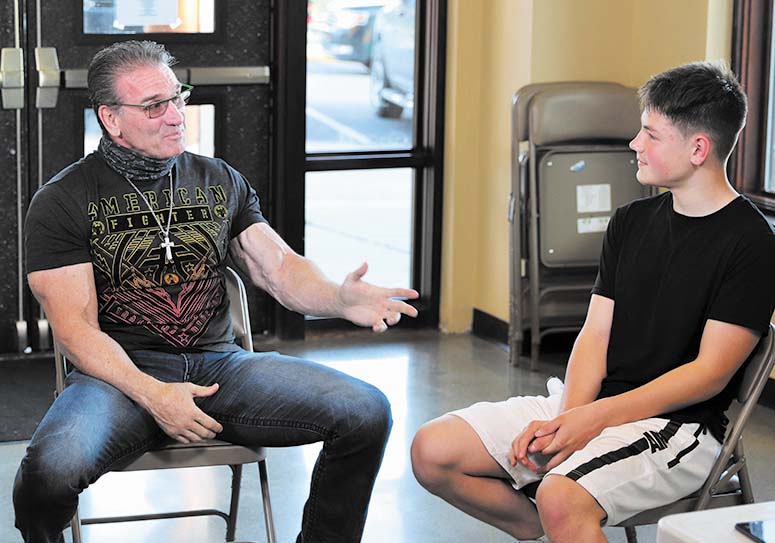 Following his heartfelt words of encouragement, Shamrock sat down with 15-year-old Tulalip wrestler, Milo Jones for a one-on-one session. They discussed chasing dreams, the importance of staying properly hydrated and eating the right foods for maximum physical performance, and weight lifting techniques used by the pros.
Millions of fans worldwide have not forgotten all Shamrock has contributed to the sport of MMA and WWF over the years. Whether it be choking competitors out in the octagon, slamming his opponents in the rings of professional wrestling, or entertaining the masses in mainstream movies and books, Shamrock has always embodied the essence of what it means to be a Hall of Famer. His legendary reputation only grows after taking time out of his busy schedule to inspire the next generation.