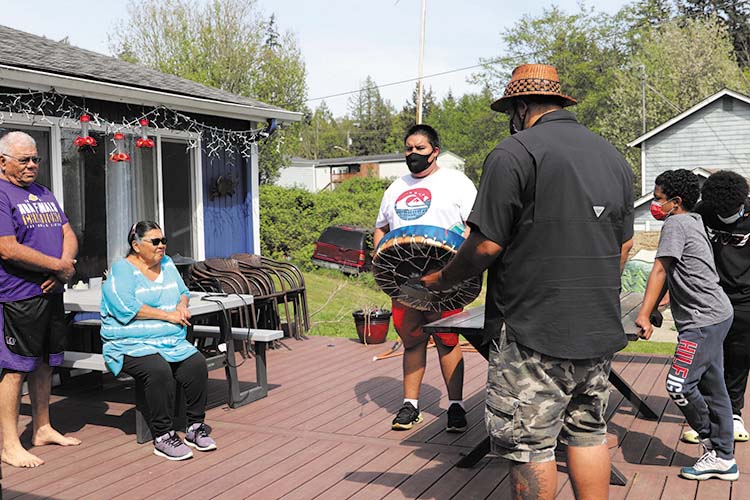 By Kalvin Valdillez, Tulalip News
Tulalip Elder Karen Fryberg sat outside on her deck on a warm spring afternoon with a smile on her face, giving all of her attention to two young men, JJ and Messiah, who introduced themselves to her, as well as informed her of their family lineage and their favorite pastime, which happened to be football for both of the kiddos. The boys, led by Tulalip Youth and Family Enrichment Manager Josh Fryberg, then offered Karen, now joined by husband Cy, a traditional song, sending the family strength during the COVID-19 era.
Pre-pandemic, the Tulalip Tribal elders received routine lawn care courtesy of the Tribe. However, since the Tribal government's initial shut-down, and subsequently a limited amount of people now on staff, a number of services have been postponed until further notice. In fact, the only remaining grounds that are tended by the Tribe are tribal government properties and the cemeteries.
Months passed by as grass blades and pesky weeds continued to grow longer and sharper at the homes of many local seniors. For the majority of 2020, the elders were constantly encouraged to stay home and indoors, in order to best protect the well-being of present-day Tulalip wisdom keepers. The Tulalip Youth and Family Enrichment program saw an opportunity in the overgrowth, a chance to strengthen the bond between the youth and elders of the Tribe, by means of good-old-fashioned hard work.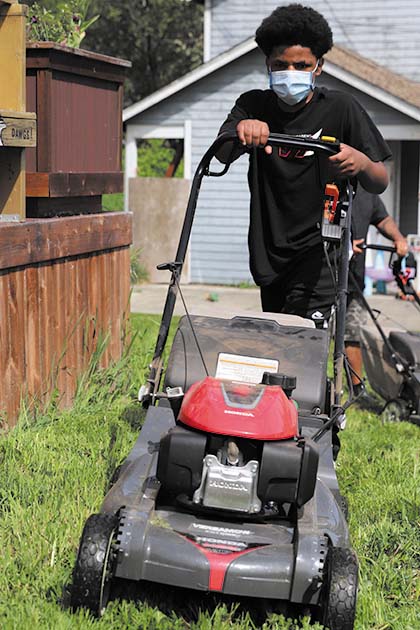 "We are teaching our youth how to properly use a lawn mower, how to put gas in it, how to put oil in it, how to safely run one so that they can provide that service for their families," said Youth and Family Enrichment Manager, Josh Fryberg. "The ultimate goal is to encourage all of us to do as much as we can for our elders in our community. What really inspired us to create this program is to rebuild the connection with our youth, staff and elders of the Tulalip Tribes and also provide cultural songs and send strength to our elders."
Josh stated that the Tulalip Youth Council, along with the Youth Council Advisor Marc Robinson, are partners in the new program, and the future leaders often lend a helping hand with the lawn care services. Karen and Cy's home was the third property they have visited since the start of the program, previously providing services for Annette Napeahi and Annie and Johanna Moses.
"I didn't put my name in but they said they were running around the rez to see which elders needed it, and our yard must've looked like needed it bad," said Karen before bursting into a fit of laughter. "And it did need it, bad! It's really been neglected. I think that it's good for the youth to realize how much work our seniors can't do and how much help we do need. It's nice that they recognize that we need this type of service. We don't even own a lawnmower. It's neat to meet the young people who want to do this for us. It would be nice to have even more kids coming by so we can learn about them and who they are."
The Youth and Family Enrichment team intends to offer the once-a-week lawn care service to Tulalip elders throughout the summer months. If you would like to nominate an elder who is need of lawn care assistance, please e-mail RBennett@tulaliptribes-nsn.gov
Josh expressed, "this is a program we created to build that togetherness, unity, culture and to take care of some yard work at the same time. Our goal is to provide some interaction time between the youth and elders to gain that knowledge that is needed, and to rebuild that bridge. The best way for parents to get their kids involved is to send them down to the youth center. If they are not signed-up, we have membership forms at the front desk. We require masks and do temp-checks. Come on down, we have a lot more programs for our youth to take part-in."
For more information, please call (360) 716-4909.