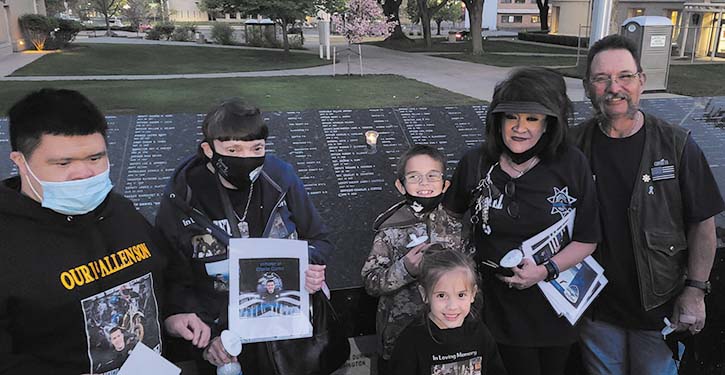 By Kalvin Valdillez, Tulalip News; photos courtesy of Paula Cortez
"We stand here today to honor our fallen brothers and sisters in law enforcement," said Sgt. H.G. Whapeles of the Spokane Sheriff's Office. "To honor their commitment, and to pay homage to the sacrifice they readily gave for the safety of their community and their partners. We proudly swear to them to strive as law enforcement community, to pick up the torch that these brave men and women have passed off to us, to make our communities safe, and to set in place the training needed so no more names needlessly end up on these sacred stones. We gather here today so that we will remember them, so that their legacy will be kept alive in the hearts of the men and women who serve and risk their lives every day."

On the morning of May 4, law enforcement officers from multiple departments across Washington State convened outside of the Public Safety building in the city of Spokane. The bright Spring day brought some much-needed healing and closure to families, as well as fellow officers, as they gathered to remember their loved ones who fell in the line of duty over the past year. 
For 33 years, the Spokane Police Department has organized a special ceremony, with the exception of 2020 due to the worldwide pandemic, in remembrance of those who paid the ultimate sacrifice while fulfilling their vow to protect and serve their respective communities. This year, eighteen brave individuals and two K-9 officers were honored and recognized for not only dedicating their lives to the badge, but also for the heroes they were while off-duty, to their family and community members alike.
Among the eighteen law officials honored at this year's ceremony was Tulalip tribal member and police officer, Charlie Cortez. Beloved by the people in his community, the news of his disappearance broke the hearts of those he held dearest and shocked the masses, as people from around the Nation followed the story closely each day, hoping and praying for any positive word.
"Our family is honored to have our son recognized for his great sacrifice for his community," shared Charlie's mother, Paula Cortez. "The law enforcement world out there seems to know what to do to make sure the survivors of officers are uplifted. We have this deep debt of gratitude for the efforts that they've been working on to keep his memory alive."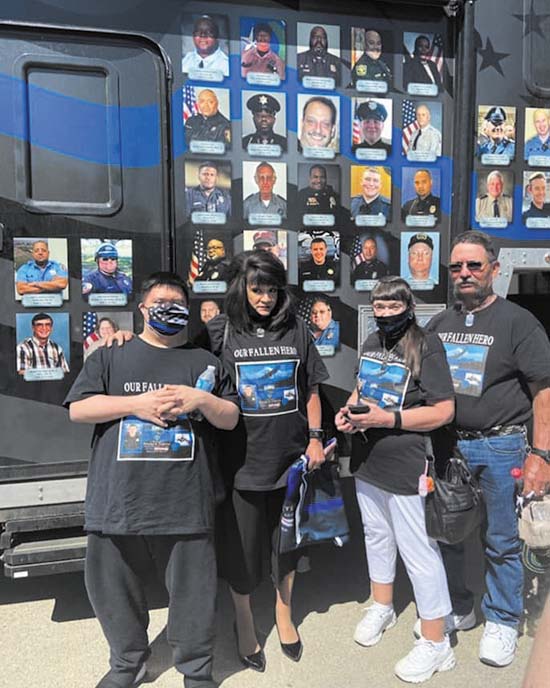 In order to safely gather, due to the continued presence of COVID-19, there was a limited number of guests invited to the ceremony. However, the two-hour event was livestreamed over Facebook for those who wished to watch but could not attend, and then later posted to YouTube so family members can revisit and watch the honorable and special occasion whenever they please.
"We were actually informed by the Chief of Police that the Spokane Police Department was honoring Charlie," said Paula. "We got up early, we went to the memorial wall. Everyone who made the trip was mom and dad, grandma, auntie, cousins, nieces and nephew, his brother, his children Dominic and Peyton, Tawnya and her husband, the Chief of Police and most of the Fish and Wildlife team from the Tulalip Police Department."
The ceremony began with the presentation of colors, followed by a vocal performance of the National Anthem. To further honor the fallen officers, beautifully arranged wreaths were placed on a large granite wall, over the newly-etched names of all eighteen officers and the two K-9 officers, while the somber sound of bagpipes filled the air.
After a number of heartfelt words and prayers were shared by special guest speakers, each fallen officer was commemorated by the Chief of their departments as they read the officer's eulogy aloud, before a member of the family officially unveiled their loved one's name on the wall. As Chief Sutter memorialized Charlie, noting his love for hunting, fishing and digging for geoduck, Paula, along with Charlie's children and his father Alan, held a flag up-high that featured Charlie's photo, the TPD seal, the Tulalip Tribes killer whale emblem and a soaring eagle, while they also wore similar-designed t-shirts that read 'Our Fallen Hero'.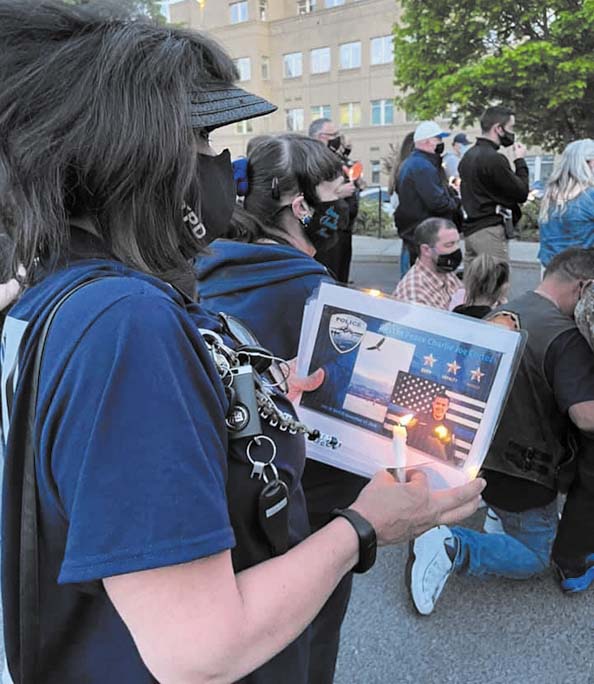 "When we read his name, we really felt like the organization that put this honoring on – they are like an extended family to us. They really do care about the sacrifice our son made while serving his community," mama Paula expressed. "When the bagpipes were playing 'Amazing Grace' – that song always brings tears to my eyes. I think the main thing was the honor guards were so professional in the way they presented the whole thing, it was beautiful and honorable to be able to witness that for my son."
Charlie's name and legacy will live throughout the Tulalip community for generations to come. And with this recent honoring, fellow officers who gather at the remembrance wall in Spokane will also know the young Tulalip officer's name as well as everything he stood for, including upholding the law, protecting his tribes treaty rights and of course his everlasting love for his family, people and community.
As the event came to a close, the honor guard, which consisted of officers from various departments state-wide, performed a ceremonial bell-service which often replaces the 21-gun salute at memorial services for police officers. Upon leaving, the guests were encouraged to visit the 'Beyond the Call of Duty' trailer, which is a truck that will travel around the country to raise awareness and honor those officers whose lives were lost in the line of duty.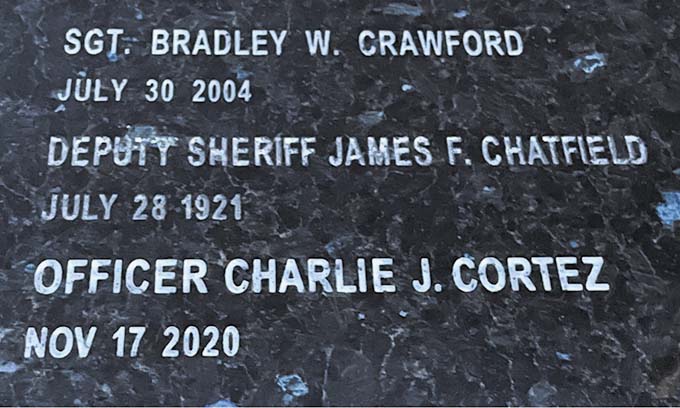 The memorial ceremony in Spokane was just the first of many as Charlie's family has been informed his name will be etched into several remembrance walls in the upcoming months, to ensure his memory lives on. Charlie's name will be displayed not only in Spokane, but also in Olympia and Washington D.C.
"It still hurts the family," Paula expressed. "We have to look at our waters in a different way now. But I think all the different organizations and foundations are honored to be of service to the families and are dedicated to uplifting our son's name and his memory. It helped to have the Tulalip Police Department by our side, they were very supportive. We definitely made a mark over there. The Spokane news also mentioned Charlie's name in their publication because we traveled so far to get there. We will plan times to go over there and to the other memorial walls once the COVID-19 pandemic goes away. It's an honor for us to be able to witness the ceremonies that they work so hard at putting together for the families."
It's been nearly six months since the Tulalip Fish & Wildlife officer went missing at sea and the search for Charlie continues while his family, community and fellow law enforcement officers and agencies find ways to celebrate his life, times and legacy as a Tulalip man, father, son, uncle and cousin. Upcoming events include a visit from the 'Beyond the Call of Duty' trailer on May 29, a day after Charlie's birthday. The truck, a motorcycle club and a TPD escort will journey from the Tulalip Justice Center to the Tulalip Marina at 9:30 a.m. where a mid-morning b-day celebration and BBQ will take place in his memory.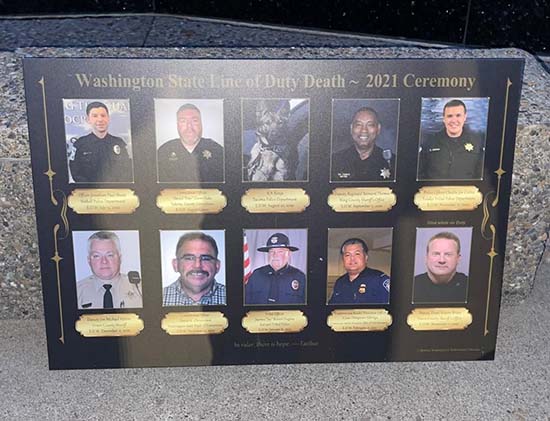 Charlie's name will also be spoken in remembrance at a number of Virtual Roll Calls, including a virtual candlelight vigil that will be held May 13, at 5:00 p.m. at www.lawmemorial.org
Thank you for keeping Charlie's family and the Tulalip Police Department in your prayers. As always, please send any potential evidence, information or your own informal searches to us by texting 360-926-5059, or emailing bringofficercortezhome@gmail.com, or leaving a voicemail at (909) 294-6356.