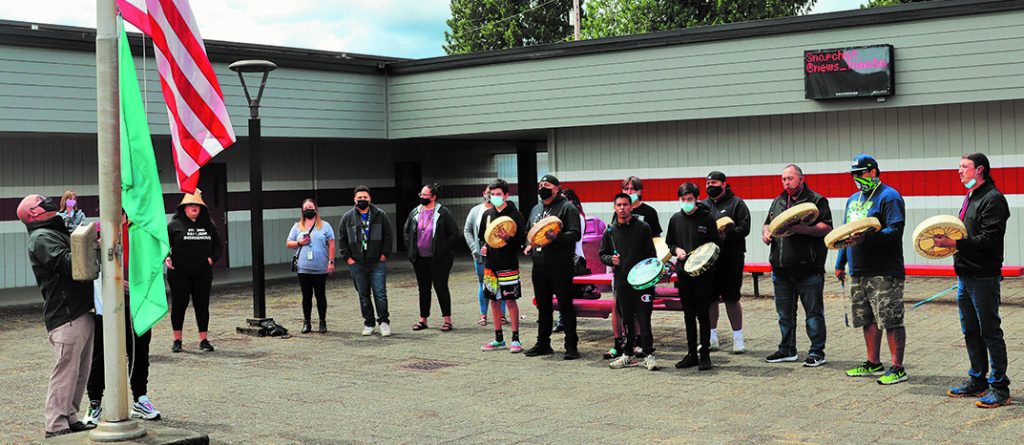 By Micheal Rios, Tulalip News
For quite possibly the first time ever, the red, white and black colors of the Tulalip Tribes are flying overhead at Marysville Pilchuck High School. Tulalip's iconic orca was raised up on June 7 by tribal member and student representative Desmond Valencia during a celebratory gathering of M.P. students and staff, as well as a coalition of Native representatives with drum-in-hand.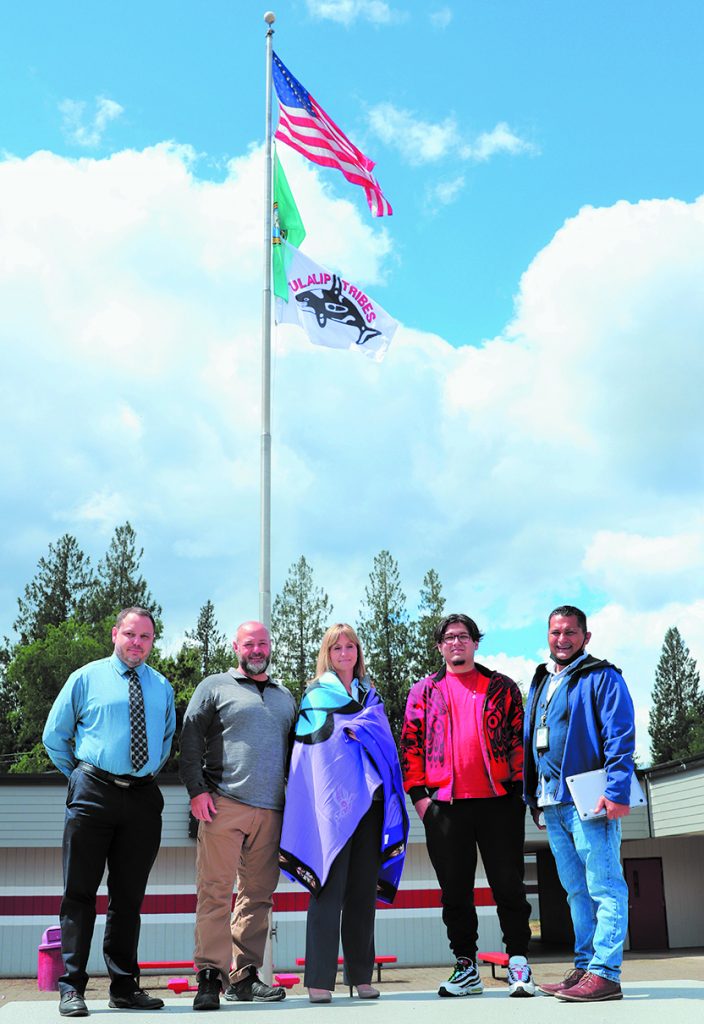 "The moment was surreal and there's really no words to describe it," said Desmond after he raised the flag to a traditional drum beat. "I was super nervous, but stepped out of my comfort zone to seize the opportunity to represent my people and my family. It's a huge honor to be the first person to raise the flag and it felt good to see it flying as I walked to class today. It was definitely a good day to be Native."
It's no secret that Marysville and Tulalip have a history rife with conflict and misunderstanding, especially when it comes to the subject of education. However, raising the Tulalip flag is a symbol of hope for the future. It's an action that intends to create a better partnership between the two communities.
" This is a step in the right direction," declared cultural specialist Chelsea Craig as the gathering's first speaker. "Marysville and Tulalip, we are one community. We stand on the traditional lands of the Snohomish people right now, and by raising this flag we are healing the story of education for our community."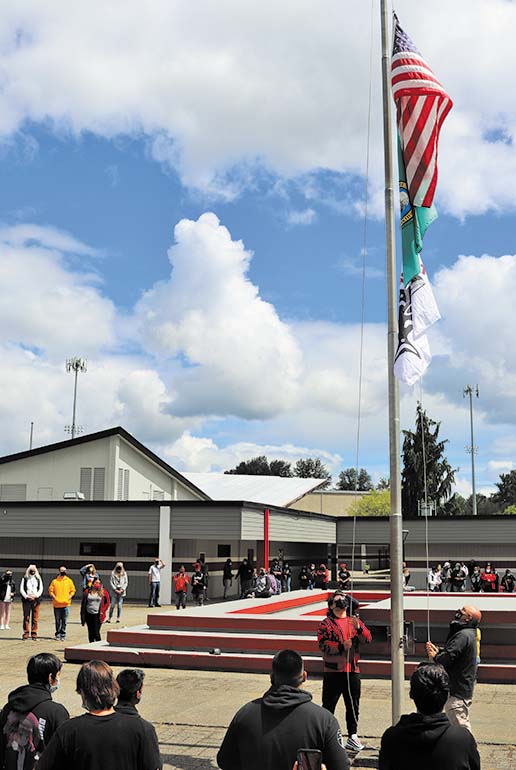 Principal Christine Bell made it a mission of hers to make this day happen. Seeing this united effort through from start to finish, in collaboration with Native advocate Doug Salinas and Native liaison Matt Remle, allows a more diverse student body to feel accepted and proudly celebrate their culture.
"It's very important to me as a principal that all of our students see themselves in their school and for as long as I've been here we've worked hard to make it that way," shared Principal Bell. "My thanks go out to the Tulalip Tribes for allowing this to happen. We share a desire to have our students feel accepted for who they are. School culture is what you celebrate and choose to reinforce. If we're not celebrating our Tulalip students, then we are doing this wrong."
For all Principal Bell has done to uplift Tulalip students and culture during her M.P. tenure she was blanketed in true Native fashion.
"What a blessing to be honored and blanketed in that way. It means the world to me to be able to make this flag raising happen. This is a day I won't ever forget," she said. She also announced that in addition to the flag at the entrance of the school, there will be two more used for display during school events.
Among the crowd of event observers was a beaming Tulalip tribal member, 18-year-old Martelle Richwine.
"As a former Tomahawk, it warms my heart to see Marysville Pilchuck open their eyes to our Native community," said the class of 2021 graduate. "When I was a student I felt that I wouldn't be accepted as a Native American, but to know that M.P. now cares means the world because current and incoming Native students can feel comfortable in their own skin."
"After this defining moment, I believe that the Marysville/Tulalip partnership can only go up from here," added Desmond, a fellow graduating senior who plans on attending WSU in the fall. "One of my goals is to get more involved in tribal events and do my part in bettering our community. After I finish college, I would definitely love to come back and continue to see the relationship thrive."
By adding the Tulalip flag to the same pole that holds the United States and Washington State flags, Marysville Pilchuck recognizes Tulalip's sovereignty as an Indigenous nation and acknowledges that the best way forward is in partnership, one step at a time.