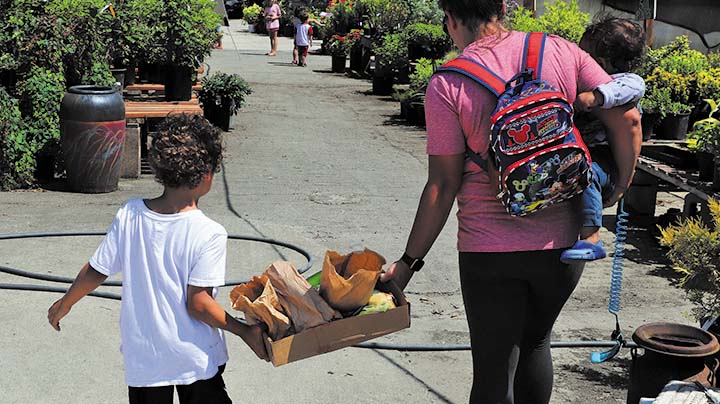 By Micheal Rios, Tulalip News
Have you been desperately wanting to have a family outing to enjoy the summer weather, but want to stay close to home and not break the bank? Well, a trip to Garden Treasures to harvest from a variety of nutritious food, grown locally may be the ideal destination. This organic u-pick farm is located just over 20 minutes from the heart of the Tulalip Reservation. Conveniently located off exit 208, Garden Treasurers offers an everyday farmers market and garden center filled with fresh food.
Taking the family on a farm excursion to pick produce allows children to gain a sense of where their food comes from, demonstrates the satisfaction of seeing how seeds grow into fresh produce that nourish their body, and is a fun way to spend a summer day together.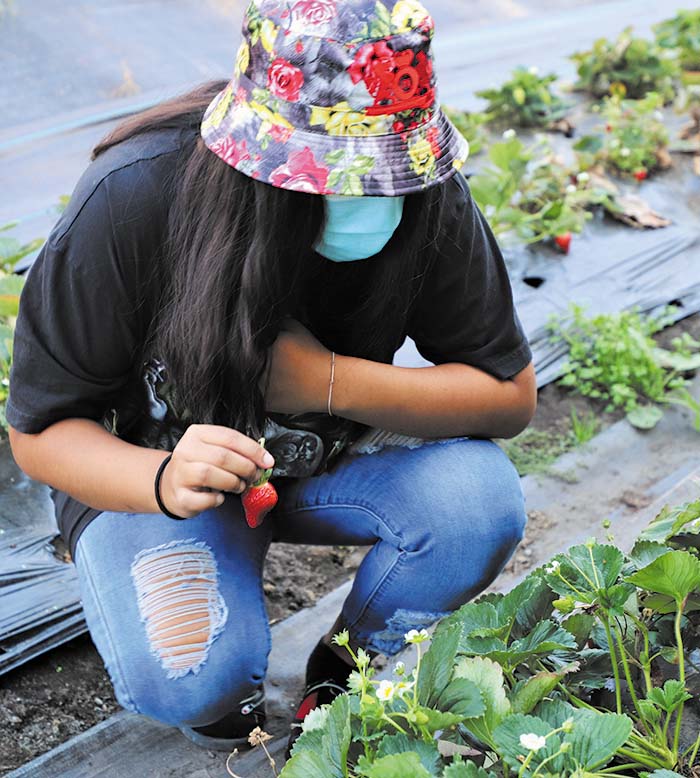 "I really enjoy having elders and kids visit the farm," said farm regular, Tulalip elder Dale Jones. "They have big smiles on their faces while enjoying the opportunity to be out in the farm and eat the fresh foods. The kids can see how the food grows and they learn how it's better for them than fast food and candy. Too many of our people our battling diabetes and obesity because they learned bad eating habits as kids. Making fruits and vegetables a priority at a young age can really make a lifetime's worth of impact."
Spending time outdoors while wandering the vast berry fields and green houses at Garden Treasurers is an opportunity to get back to nature, both physically and spiritually. Their seasonal u-pick garden is currently filled with an assortment of flowers, perfectly ripe raspberries and strawberries, and a variety of vegetables, like bell peppers, cucumbers, zucchini and onions. They don't use any synthetic chemicals or fertilizers, so your u-pick experience is safe, clean, and all-natural.
Tulalip tribal members, their families, patients of the Tulalip Health Clinic, and Tulalip employees were encouraged to take full advantage of a unique partnership between Garden Treasures and Tulalip's own award-winning Diabetes Care and Prevention Program. From 10am to 4pm on July 13th, the Tulalip community turned out in droves to visit the farm, enjoy a healthy bite to eat, and receive a tour by Diabetes Care staff. Most importantly, each visiting household was allowed to pick $30 worth of nutritious produce.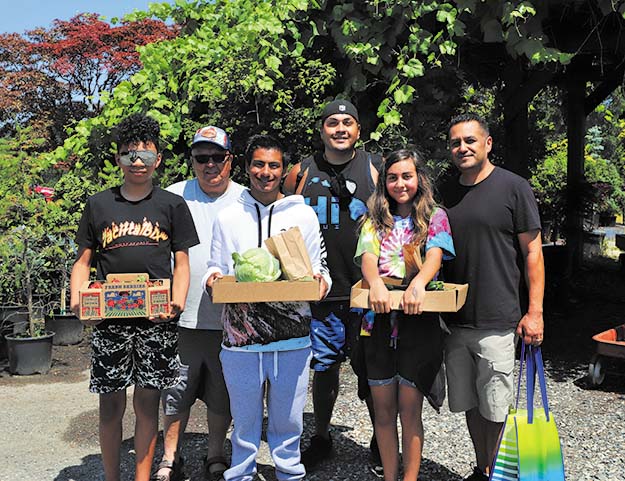 Unlike overly priced grocery stores and organic shops, $30 worth of fruits and vegetables at Garden Treasures goes a long way. You can easily pick an assortment of sweet and spicy peppers, enough raspberries for the kids to snack on for days, some herbs to season up your favorite meals, and make a flower bouquet with the $30 credit. Numerous Tulalip citizens did just that, and for many it was their first time ever picking veggies.
Donna and Jim Furchert brought their daughters, Joy and Patience, to Garden Treasures and came away with quite the colorful harvest. "We've never picked fresh fruit or fresh veggies before, so I wanted us to experience this as a family," explained Donna. "We're going to incorporate everything we picked into our dinners over the next few days."
Six-year-old Patience said she liked digging for peppers the most and was super excited to stumble upon the strawberry patch. She was seen devouring the bright red, heart-shaped berry straight off the bush at every opportunity.
Michelle Martin was another first timer to the Arlington farm. She brought her three young boys Anthony, Brayden and Caiden on an afternoon outing with their grandma and grandpa. "It's our first time out here and we absolutely love it!" said Michelle while perusing the fields. "Never knew we had a u-pick farm this close to the reservation. This seems like an ideal way to get fresh veggies and fruit. My boys love fruits and were excited to run around the farm to pick their own berries."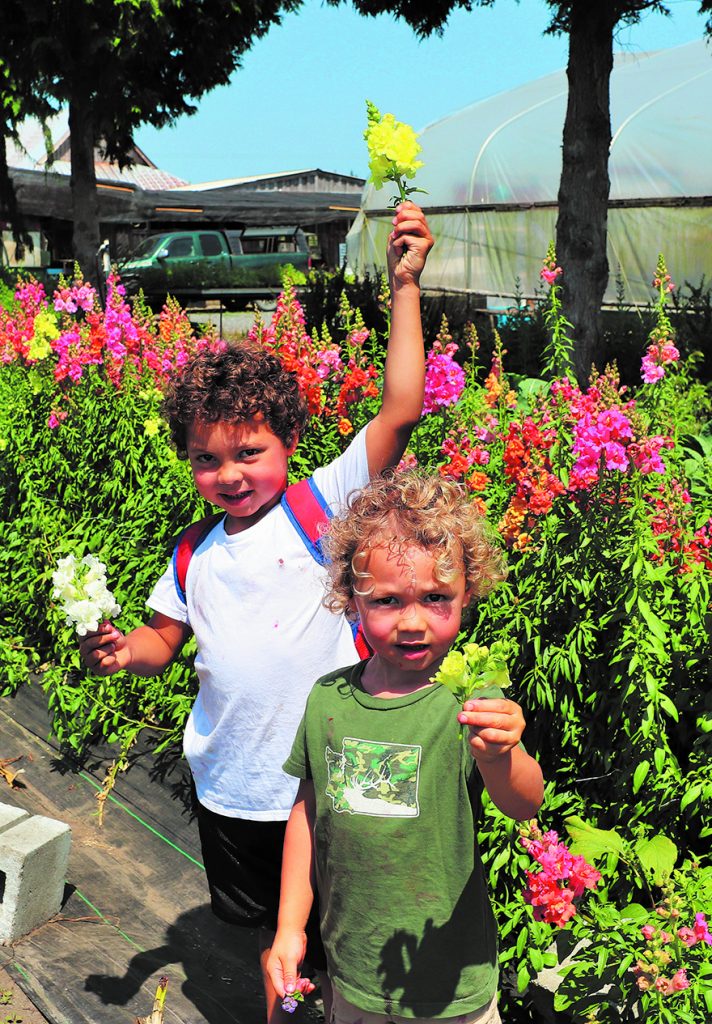 When 5-year-old Anthony and 3-year-old Brayden were told they could pick out some flowers to make their mom a bouquet, they quickly scoured the spacious flower gardens for a colorful bounty.
For a Tulalip community desiring to eat healthier in order to escape the processed food and refined sugar wasteland, Garden Treasurers is an oasis offering a variety of essential nutrients and vitamins that can make everyday meals more nutritious. Those who eat more fruits and vegetables as part of an overall healthy diet are likely to have a reduced risk of chronic diseases and a better immune system. Plus, eating fresh produce will make you feel better and have more energy to take on every day challenges of the 21st century.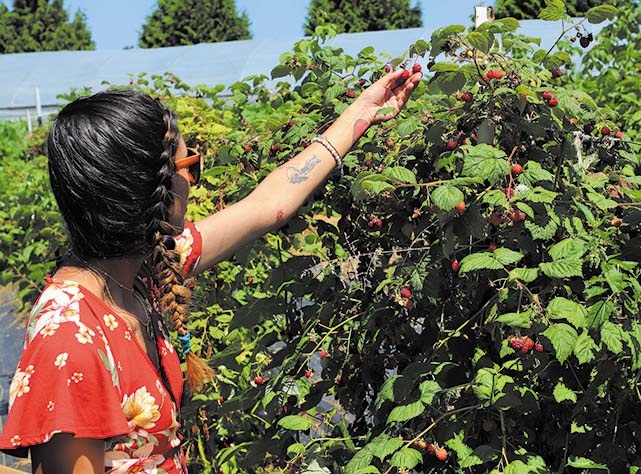 In addition to all the health benefits is the wisdom and positive encouragement the dedicated Diabetes Care and Prevention Program staff had to offer to those visiting the farm. They were willing to assist in produce selections, answer any questions, and offer advice about healthy meal making and dietary requirements for those managing diabetes.
"I am getting to an age in life when it's important to pass down knowledge and share my gifts with others, especially the younger generation," explained Roni Leahy, Diabetes Program coordinator. "I love being with the people and listening to them talk about their experiences in the garden or the kids discovering how the plants they eat grow. It is such a precious opportunity to talk about the plants and how important they are in health of our bodies. This truly is prevention of diabetes and other chronic diseases."
"My favorite part is seeing the community members and their families out at the farm enjoying the vegetables and knowing they are going to go home and prepare a meal they will all remember and enjoy," added Brooke Morrison, Diabetes Program assistant.
 Visiting Gardening Treasures u-pick farm to harvest the freshest foods can boost your family's health without creating a dent in your wallet. Bringing the kids can only help them create a lasting relationship with their nature world, while planting seeds of curiosity and excitement for eating a variety of clean food, grown locally. Maybe even, this will be the inspiration your family needs to plant a garden at home.
During the summer months, the farm offers some of the best fresh produce around. Try and grow a diverse palette of seasonal products for a single meal, or stock up the pantry for winter. The next few weeks are the perfect time to find sweet strawberries, delicious raspberries and other garden-fresh produce at your local, organic u-pick farm.