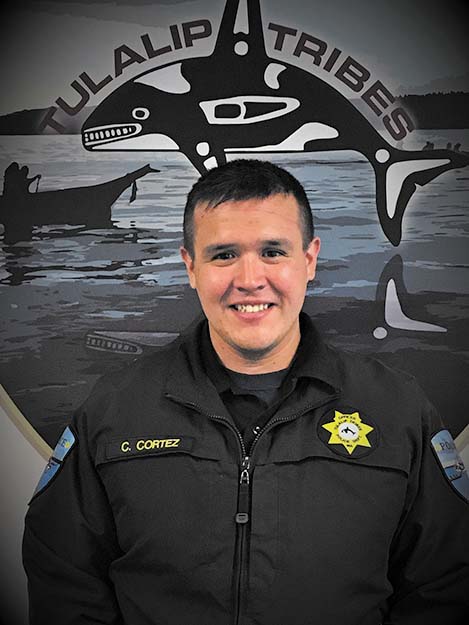 It saddens us all to announce that our son, Charlie Joe Cortez, (29) died tragically on November 17, 2020, while on Patrol in the waters near Hat Island and Jetty Island. Charlie's Patrol boat capsized after being struck by a wave during gale warning weather conditions.  
 Charlie was working for the Tulalip Police Department as a Fish and Wildlife/Search and Rescue Officer when the accident occurred that left him Lost At Sea.    Tulalip was Charlie's Home where he was born and where he grew up.  Charlie worked tirelessly and gave it his all every day and when answering his final call to duty as an officer for Tulalip.  
 Charlie had many passions during his lifetime.  Everything he did, he did with passion and determination to be successful.   As a child, he grew up with the "Moto-Cross Community" He loved racing and seeing his friends, during our countless travels to various Tracks in the Pacific Northwest.  He was an accomplished Motocross racer, achieving numerous trophies and championship standings when racing various Moto-Cross events.  
 Later, Charlie's passion turned to hunting.  Ask anyone who hunted with him and they would tell you hunting season was what he talked about the most.  He was successful as a hunter in the community and was requested many times as a designated hunter for ceremonial hunting; or, as needed for Members of the Tribe who requested a designated hunter.  During hunting season, Charlie was ALWAYS just a phone call away for any Hunter who needed help packing or loading their Game.  
Charlie also ventured into Commercial Diving for Geoduck. He trained endlessly to enable himself to be proficient with his crate numbers as a diver. He would joke around, at times, with other Divers when they would return to the Marina, knowing he had one of the highest crate counts for that day.
         Charlie loved spending time in the mountains, in the woods, in the water, and with his many friends; but, most of all… he loved spending time with his family and his precious children who were his pride and joy.  Dominic Cortez "his mini me" is the hunter and the fisher and Peyton Cortez   "his little princess" who is not afraid of snakes or touching worms.  Charlie loved spending time with the family during every Holiday, Birthday and picnic Barbecues.  He never missed a gathering with family.  
Charlie was born on May 28th 1991 in Everett, WA. He was a proud descendent of Charles Jules, hereditary Chief of the Snohomish Tribe, and he was a member of The Tulalip Tribes. He was the son of Alan K. Cortez and Paula A. Cortez and resided all his life in the Tulalip Community. He was employed with The Tulalip Tribes for 12 years and worked in Departments such as; Wildlife Enhancement, The Tulalip Marina, and his final position was as a Police Officer with the Tulalip Police Department Fish and Wildlife/ Search and Rescue Division. He was a graduate of Marysville Pilchuck High School and furthered his studies by attending and graduating from the United States Indian Police Academy with the Cadet Class of 168 on May 3, 2019, with top honors in the Driver Training courses.
Charlie will be missed everyday by his parents Alan and Paula Cortez, son, Dominic Cortez, daughter, Peyton Cortez, his Big Brother, Richard "Moochie" Grenier-Cortez, Grandmother, Sandra Grenier, Aunties, Teri Nelson, Vicki Jablonski, Rhonda Olson, and Ronnie Lyons, Uncles, John Cortez, Wayne Cortez, Rick Lyons, and Randy Lyons, his Grandfather Alvin Lyons, his Cousins, Kayla Scheiber and spouse Brandon, Casey Woods and her partner Andrew, Caleb Woods and Cassandra Grenier, his former spouse and Mother to his beautiful children, Tawnya Stout and her spouse Chris, and Tawnya's special sister Kari Baggarley.
Charlie will also be missed daily by His special life long friend, Beau Jess, and his special Hunting Buddies Tino Villlaluz, Brady Johnson, and Zac Parks, his Brothers in Blue within the Tulalip Police Department, and all other hunting and fishing buddies.
Charlie was preceded in death by his grandfather "Saapa" Richard J. Grenier, Uncle Ed Nelson, Uncle Bill Grenier, Grandmother Beverly Lyons and Shirley Gobin Zackuse and Great Grandma Ann Reft.
A Celebration of Life has been scheduled for August 17th, 2021 at The Everett Events Center, "Angel of the Winds"