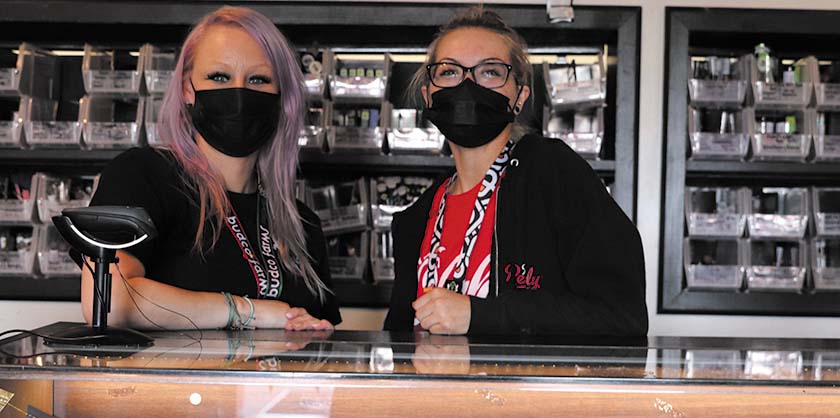 By Kalvin Valdillez, Tulalip News
August 9th marked year three since the Tulalip Tribes held a ribbon cutting ceremony and opened the doors of one of the very first tribal cannabis retail shops in Native America. Originally drawing as much criticism as excitement, Tulalip Remedy has won over most skeptics over the years, introducing many to an alternative medicine to help with every day ailments and conditions while building a solid following and loyal clientele.
"As a Tribal member, it's just so awesome to see," exclaimed Tulalip Remedy Purchasing Manager, Carmen Miller. "I've been here since the very beginning and I remember when we first start talking about it years ago. And seeing what it used to be, the perception people used to have on cannabis, it's completely changed. It's nice to see people are more accepting and understanding that it's not just a drug, it's something that helps people. It's a medicine and that's what we're here for, to help people live happy and healthy lives."
For many, marijuana serves as an actual remedy, helping individuals manage diabetes, Alzheimer's disease, anxiety, depression, insomnia, PTSD, multiple sclerosis, fibromyalgia, arthritis, epilepsy, cancer, among many other diagnoses. There are endless reports on the benefits of cannabis, but what most researchers are looking into today is if and how the medicinal herb can help recovering addicts escape the grip of opiates for good.
"In the beginning there were a lot of folks who were super skeptical about if Remedy was going to cause any more issues with any other drugs in our area, but it seems that we've seen more people turn away from those other drugs and start using cannabis instead," said Carmen. "I think Remedy has honestly helped the community. It's brought in more Tribal (PD) around the area, so it keeps the area a lot cleaner because Tribal (PD) are around more often. If anything, it's done all good things for Tulalip."
During the worldwide pandemic, when most businesses were closing-up shop, Tulalip Remedy altered their business model, creating a contactless point-of-sale service where their customers ordered their favorite products online and paid in cash at the pick-up window when their order was ready. Remedy remained open throughout the COVID-19 outbreak and practically doubled their sales as customers began ordering in bulk to limit their trips outside during the stay home, stay safe ordinance.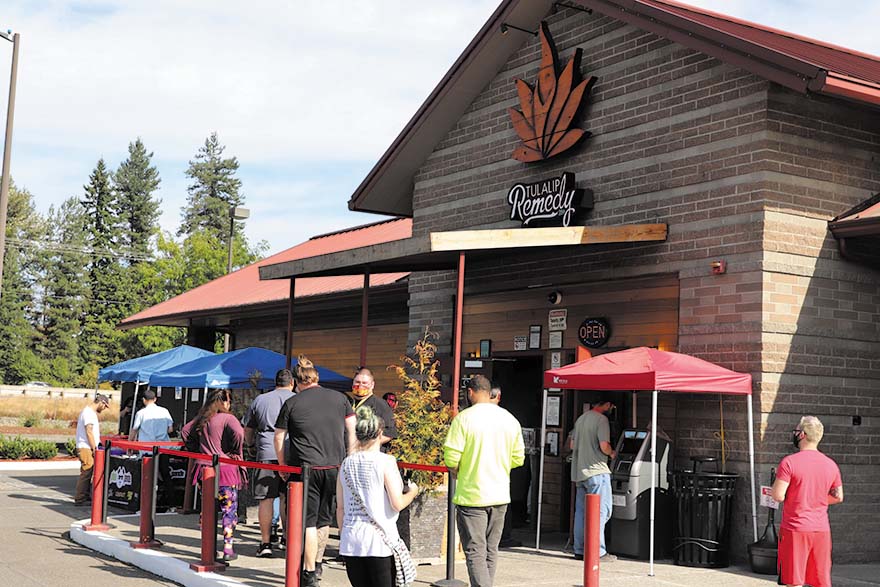 As restrictions lifted, Remedy kept their customers coming back by offering great deals and discounts on the regular. And thanks to a joint-partnership with local distributer and cannabis TV show, The Dab Roast, Tulalip Remedy was able to bring in celebrity cannabis connoisseurs to the recreational retail shop to meet the people of the community over the past year.
"The Dab Roast is a show that is ten dabs, ten questions with celebrities," explained The Dab Roast Creator, Scott McKinley. "Whenever we bring a guest on, we always hit-up Remedy first and ask if they want us to bring them through their shop and let everybody in Tulalip meet them. We recently brought Tommy Chong here. We also brought Ken Shamrock out here, UFC legend, and while he was here we even brought him to the wrestling team of Tulalip and got him involved in the community as well. Remedy is our go-to spot and all of our celebrities on our TV show all stay at Tulalip [Resort Casino] whenever we bring them through town. It's pretty cool that Tulalip is doing cannabis, so to be able to support that and celebrate three years of Remedy is amazing."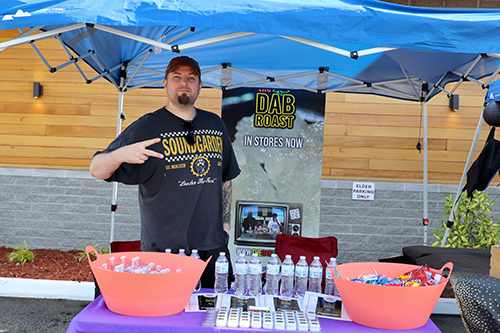 With feel-good tunes playing over the speakers and vendors located at the front door, Tulalip Remedy brought in year three by dancing and sharing laughter with customers. They also offered a 30% discount to each of their customers for the duration of their anniversary, attracting a number of THC-ophiles, both new and long-time customers alike.
"I've actually just moved back into town and started coming here," said local community member, Jazmyn Soto. "I really like it here because the people are really nice and it's a quick, easy in-and-out process. It was cheaper today, that was really cool. Cannabis has taken my anxiety and stress levels way down and it helps me get through my day. I enjoy coming here and think more people should."
And as Tulalip Remedy celebrated three years in business, Tulalip tribal member Shawn McLean also celebrated a three-year achievement of his own.
"I'm the customer of the year here, you can even ask them," he proudly beamed. "I found out it was their anniversary through the website, 30% off! But, I come here all the time and I like to keep updated on the deals and specials. I come here for both the dabs and flower, I lean more towards the indica strains. Cannabis is helping me come off opiates. I'm three years sober off of opiates because of marijuana. It's a big help. I love it here, dude. I'm trying to get employed here next."
Surviving a pandemic, changing perceptions and common misconceptions, and providing an alternative medicine to those in need – all while becoming a steady source of income for the Tribe, Tulalip Remedy has accomplished a lot in their three short years of business. And that was just their first hit, so to speak, as the rec shop plans on taking things to an even higher level as the Tribe's venture in the cannabis industry continues into the future.
Said Tulalip Remedy Manager, Jennifer Ashman, "I've been a cannabis enthusiast for many years and to see it go from illegal to making huge advances in the industry, and using that to provide a form of medicine to our community and create a huge tax revenue for our Tribe, is surreal. I'm reminded every day that the team we have at Remedy has made a great impact and we love what we do. I can't wait to see what every year after this one holds for us."