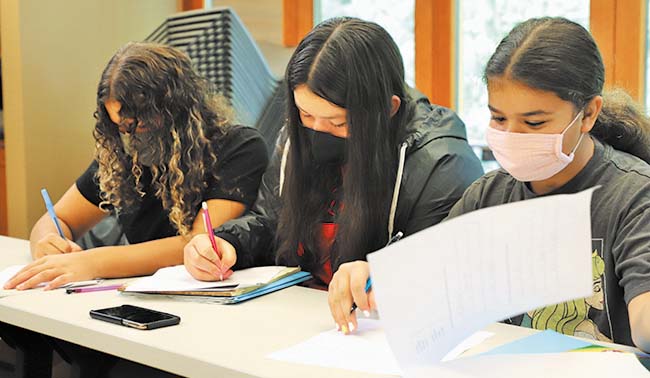 By Micheal Rios, Tulalip News
Over the last five weeks, a group of Tulalip youth with a shared interest for writing met at Hibulb Cultural Center to embrace their creative sides, while improving their intellectual skills for the upcoming school year. Led by local author and Cascade High School teacher Steve Bertrand, the Youth Writer's Workshop came together Monday mornings for two-hour sessions.
"Our workshop was open to students between 5th and 12th grade. Every week focused on a different form of creative writing, from short stories to letters to songs and poetry," explained Steve. He brought a wealth of experience to the workshop with over 40-years of teaching experience and more than 35 books published.
"From brainstorming and idea development to rough drafts and the editing process to final publication and sharing with the group, I've been really impressed with the kids and how much material they developed in such a short amount of time," he continued. "Throughout my career I've taught both middle schoolers and high schoolers, and it's always remarkable to witness the creativity and openness of younger people. The students I was fortunate to teach here were eager to learn and embraced all the forms of writing."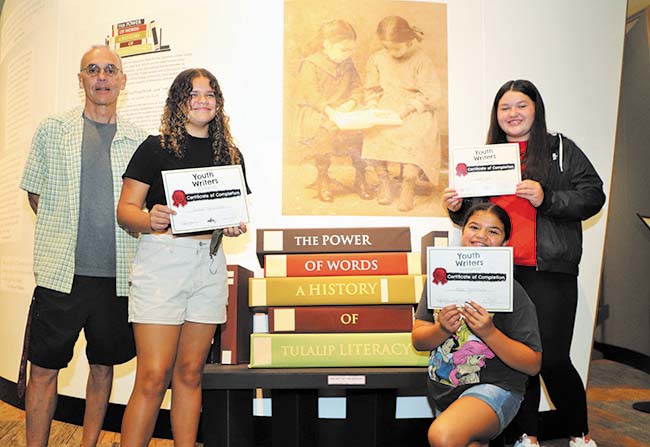 Every day kids experience events that are new to them. In doing so, they learn new words that expand their vocabulary and have new ideas that help them develop a creative and curious mind to understand the world around them. By encouraging children to write from a young age, they can develop critical emotional skills that are beneficial at any age. Channeling emotions, being able to manage a difficult situation, and understanding how others feel are just some of the skills invoked through creative writing.
A group of middle schoolers giving up precious hours of their summer break to develop their writing skills seems farfetched, that is until you talk to the students in question. Then it becomes clear you're dealing with the kind of academic achievers who don't require encouragement to explore their imaginations, nor are they bashful about conveying their personal experiences and emotions through written word.
"I enjoyed learning new ways to write," said soon-to-be 6th grader Allyea Hernandez. "Learning how to properly write a poem was my favorite part of the class. Poetry isn't something I'm really interested in, but it was still fun learning how there are so many ways to create a poem. Did you know they don't have to rhyme? They can be about mood and emotion. I wrote a poem about happiness that my mom really liked."
"It's been fun. There were way more types of writing than I thought, but Steve is a really good teacher and made learning about the different writing forms enjoyable," added future 7th grader Kileea Pablo. She mentioned writing with a focus on imagery, rhyme, metaphor and personification would help her in English and Literature classes she'll be taking next month. "I know I'll be doing a lot of writing in 7th grade and wanted to get a head start practicing and learning new writing skills by coming here. It was worth it. I'm more confident expressing emotion in my writing now."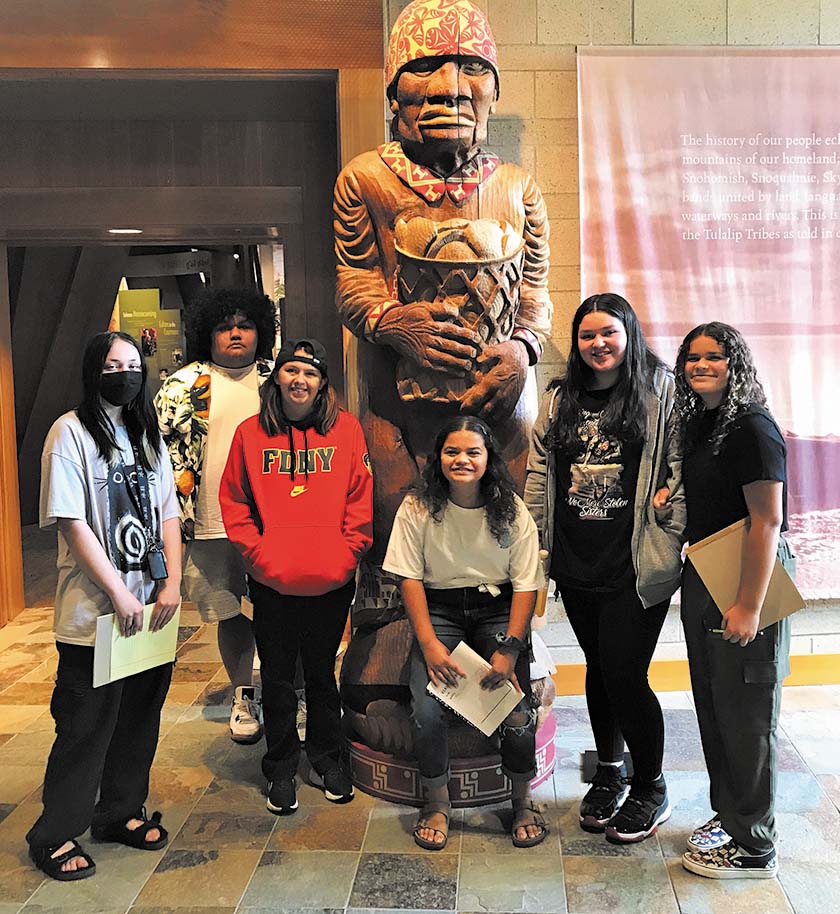 In a world where text speak and emojis are so common, creative writing helps to develop writing skills that are being forgotten about. If a youth cannot communicate effectively through written word, the problem may only become worse as they grow older. Encouraging creative writing can help a young person, better yet anyone of any age, to communicate effectively.
Middle schooler Allyea put it best when she proclaimed, "Writing is something you need to know how to do well, otherwise you can't really get far."
Concluding their fifth and final writer's workshop, the wordsmiths in training proudly displayed their certificates of completion in front of the latest Hibulb exhibit 'The Power of Words: A History of Tulalip Literacy." If these Tulalip writers have anything to say about it, the future of Tulalip literacy is in pretty good hands, too.
Friendship
Friendship is the best.
Everyone knows that friends last.
That's why I stick with mine.
– Amaya Hernandez
Happiness
Happiness is as yellow as a lemon on a hot summer day. 
Sounds like a bumblebee buzzing or a bird chirping.
Tastes like sweet vanilla ice cream.
Smells like your mothers homemade cookies out of the oven.
Looks like a cozy bed after a long day.
It makes you feel joyous.
– Allyea Hernandez