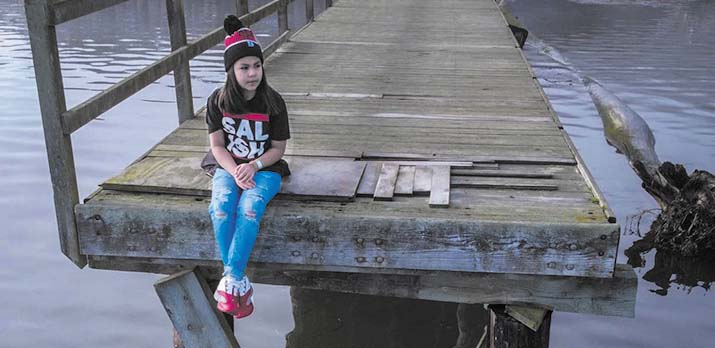 By Kalvin Valdillez; photos courtesy of Faith Iukes
Next time you are screen-scrolling on your favorite app, whether it's YouTube, Facebook, Instagram or TikTok, do yourself a favor and search for the username @faith.iukes11. You will find a number of videos and photos that are guaranteed to brighten your day and boost your serotonin levels, all created by a Tulalip entrepreneur who is making quite the name for herself at the young age of 12.
"My name is Faith Iukes. I'm 12 years old and I work on social media," she proudly beamed. "I vlog myself every day and I basically share my everyday life."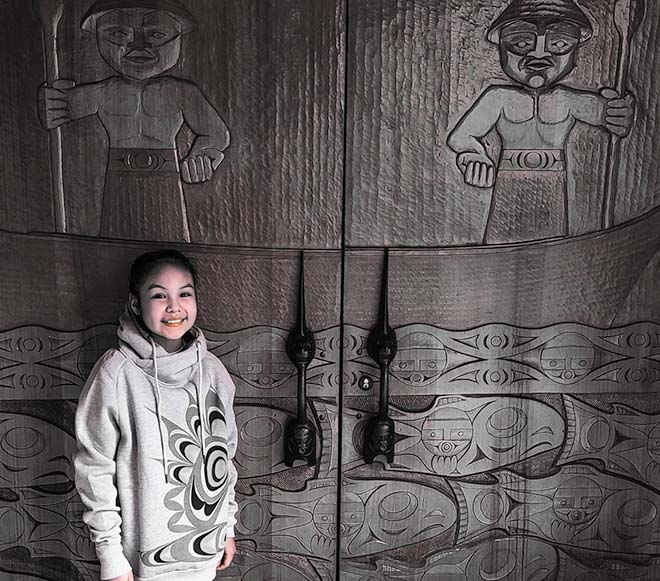 Showcasing stunning camera work and an amazing on-screen presence, Faith is practicing an art that Native peoples have passed through the generations since time immemorial, storytelling. Bringing the tradition to present-day digital platforms, Faith utilizes her gift of storytelling just as her ancestors did before her, documenting the times and culture, making others laugh and smile, and teaching her peers, the next generation, how to be a voice for the people.
With wisdom beyond her years, she passionately shared, "If we are not preparing our youth to become successful, we are not preparing the world for the next group of leaders."
A natural-born go-getter, Faith creates opportunities by simply being herself, giving the world a first-hand look at what growing up on the Tulalip reservation looks like. Faith's love for her family, community and homelands shines in each of her videos and photos, whether that's participating in community events, using a drone to record all the scenic views Tulalip has to offer, or sharing screen time with her friends and family on her daily vlog.
When asked about some of her favorite highlights of her blossoming career, she quickly stated, "Sometimes I do food reviews with my sisters! I love my family and I love social media. This is something that I've always wanted to do and when I was younger, I just wasn't ready yet. COVID came around and my great-grandma passed. Everyone in my family was so sad, I thought I could use this to bring a smile to everybody's face, so I got on YouTube."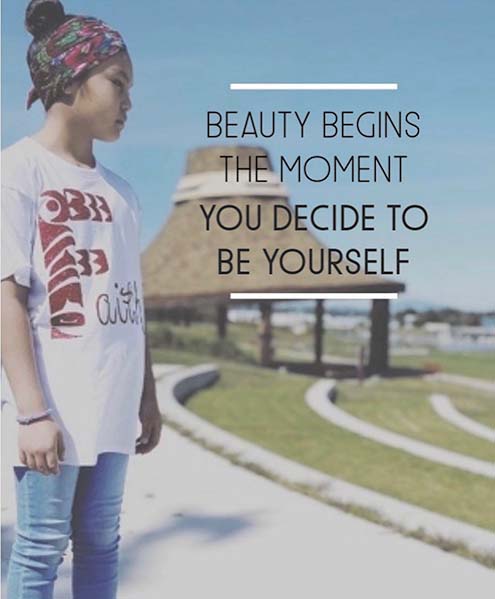 Not only is she a rising social media star, Faith also possesses impressive filming and editing skills, and she is just as talented behind the camera as she is on-screen. Everything she has created to-date has been self-taught. Through YouTube how-to videos, she learned all of her cutting, sequencing and scoring techniques and she already has a vast knowledge of how to use industry-standard editing software programs such as Adobe Lightroom.
Faith's father, William Iukes, has also been instrumental in her social media journey so far. In addition to helping her map out her goals, recording additional footage, and learning editing skills to help out when he can, he's also taken on the role of her manager and helped land her a number of partnerships with other Indigenous artists, creatives, musicians and organizations, ensuring he's doing everything he can in order for his daughter to exceed her goals.
"She's bringing a positive message to a lot of our kids out here, especially in Indian Country," he shared. "The one thing she is really into is helping people with the success she's getting. Her success is their success. We'll be at Walmart or somewhere and kids will run up to her, say hi and ask for a selfie. And when they ask how do I become who you are, she stops and tells them, 'this is who I am and this is what I do. You can do the same thing, you just have to keep believing who are and keep thriving to be the best you.' That is something that I'm very proud of as a father."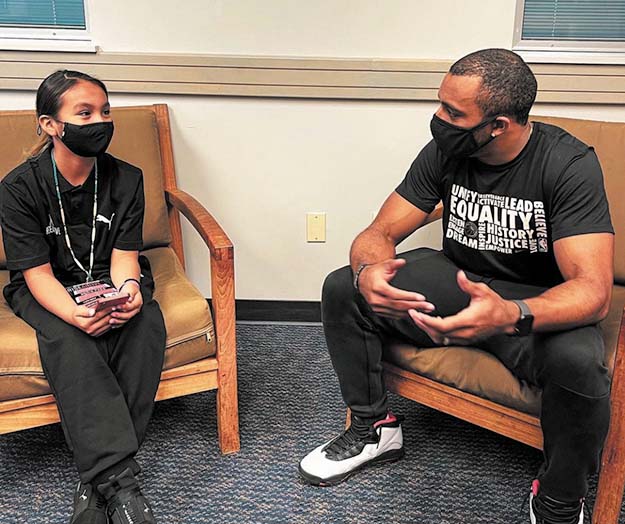 Faith's hard work is on display in all of her productions and has helped build her personal brand, leading to several partnerships and collaborations. Currently, Faith is sponsored by the local Native clothing company, Salish Style. She was also given an official title as media journalist for Rise Above, an Indigenous non-profit that was established to promote healthy lifestyles and empower Native youth through sports. In fact, she recently attended a Rise Above basketball camp where she got the chance to meet and interview Seattle Seahawk Doug Baldwin.
"I asked him, how much does giving back to the youth mean to him and what inspired him to work with Rise Above. He said it was me, because his daughter watches me. I thought that was really exciting because it wasn't expected, it was shocking and it made me happy," she expressed.
During that same basketball camp, she also met representatives of the newly established NHL hockey team, the Seattle Kraken, and she now has plans to work with the team throughout their first season. Also in the works, a future collaboration with Native rappers and actors, Lil' Mike & FunnyBone, who first gained popularity on America's Got Talent and are currently starring in the hit TV show, Reservation Dogs.
William stated that Faith is not one to get caught up in the numbers and stats such as the amount of views, clicks, reaches, shares, followers and subscribers, but those numbers continue to climb on the daily. At the time of her sit-down with Tulalip News, Faith said she had a goal to reach 600 subscribers on YouTube and 10,000 followers on TikTok. Her father, who has to follow the numbers as her manager, shared she wasn't too far off from achieving that goal. Not too long after the interview, she surpassed those numbers. And after this article is published, with your help, she can continue to grow her following, with a simple click of a follow/subscribe button. And in return, you'll get the opportunity to say that you have followed thee Faith Iukes since the beginning of her career, as she continues to grow and spread good vibes and positivity through her social medias.
Keeping true to one of her main goals of sharing all her self-taught knowledge and skills with other Indigenous youth, a key reason to why she began her influencer journey, Faith shared, "If you want to be a YouTuber but you don't know how, you don't need a fancy computer or camera. When I started I only had an iPhone and a rubber ice tray for a tri-pod. You can go out, have fun, be yourself and try your best."