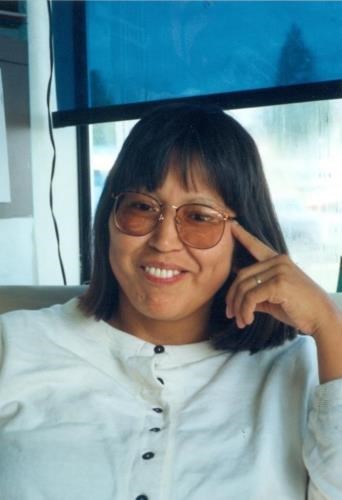 July 31, 1961 – August 27, 2021
It is with great sadness that we share the passing of our mom, grandma, wife, sister, friend; Donna Jean Houle (Bill). Donna was born July 31, 1961 in Bellingham WA to Joe and Geri Bill and went to be with the creator on August 27, 2021.
She was outgoing and athletic with a strong personality she always had a beautiful smile and a contagious laugh. She was a loving spouse, mother, grandmother, sister, aunt and friend to many she will truly be missed by all who knew her. In her younger years she lived in Lummi. She then went to graduate from Chemawa Indian school; later moved to Tulalip and attended Everett Community College,
Tulalip is also where she started her family, where her 3 children were born. As a family they lived both in North Dakota and Tulalip. She was always connected to the land, and taught her kids to pray to the land and water wherever their travels took them. Donna was a part of the Smokehouse and baptized in Catholic Faith. Growing up she loved to travel to play baseball, war canoe race, attend powwows. Donna also enjoyed listening to music, singing and dancing; cooking; Seahawks football (but was especially proud of her brother JB, & her grandson Theron's skills). Donna carried a deep respect and honor for her culture. She carried cultural knowledge, songs and language in which shared with her children and grandchildren. She was the most proud mom and grandma and loved all her babies with all her heart.

She is survived by her husband Darrell Houle, their children Derek (Keisha), Domonique, Dylan (Tenika); grandchildren Demi, LaKayla, Derek (son), Jackson, Theron, Dylan Rose, Hunter and Kylo; Siblings Inez, Jolene, Brian and Kristy. She is reunited in heaven with her son Baby Boy Houle; parents Joe and Geri Bill; siblings Joe, Kathy and Mariam.

Services will be held Saturday September 4, 2021 at the Tulalip Gymnasium at 10:00 AM.
She will be laid to rest at Mission Beach Cemetery, Tulalip WA. Arrangements entrusted to Schaefer-Shipman Funeral Home.