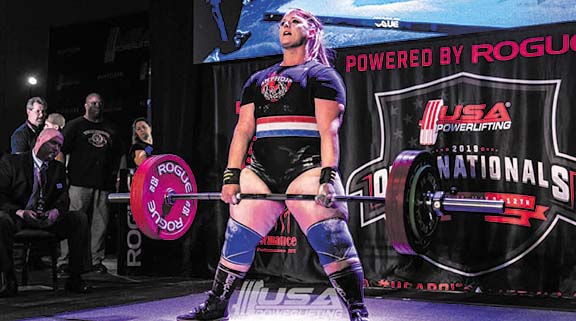 By Shaelyn Hood; photos courtesy of Andrea Page
Andrea Page is a recovering addict, counselor, powerlifter, student, and mother. 21 years ago, had you asked her if she could imagine herself today, she'd say, "No way". At a time when she was struggling with her addiction and facing her biggest fear of the possibility of losing her children, Page made a choice and said, "It's time for me to step up and do what I need to do, to try to be there for my kids".
While living in Seattle, she sought out treatment and began her recovery journey. It was only then, through hard work and a strong support system, that she was able to turn her life around. She connected with many people who were on the same path of recovery who helped her begin a new and healthier future.
In 2010, Page made the decision to become a substance use disorder counselor. She felt that having been through the recovery process herself, that it could better help others, "It allows people to have that connection with somebody that understands, but also, I appreciate the community, being able to see how much support people can get from this community and how much change people can bring to the community in a good way".
Eventually she took her skillset and started working for Tulalip Tribes in Family Services.
In 2011, shortly after starting her new career path, her friends who are also in recovery, introduced her to powerlifting. This new chapter in her life opened many new opportunities. She gave a lot of credit in her recovery to her support system, saying, "The thing that has helped me in my journey and recovery is not only having people that are also in recovery around me and doing things that are productive, but also my power lifting. I think a lot of that plays into my recovery too".
Page is a part of the USA Powerlifting League that is widely known for their drug-free competitions. The USAPL promotes a clean, anti-drug, powerlifting environment, and requires drug testing before every competition. Page never imagined herself power lifting, and for a long time in her life had a hard time committing to outside activities. Power lifting gave her an outlet in her recovery and a way to show her strength in a way that's more than just physical.
"I feel like I've been empowered by going to competitions. This is the one thing that has kept me focused, and driven, and it's exciting to me", she said.
Page also discussed how being a part of a team has given her more of a community and kept her motivated because she now had people that she needed to help and support. It has given her a sense of obligation to always show up.
Since her powerlifting journey started, she has won major titles such as, Master World Champion, 4x National Champion, she won the Best Female Master Lifter Award at Nationals in 2019, and the Washington State Athlete of the Year in 2018. Her Best Lifts include a 565lb squat, 325lb bench press, and 457lb dead lift. Her friends and family have become her biggest cheerleaders, by coming to her practices, competitions, and making jokes calling her "Squatzilla". She's also had opportunities to travel to Sweden, South Africa, and all over the US.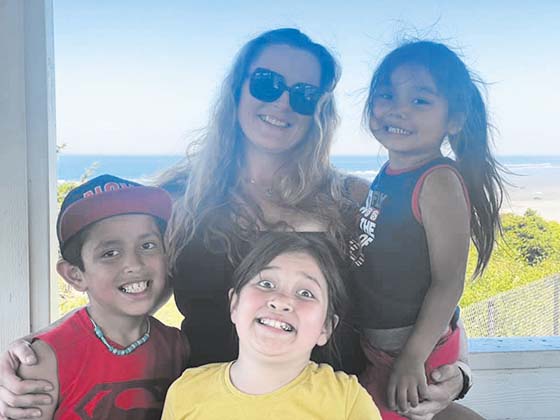 Through powerlifting and her new position in Family Services, she could see first-hand the need for assisting tribal children in finding new homes and potential adoption opportunities. At first, she thought about just doing respite care, and she would help take in children for a weekend here or there. But with more time, her love continued to grow for them. Soon after, the kids she had taken in were up for guardianship. She spoke with her family, and her new family unfolded. Page now has guardianship over three tribal children and feels so blessed to be a part of their lives.
One message that Page made very clear is that even though it might seem like she has achieved a lot, she's just living her life, and she couldn't have done it on her own.
"It was a lot of hard work, a lot of bumps in the road, which a lot of people in recovery experience," said Page. "I can sit here and say I've accomplished this, this, and this, but if I didn't have my support system around me, and the people who checked in on me, I wouldn't have been able to do it".
She also recommends to any tribal members that might be facing addiction, "just keep trying and find that support that's going to help you achieve whatever it is you're wanting to do. And no matter what, just keep pursuing your goals. Don't give up. Even when things seem like they're not working for you, or it just seems impossible, you have to put one foot in front of the other and keep trying, and always reach for those goals because eventually things will get better."
She suggests that the first steps are to call family services and get in for an assessment. And for any members that have family struggling with addiction, "Be there for them. Don't enable, just support them and get them help".
If you, or someone you know is struggling with addiction, please contact Tulalip Tribes Behavioral Health at 360-716-4400.