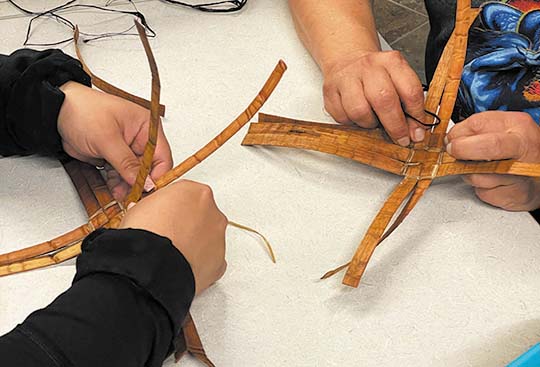 By Shaelyn Hood, Tulalip News
Every Wednesday, the Hibulb Cultural Center holds a Weaving Gathering from 5-7 PM. It is an open forum for those who are wanting to learn new weaving skills or work on their current projects. It is a time to visit with loved ones, share your works, and learn from community leaders. For any first timers, there are also weaving kits available for purchase.
Basket weaving and various other cedar crafts is a big part of Native American culture and is one of the oldest arts in the Pacific Northwest. There are different styles of basket weaving, plaiting, twining, and coiling. Each basket and craft serve a purpose, whether to be used for storage, for holding food, rinsing items, or carrying large loads.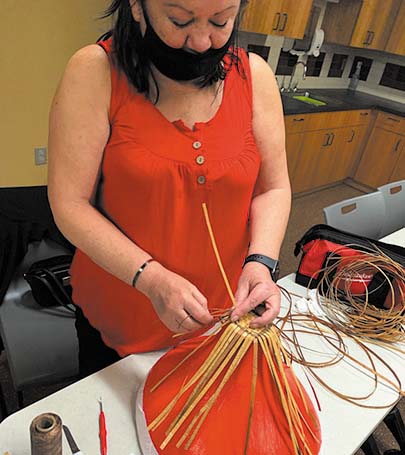 Materials for weaving like cedar bark, spruce roots, and various types of grasses are are harvested throughout the year, then processed and dried for future use. Sometimes during the process, the materials are naturally dyed to add a pop of color. When the weaver feels like the material is ready, the cedar is rewetted so it can become more pliable.
For some weavers, basket weaving acts as a source of income. For others, it acts as a gift giving method for their family and friends. In any situation, basket weavers hold a high status in our community, just as they did centuries ago.
The September 22nd class was held by Jamie Sheldon, and other members of her family will be guiding future classes.
The Weaving Gatherings at HCC help preserve an artform that can be passed on to our loved ones and promote Native culture. For more information about the next Weaving Gathering, follow the events calendar at HibulbCulturalCenter.org, or call 360-716-2600.